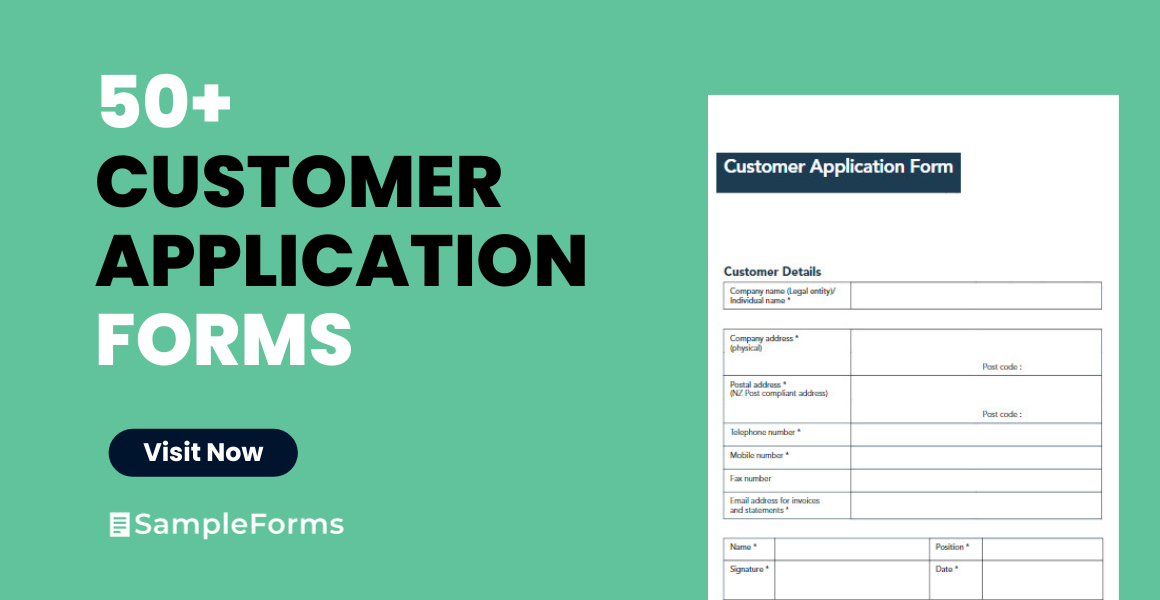 Embark on the journey to streamline your client intake process with a Customer Application Form, the cornerstone of customer onboarding. This guide will delve into the essence of these forms, the variety they come in, and real-world examples. We'll walk you through crafting a form that caters to your business needs while offering practical tips to enhance its effectiveness. Perfect for businesses aiming to refine their customer acquisition strategy and foster seamless interactions from the get-go.
What is a Customer Application Form ? – Definition
A Customer Application Form is a document used by businesses to gather essential information from individuals seeking to use their services or purchase their products. It serves as a preliminary step in establishing a business-customer relationship, ensuring that the company understands the customer's needs and preferences, and is equipped to serve them effectively. These printable form typically includes personal details, contact information, and specific questions related to the customer's requirements or qualifications for the service or product offered.
What is the Meaning of a Customer Application Form?
A Customer Application Form is a tool for businesses to collect relevant details from potential clients. Its purpose is to understand the client's background, needs, and expectations, enabling the business to provide tailored services or products. It's the first step in customer engagement, often determining the terms of service and facilitating a smoother onboarding process. These fillable form is pivotal in building a solid foundation for the customer-business relationship.
What is the Best Sample Customer Application Form?
FREE 50+ Customer Application Forms
51. Customer New Account Application Form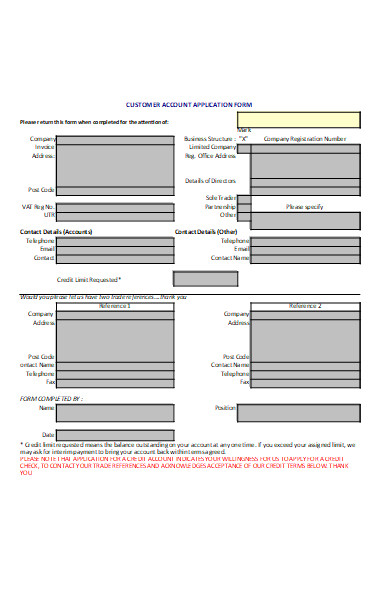 How do I accurately complete the Customer Application Form?
To accurately complete a Customer Application Form, follow these steps:
Read Instructions Carefully: Before you begin, read all provided instructions to understand the form's requirements.
Gather Required Information: Prepare all necessary personal and business-related information you may need to enter.
Fill in Personal Details: Enter your full name, date of birth, and contact information as required on the form.
Provide Accurate Business Information: If the form is for business purposes, include your business name, address, and tax identification number.
Answer All Questions: Complete each question with accurate information. If a question does not apply to you, write 'N/A' (not applicable).
Review Product or Service Selections: If you're applying for specific products or services, ensure your selections are correct.
Check Financial Information: If required, fill in financial details accurately, including any payment or credit information.
Read Terms and Conditions: Understand all terms and conditions before agreeing to them.
Sign the Form: Provide your signature to validate the form. Digital forms may require an e-signature.
Review the Form: Double-check all entries for accuracy and completeness.
Submit the Form: Follow the instructions for submission, whether it's online or by mail.
Keep a Copy: Save a copy of the completed form for your records.
By taking these steps, you can ensure that your Customer Application Form is filled out accurately and thoroughly. You also browse our customer service form.
What personal information is required for the Customer Application Form?