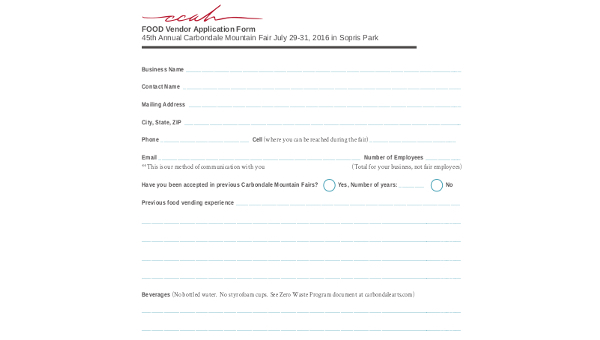 For companies / institutions out there who accept vendors for their cafeteria and don't know what specific requirements are needed, be sure to download these Application Forms for vendors. They outline what specific documentation is needed and other requirements the company may set therein.
With this opportunity opened to them, interested vendors will swarm at your doorstep to seize that opportunity offered by you to build their small business.
Transnet Vendor Application Form
Food Vendor Application Form
Free Vendor Application Form
Vendor Number Application Form
Vendor Registration Application Form
Vendor Pre-Qualification Application Form
Standards and requirements should be set before accepting vendors into the institution. Common requirements for the vendors are medical and health certificates, certificate of business registration to assure the legitimacy of their business, and if accepted they need to comply with the standard set for them.
After the selection process of qualified vendors, contact them via e-mail or through their number.
You may refer to the Vendor Application Forms for more details. They come in generic formats suitable for all types of vendor application forms and for different occasions. They come in easy and quick-to-download MS doc and PDF formats, and can be edited and customized to outline specific details when you trace down every vendors' qualifications.
Vendor Account Application Form
Vendor Application Form in PDF
Blank Vendor Application Form
Conference Vendor Application Form
Generic Vendor Application Form
General Vendor Application Form
School foundation days are packed with fun activities for students, school staff, and teachers alike. Vendors as well would love to take part in those activities as this will give them an opportunity to bring their brand to a wider market and forge connections with the school officials for future engagements. If vendors are invited by student organizations, these organizations will make terms for profit-sharing in the course of the event.
Vendor Forms also allow Student Affairs personnel to know more about these business's background.
Have these Vendor Event Forms for an outlined and detailed procedure on how to trace the vendors' qualifications before approving their application. Events are not limited to school activities. They could be for Heritage Events, company anniversaries, and even local holidays where parks are used to host bazaars. Wherever there's an opportunity to sell their goods, vendors will flock to it with their small business enterprise.
Vendor Event Forms are yours free to download here.