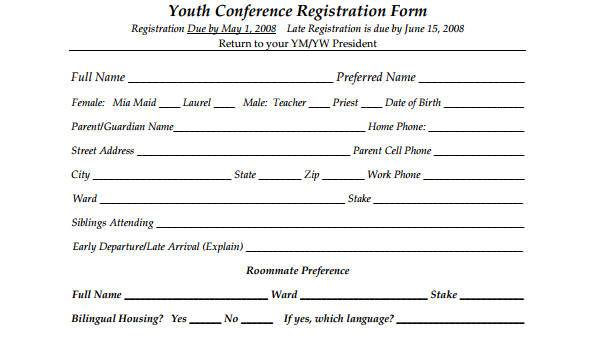 When corporate bodies organize conferences, it is important to know the details of the guests or the participants who have confirmed their attendance. This will help the organizers understand the guests more and serve them better through a detailed format. There are Registration Forms you can us in order to see the number of guests you have and know their details completely in a simplified questionnaire format.
Through these documents, you can now keep records of the guests' information for future reference. These will provide you detailed information and prove convenient for future events with the same guests or even new ones.
Church Conference Registration Form
International Conference Registration Form
Youth Conference Registration Form Sample
Conference Registration Form Example
Conference Vendor Registration Form
There are different kinds of registration forms available here which you can take advantage of, depending on what kind of event or social gathering you wish to hold. Through these forms, you will be able to view the information you need to know in order to fully understand the items that could be important to the participant. Some items involve the indicating of guests' information on their medical history or their special needs in order for the organizer to take better care of them.
Sometimes it helps to know the information of the participants' emergency contacts in case unfortunate instances arise. Through simplified formats that would help the participants fill in the details better, it is important that there should be no information fields left blank in order to avoid problems. These will also be helpful when you need to hold another event and the same participants from a previous event are expected to join.
Through these neatly organized forms, organizers will be able to keep better track of the guests in a conference. Should you be holding school-related conferences, however, please feel free to check out these School Registration Forms.
Conference Exhibitor Registration Form
Conference Pre-Registration Form
Conference Delegate Registration Form
Conference Participant Registration Form
Conference Registration Form Doc
General Conference Registration Form
Information like the schedule and the location of a conference should be written in registration forms in order for guests to prepare better. These will also make them understand the regulations better in order to avoid problems, and also avoid a deluge of questions that the organizer may find a hassle to reply to each one.
These will help you keep tabs of your guests and give you an idea on how to handle them should emergencies arise. Aside from the common details, there should also be an event schedule provided in order to make the experience for the participants more memorable and ideal. These registration forms will make your event run smoothly and better since you know how many people are expected to arrive.
Save information for future references and enjoy the successful event you are handling. Make your conference successful and spend less on emergency supplies by knowing what your guests are and how to deal with them. Please see Summer Camp Registration Forms.