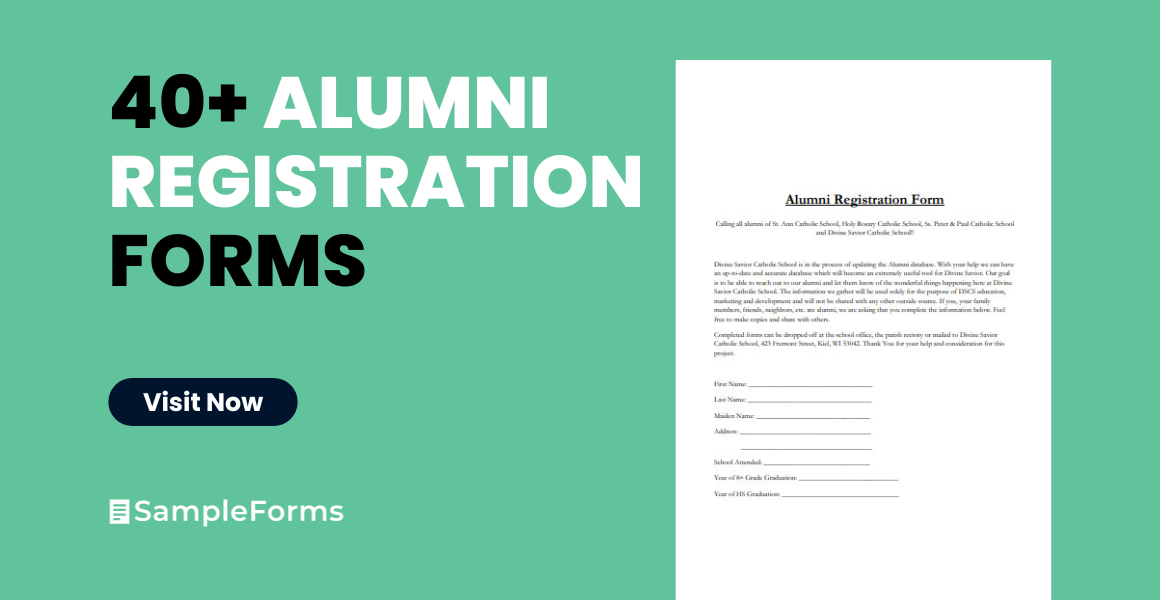 Becoming part of the school alumni is every student's dream. It means that one has successfully completed their studies after years of hard work. The road to being an alumnus is often foggy and reaching the end of it puts you right in front of a crossroad of opportunities. Opportunities that would mean career advancement or advancement in the field of study that you're passionate about.
FREE 40+ Alumni Registration Forms in PDF | MS Word
1. Alumni Conference Registration Form
2. Pre Alumni Registration Form
3. Catholic School Alumni Registration Form
4. Sample Alumni Registration Form
5. Singers Alumni Registration Form
6. Alumni Week Registration Form
7. Alumni Course Registration Form
8. Alumni Reunion Registration Form
9. Leadership Conference Alumni Registration Form
10. Alumni Registration Weekend Form
11. High School Alumni Registration Form
12. Festival Alumni Registration Form
13. Alumni Day Registration Form
14. Alumni Association Registration Form
15. Alumni Social Group Registration Form
16. Alumni Audit Registration Form
17. Alumni Seminar Registration Form
18. Alumni Choir Registration Form
19. Alumni Library Registration Form
20. Alumni Concert Band Registration Form
21. Alumni Golf Tournament Registration Form
22. Alumni Mentor Network Registration Form
23. Alumni Team Presentation Registration Form
24. Alumni Guest Pass Registration Form
25. Alumni Sponsorship Registration Form
26. College Alumni Registration Form
27. Alumni Staff Registration Form
28. Alumni Band Registration Form
29. Alumni Adventures Registration Form
30. Alumni Family Registration Form
31. Alumni Meet Registration Form
32. Alumni Art Exhibit Registration Form
33. Alumni Club Registration Form
34. Alumni Family Camp Registration Form
35. Alumni Technology Centre Registration Form
36. Professional Alumni Registration Form
37. House Alumni Registration Form
38. Alumni Game Waiver Registration Form
39. Alumni Dues Registration Form
40. Alumni Child Centre Registration Form
41. Alumni Life Membership Registration Form
What Is an Alumni Registration?
Alumni registration happens right when you're about to finish or complete the program that you're taking. It is also the first step for becoming part of your school's alumni association. Schools from around the world have alumni associations organized in recognition of their graduate's accomplishments inside and outside their alma mater. And aside from that, the alumni also embodies the distinctive values, ethics, and spirit that the alma mater had given them when they were still students. The same values, ethics, and spirit that they'll share outside on their way in shaping the world.
Being an Alumni: Perks and Privileges
Schools from far and wide are always proud of their alumni. The alumni are the embodiment of the school's distinctive values, the spirit which possesses every heart and mind of the school's graduates. These graduates represent the alma mater where they came from, and to this effect, the school also has a hand in molding the future.
And because of how the school's alumni represent their alma mater in society, perks and privileges are extended in appreciation of such a role. These perks and benefits are way beyond your average discounts. These are perks and benefits that enable an alumnus to advance further their careers as well as their standing in society.
Career Opportunities
Joining an alumni association provides more career opportunities. Universities know that fresh graduates always have a hard time looking for their first job, and with that in mind, the campus's alumni association may then help the fresh graduates in finding and landing a job. If the fresh graduate does not register, most probably he or she may find it hard to look for a job, and it may take a longer time to get one.
Establish Networks
From the previously mentioned perks, landing a job with the help of the alumni association is an example of a successful network establishment. By knowing more people and making networks in the alumni association, you gain better opportunities for work. These networks may even take you to new uncharted territory that you may eventually like for new experiences and skills.
Admission for Advanced Studies
The last perk is that being part of the alumni association gives you a chance for advanced studies admission. Your networks may even help you gain leverage from other advanced studies applicants.
How Do You Create an Alumni Registration Form Template
Alumni registration forms are useful in helping alumni process enrollment in the previously graduated school or university. The process is long, and it entails various college paperwork to be done. However, creating the document does not need to be so difficult for you to do. If you are particularly new at this, you might need some more research and help to be able to pull it off. And with that in mind, we prepared a simple six-step guide to make the whole printable template transforming the process a lot easier and convenient for you.
Step 1: Know the Kind of Alumni Registration Form You Want to Make
There is no singular function for an alumni registration form. The sample formal registration documents are numerous. Some documents cater to payments, requests, approvals, proposals, and so much more. Such examples are membership application forms, billing statements, and many more. Before you think of going head-on with a singular idea for this type, do research first and look at samples. You may look at the sample we prepared above. You can see that each alumni registration is different from the other one. So you must make sure to select the right one you want to create and make sure that it is a document that the alumni association office needs right now.
Step 2: Create Relevant Data Sections
The form is only good and excellent when its data sections are also made with careful attention to detail. With that said, when creating the document, make sure the data sections are relevant in gathering the right kind of information. Take a look at the samples above and see every samples' sections. Look at each one hard enough until you can discern any patterns from the samples. Use those patterns to see which data section is widely evident in most of the pieces and place them in your template.
Step 3: Apply Proper Formatting and Layout
A template may be premade and done by professional hands, but that doesn't make it perfect. When you are inputting your data and information into the data sections, the format or layout might get distorted or misaligned if the information is too much. So after placing all of your information in the data sections, make sure to check the alignment and layout. Are there any problems evident on the template? Is the whole output still symmetrical? Symmetry is always a result that many creators want to achieve when they are creating a document. So better consider a proportional effect whenever you are reviewing the whole output.
Step 4: Use Formal and Direct Language
What a creator must always consider is that when creating a template of any sort, they must use formal and direct language. The sentences need not be eloquent or injected with fancy jargon. You can opt to make the language in the sample sentences as simple as it can be. However, using simple language does not equate to promoting the use of informal language style. A template is still a business form, and thus you must do your best to write formally. Do away with conversational writing as this might pose a problem for those who are not familiar with the type you are using. Remember that no New Yorker has similar conversation styles with an American from New Jersey.
Step 5: Include Signature Fields in the Lower Portions
Every formal document always needs a signature field for it to be considered as valid. Without a signature from a higher authority, the process will not push through, and it might even take longer since such institutions require that papers contain approval first before a transaction or process gets handled. So be sure to place the approval field in the document.
Step 6: Conduct a Proper Assessment of the Final Output
When everything feels like it is ready, you must always think of that feeling as a sign that maybe the file is not fully polished. Go over your output once more and take a good look at it. Look at every corner and every paragraph that you initially wrote. Do a careful assessment of the content's grammatical and contextual structure. Are these correctly structured? Do the sentences make the content believable as an initial guide? Next, take a look at the layout. We already told you to uphold a proportional layout, but there is possibly nothing wrong with conducting a final assessment. If you have found errors, do correct it. And once you are done editing, save everything.
FAQs
Graduation might be a goal for most undergraduates, but the journey does not stop there. Once a student graduates, the next questions become "What next?" And with that question in mind, the common problem will become the type of job one has to get into. But one need not worry about the school has the graduates' backs. If the graduates submit an alumni registration form, they become part of the alumni association. The alumni association present various possibilities, especially in the field of offering jobs. With this, graduates need to consider joining any type of alumni association to secure their future.