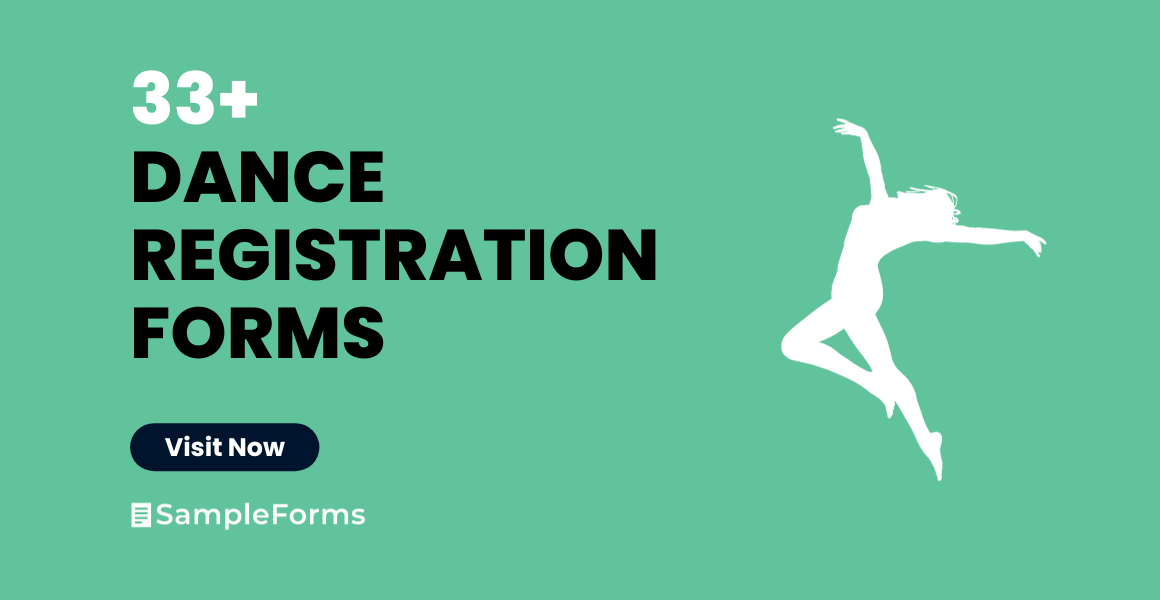 Dancing is the art of expressing one's self through body movement accompanied by music. It comes in various genres that people can fit themselves in different styles—contemporary, hip-hop, ballet, ballroom, and many more. Some people are so passionate about dancing that they made it their very own profession. Numerous establishments offer dance classes, workshops, recitals, and even hold competitions solely for dancing.
Even at a young age, guardians now involve their kids with dancing so they can be exposed to art. Sometimes, people will indulge themselves in dancing to relieve stress and bad vibes. That is how relevant dance establishments are in the industry. But with all these people coming in for their services, will they be able to handle it? Hence, the registration forms. This document will allow dance instructors to organize and manage people who will register for their services.
FREE 33+ Dance Registration Forms in PDF | MS Word
Creating registration forms might sound challenging, especially for people who are not familiar with it. In the dance industry, registration forms may be useful in different processes. To help you picture a dance registration forms, here are various sample dance registration forms you can freely download for references.
FREE 33+ Dance Registration Forms in PDF | MS Word
1. Dance Academy Registration Form
2. Art of Dance Registration Form
3. Dance Studio Registration Form
4. Dance Class Registration Form
5. Dance Camp Registration Form
6. Dance Registration Form Sample
7. Dance Schedule Registration Form
8. Dance School Registration Form
9. Dance Participation Registration Form
10. Dance Center Registration Form
11. Dance Guest Registration Form
12. Dancer Registration Form
13. Dance Workshop Registration Form
14. Dance and Acting Registration Form
15. Dance Competition Registration Form
16. Summer Dance Camp Registration Form
17. Simple Dance Registration Form in PDF
18. Dance Competition Registration Form
19. General Dance Registration Form
20. Dance Guest Registration Form
21. Dance Information Registration Form
22. Dance Festival Registration Form
23. Dance Season Registration Form
24. Christian Dance Registration Form
25. Dance Wavier Registration Form
26. Dance Challenge Registration Form
27. Dance Team Registration Form
28. Individual Dance Registration Form
29. Dance Conference Registration Form
30. Official Dance Registration Form
31. Dance Registration Program Form
32. Vendor Dance Registration Form in MS Word
33. Dance Training Registration Form
34. Dance Clinic Registration Form
What Is a Registration Form?
Registration forms are documents that hold personal information about the people inside an organization or establishment. This document is mostly useful for establishments with memberships, such as a dance organization. Registration forms aid a company in recording the number of people who are part of the organization. It also tells who is allowed to take sessions or enter the premises in the building.
Organizations offering services such as dance activities or classes mostly need the registration forms to get information from their clients. Registration forms also assist in controlling and monitoring the enrolling dancers in the organizer. According to Statista, the number of participants in the dancing industry has reached more than 22 million in the year 2018. With that number alone, dance companies can't take those numbers without any registration forms to help. Aside from recording personal information from the dancers, the document will serve as a security document. It gives the right people access to the dances studios, schools, and other exclusivities of the company.
Building Blocks of a Registration Form
Like a choreography in a dance routine, you will never get to create effective registration forms without knowing its components. Registration forms come in different elements that could help an organization gather information about their dance members or their students. To help you learn more about registration forms, here are its parts:
Personal Information – The participants of the dance team or academy are like the customers. Registration forms are records of the dancers' personal information that allows the company to have a background check. It contains the dancer's full name, address, age, date of birth, and contact information. There are times that participants are at the age below legal age. That is why most dance registrations include the guardian's information and agree on specific details in the form on behalf of the participant.
List of Dance Categories – Most dance companies or dance academies have various genres to offer to dance enthusiasts. When registering, participants will have to specify which category they belong to or they are applying for. This section helps companies segment their customers and organize a schedule for their respective classes or recitals. Registration forms may have blank spaces or a complete list for the clients to freely input their dance category.
Registration Fees – Dance registration forms should also reflect the corresponding fees that the participants should pay. The dance fees could be the tuition, the membership, or the workshop. Companies should specify or breakdown the registration fees so the customers can see where their payment will reflect. Sometimes registration forms have payment method choices that could be convenient for both the service provider and the participant.
Verification and Liability Note – The registration forms are like application forms that need verification from the participants that the details they provided are true and accurate. Most registration forms also have liability notes that certify the participants' knowledge of all the terms and policies in the establishment. This section should reflect the client's signature and date signed to prove the agreement between the service provider and the clients.
The Relevance of Registration on Safety and Security
In the industry, companies would always prioritize the safety and security of their employees, staff, and, most importantly, the clients. Safety precautions are sometimes taken for granted by companies, and they tend to skip assessing their operations. It is important to sit and evaluate things going on in your business to oversee mistakes and fix them before it escalates. One of the things that a company should look into is controlling and monitoring the people in their establishment. Companies such as dance institutions should keep track of the number of people enrolled or involved in their services. That is why registration is essential. It helps the company keep track and record all the students and dance participants in their business.
Registration forms allow companies to gather personal information from the participants. They can use these details in background checking and contacting guardians in case emergencies occur. Recording the staff and participant's profile in the establishment will help in giving access to the right people in certain premises in the company. Registration forms hold the essential details needed for company IDs or segmenting exclusive services. Identification cards are one of the tools that aid the company to track and identify people who belong to their organization. Registrations are also useful in determining the departments these students or staff belong to. Especially in a dance institution, classes or workshops are separated according to their majors or genres in dancing. With the help of registration forms, it will be efficient in knowing who is responsible for each student.
Registrations help a lot in maintaining safety and security in an establishment—from IDs, electronic access, identifying members of the company, and many more. That is why companies should take serious actions in planning their registration process. The registration is one of the primary documents where other security features rely on. For establishments to have sufficient security, they should be familiar with the registration process and the materials involved.
The Use of Registrations in a Recruitment Process
Registrations are important in executing dance recruitment procedures. It makes the recruiters perform tasks and record applicants efficiently. Registration forms will serve as a student application that gathers a client's information for better assessment in assigning a particular dance applicant in a category. Registration forms are the very first thing that dance applicants should fill in when they want to enter a particular dance organization. Therefore, companies should create accurate registration forms for them to start their recruitment procedures smoothly.
How to Create a Dance Registration Form
Registration forms are like class rosters. It lists all the participants in a dance workshop or dance recital program. Organizers will have an easier way of monitoring and controlling all the participants. The document is useful in so many cases that organizers must have this document secured at all times. But for you to use registration forms successfully, you need to make it appropriately. Here are a few tips you can follow:
Step 1. Identify the Dance Participants
Organizers must know their dance participants before they start a program. Through the registration forms, a dance company will know the participant's personal and contact information. It is more efficient to reach the clients in case of emergencies and urgent matters. The document will also include their ages, so the coordinators will know how to handle each of the dancers.
Step 2. Determine Each Participant's Dance Category
Dancing has so many genres that they all differ from styles, flow, and choreography. The participants must be separated according to their genres, so the workshop or lessons would be all according to their dancing field. In the registration forms, there will be a section that allows the dance participants to specify which category they belong to. Like any other service, the corresponding registration fees will also be on the form for participants to prepare once they completed their registration.
Step 3. Always Provide a Verification Note
Placing a verification note will help bind the participant's registration. The note will confirm that the client has shared true and accurate information, as well as acknowledge that they know the terms and conditions of the company. The participant or their guardians will sign this area to seal the agreement note and complete the registration.
Step 4. Post Registration Forms in All Accessible Platforms
Always remember that clients will more likely sign-up if the registration process is accessible and convenient. Most of the dance companies' target markets usually hang around online. It makes things easier for them to post their registrations via social media or official websites. Though the traditional printable registrations are still useful, it is much more convenient to share the document using emails or websites. Make sure to proofread every content before posting.
Terminologies
Genre – It refers to the category of art content, such as dance and music, that speaks similarly in style or form. Dance genres are the categories or types of dance styles, forms, and flow.
Target Market – The focus group or target audiences of a particular business. It refers to the people who will find the service provider's products and services
Recital – A program that features music and dance performances by solo or group performers.
FAQs