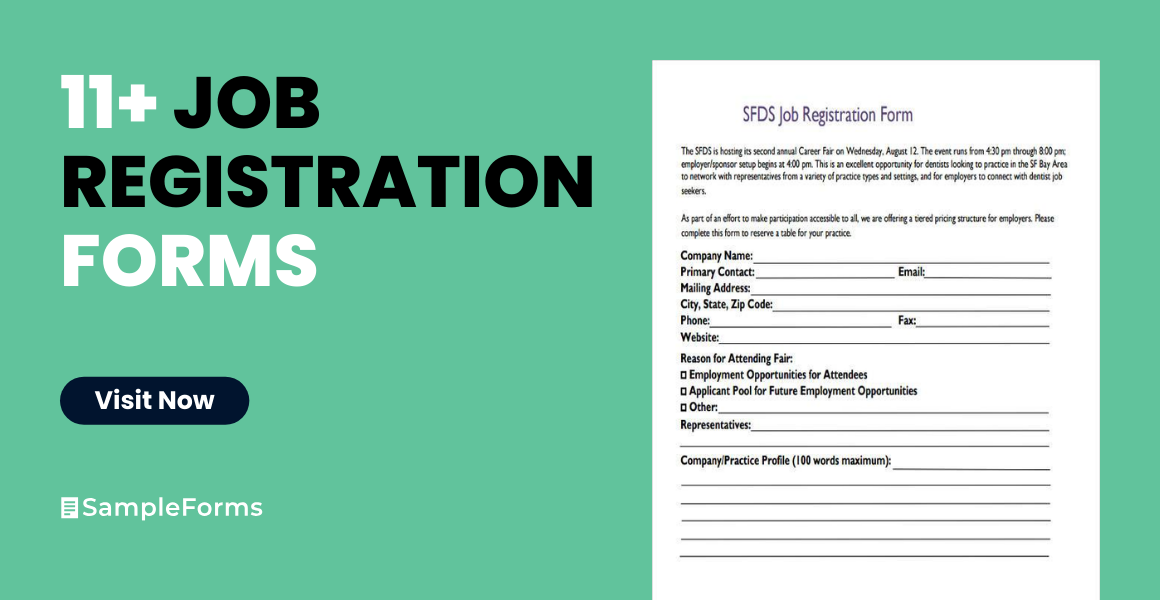 People apply for jobs on a daily basis. There are many different companies and organizations that are more than willing to hire those that might prove beneficial to them. Which is why these businesses tend to open up positions in which people may try to apply for.
However, before these people can be considered for hire, they will need to register themselves as applicants first. This will give businesses the opportunity to know who they are assessing and what these people are able to bring to them. So in the event that these people wish to try and apply for any kind of position available, then there are Job Registration Forms ready for them to use any time.
Government Job Registration Form
Railway Job Registration Form
Job Fair Registration Form Example
Job Placement Registration Form
Job Seeker Registration Form Sample
The Different Types of Job Registration Forms
Many business have Job Registration Forms available in the event that people decide to walk in and would like to try their hands at a  job opportunity. There are also many varieties of Job Registration Forms in the event that someone would like to apply for any position available. So here are some examples of these types of forms.
Government Job Registration Forms are the kind of forms that are utilized by those who wish to register for an opportunity at any government related position. These people will need to have the necessary qualifications such as an educational background focused on the government positions or experiences in professions that correlate to government duties.
School Job Registration Forms are mainly used by those people who wish to apply for positions in any education institution looking for able teachers. These forms require that the person has a proper degree in education and any experience that relates to the educational field.
Railway Job Registration Forms are for those who wish to take part in any railway related job. Which could mean that these applicants might be hired to maintain the railway or construct new ones. These people have to be physically fit, as well as having the knowledge required to maintain these railways if necessary.
Job Portal Registration Form
Job Registration Form Example
Free Job Fair Registration Form
Fresher Job Registration Form
Job Fair Employer Registration Form
Job Application Registration Form in Doc
Business Job Registration Form
The Importance of Having Job Registration Forms
Companies have to be certain that they are acquiring only those who meet the necessary qualifications for positions that they are opening up. That's why there are Job Registation Forms to ensure that these companies only hire those who are deemed fit. Payroll Register Forms
One can compare these to Payroll Register Forms but instead of registering for one's payroll, these are people registering for a job in order to acquire a payroll. What these forms assess are all the factors that contribute how deserving an applicant is for a certain job title. So these forms look into that applicant's educational background, work experiences, level of skill and communication. These might registration forms may even find problems with an applicant such as a criminal record in which companies can avoid hiring.
So in the event that you need to apply for any job, it's best to be sure that you use Job Registration Forms to state who you are, and the type of job that you are applying for.