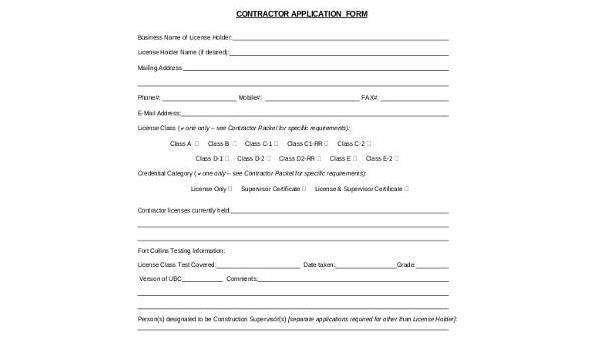 A contractor is a person or company that undertakes a contract to provide materials or labor to perform a service or do a job. These are people or companies who are basically in charge of overseeing how well certain projects will be done, and they make sure that they're done right.
However, if these people or companies are going to apply for jobs, they'll need to make sure that they have the proper application forms first. If not that, then then they'll need the proper forms to guarantee that they become official contractors so that they can hand out their services to anyone who needs them.
How would they go about this? The easiest way for these companies to apply for these jobs is through the use of Contractor Application Forms.
Safe Contractor Application Form
Electrical Contractor Application Form
Approved Contractor Application Form
Contractor Job Application Form
Contractor Application Form Example
The Different Types of Contractor Application Forms
There are various types of these forms, including Independent Contractor Forms, which allow just about any contractor to apply for a job at a certain corporation or organization. Here are some examples of these types of forms:
Electrical Contractor Application Forms are the kind of forms that are utilized by those electric companies that wish to apply their services to certain other companies that they feel can benefit from their energy source.
Contractor License Application Forms are mainly used when certain companies or people want to acquire an official license to make sure that the services provided are strictly legal and official and that nobody can say otherwise.
Contractor Job Application Forms are forms for those companies or people that want to offer their services for a job. It can be just about any kind of job. As long as the contractors have the skill and materials for it, then it's best that they apply for it.
Contractor Credit Application Form
Contractor Registration Application Form
Contractor Licence Application Form
Contractor Application Form in PDF
General Contractor Application Form
General Contractor License Application Form
The Importance of Having Contractor Application Forms
There's a reason why there are Contractor Contract Forms or Contractor Application Forms, and that's because contractors want to make sure that they apply for jobs that they know they can do and that they know they can do well.
These not only help out the contractors, but for the people or companies that are hiring them as well. These can help them assess if these contractors have what they need to product top-quality work at a desired time. If not, then they can always look for others who can help them out.
So if you're a licensed contractor, don't be afraid to apply for a job that you think you and your company can do.