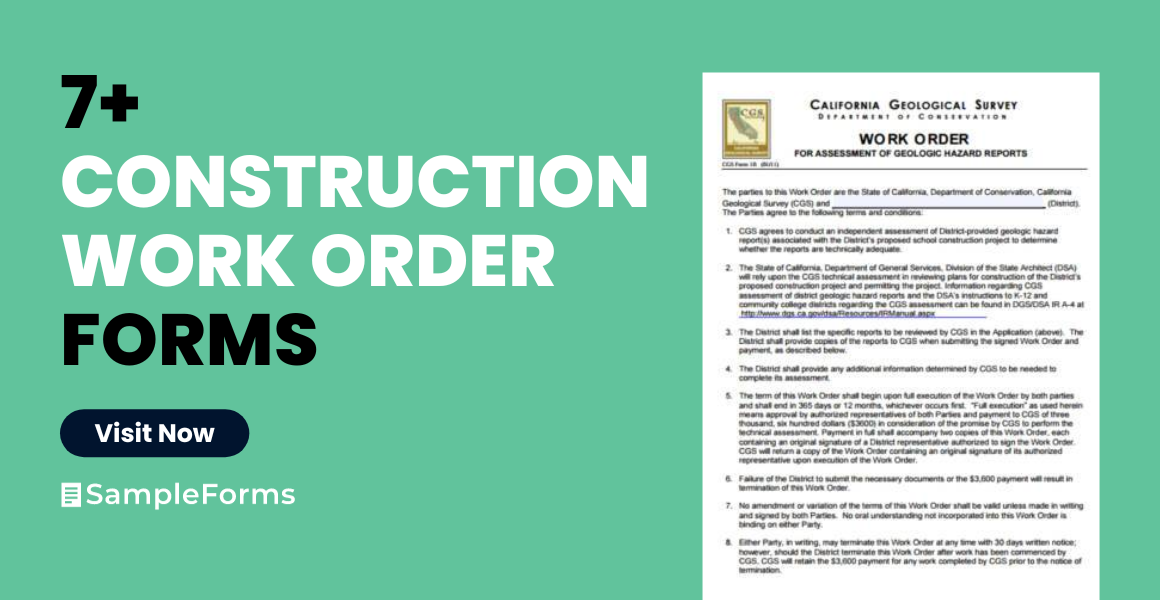 Work orders specify the needs and expectations of clients by providing a precise list of the functions and/or processes that are needed to be done to finish a project. Work orders can be used whether it is a product or a service that the workforce needs to supply. Basically, it's when companies need certain employees or certain companies to do a set of tasks for them, with proper compensation of course.
However, before these work orders are even started, these companies need to make sure they properly plan out the different details as to what these orders contain. This is especially true when it comes to construction work; they'll need to properly plan many aspects out, such as payment and materials that are going to be used.
The best way to help these organizations out is by using Work Order for Construction Forms
Free Construction Work Order Form
Construction Extra Work Request Form
Construction Field Work Order Form
Construction Job Work Order Form
The Various Types of Construction Work Order Forms
There are many different types of these forms that allow just about any company to guarantee that the contractors of the construction work understand what kind of services they'll need to do. Here are some examples of these types of forms:
Construction Change Order Forms are the kind of forms that are used by those companies that have made certain arrangements to their work orders, but would like to change a couple of them. It could be because there are certain factors such as financial issues that prevent some things from going on as planned, which is why it needs to be changed as soon as possible.
Construction Extra Work Request Forms are used when the contractors need to perform extra services. These make sure that the contractors know about these extra requests and that these will be tallied up in the bill.
New Construction Work Order Request Forms are mainly used every time a company has a new request for a certain kind of work order from their contractors.
New Construction Request Form
Construction Work Order Form in PDF
Construction Work Order Request Form in Word Format
Construction Work Order Form Example
The Importance of Having Construction Work Order Forms
It should be stated in the Construction Contract Forms as to what kind of services are to be expected from the contractors. These help make certain that the contractors understand what they'll be doing and what they need to do in order to appease the people who hired them.
These are really important to companies because these let them know what kind of job they appointed these people to. It lets them know how much they'll be spending for certain services and materials provided by those contractors.
Construction needs to be handled with proper management and care, and if someone gives the right work orders, then things will go as smoothly as they should.