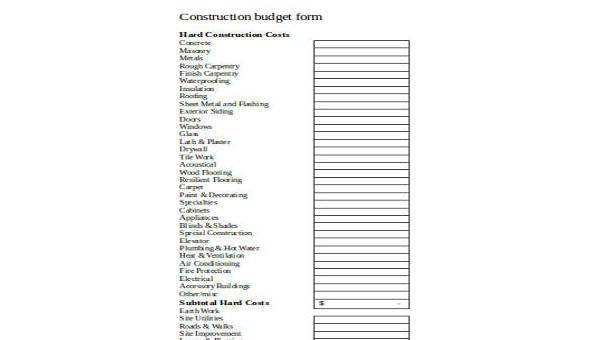 There are many different kinds of construction projects performed every single day. Major companies, or even startups, always need establishments. This means that they need a building to be made so they can set up headquarters, or construction can even be for those who just need a home.However, before construction commences, they need to know how much they can and should spend. Construction Budget Forms help those companies figure out how just how much they should invest when constructing certain facilities. It allows them to manage the funds and make sure that they use them wisely.
Home Construction Budget Form
Construction Capital Budget Form
Construction Budget Form Example
Construction Cost Estimation Form
Construction Information Budget Form
The Different Types of Construction Budget Forms
Construction Budget Forms come in different types such as Event Budget Forms and Annual Budget Forms, for those who need construction for special circumstances or situations. Here are some other examples:
Commercial Construction Budget Forms are for those who are in the business of constructing buildings for the purpose of selling or leasing them.
Construction Information Budget Forms are used to know about the information of the type of construction being conducted.
Construction Cost Information Forms are to know just how much a company or organization is going to spend for a construction project.
Construction Capital Budget Forms are for those who need to know just how much capital they have before construction begins.
Home Construction Budget Forms are for those that wish to construct homes either for staff or just for those who wish to create homes for themselves.
Keeping it simple and using Construction Budget Forms can help those who are about to engage in construction easily convey what they want and determine the resources they have.
Construction Budget Form Sample
Construction Budget Form in Doc
Commercial Construction Budget Form
Blank Construction Budget Form
General Construction Budget Form
The Importance of Construction Budget Forms
In planning, designing, and constructing a project, knowing the cost is of the utmost importance. This is true today more than ever. Taking the cost into consideration can help you plan out how much capital you need and how much your extra finances are needed for future construction. By understanding Construction Costs and how to indicate your budget, it's possible to avoid the time-consuming and costly process of reviewing or redesigning the project. Knowing what and where you're going to construct facilities is important for those companies that need to expand. These can improve the quality and show just how far the development and status of certain companies is going. These forms also make sure that companies don't go over the budget and learn to manage their resources well.