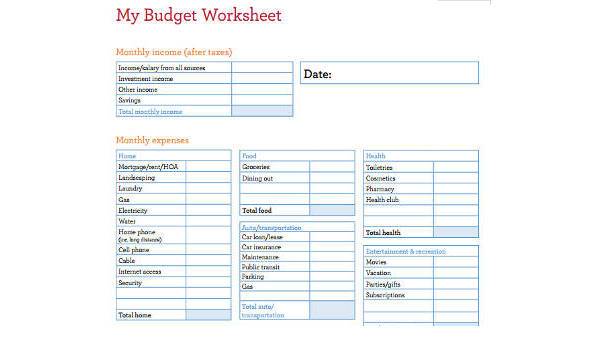 Creating a budget plan for your family can be quite a challenge. With all the demands of family life, creating a budget plan with the amount of money that you and your family make in a month can be frustrating. A budget, however, is the only way for you to make sure that you are able to spend your money wisely and to control yourself from overspending.
A budget plan needs careful thought and consideration. One of the much-needed tools for budget planning is to have a Budget Form. You can download our sample budget forms easily to help you cut back on time from having to draw up a budget form from scratch.
Basic Family Budget Form
Monthly Family Budget Form
Free Family Budget Worksheet  Form
Household Family Budget Form
Budgeting can be tricky and challenging; however, at the end of the day, the effort will all be worth it. When you are on top of your financial management game, you will be able to pay for your living expenses, keep your debts in check, save up to pay for something that you want, and avoid the strain and anxiety of having not enough money or having none at all.
The skill of managing your finances is not based on a magic formula. It is something that requires a lot of strong will to be learned. Below are tips on how to help you work on a budget for your family:
Download a Budget Form
There is something oddly motivating and convincing about writing things down and having to physically see figures on a sheet of paper rather than having to mentally store them in your mind. You can download our available forms and templates for Household Budget Forms, which are are in .pdf and .doc formats for your easy access. Be sure to list down all your costs and expenses on your budget form to give you clarity on the things that you need to pay for. Having a budget form also helps you properly organize and manage the items that are a priority to you.
Indicate Your Expected Incoming Money Each Month
Whether you are solely relying on the salary that you make each month or whether you have other means of income other than the salary that you earn from work, indicate the total amount of incoming finances on top of your form. This will serve as your marker so that you can figure out if your incoming cash is bigger than your outgoing or if it is the other way around.
Gather Up the Guts to Gather Your Receipts
As tedious and scary as this may sound, you will need to gather up all your courage to take out all your receipts and statements and list them down on your budget form. Knowing the total amount that you have to pay may be quite overwhelming, but being able to determine how much exactly it is that you spend in a month will help you budget your finances so that you do not overspend on other unessential items.
Family Reunion Budget Request Form
Family Budget Form Example
Monthly Expenses Budget Form
Family Budget Form in Word Format
Categorize Your Expenses
Categorize each expense according to priority in your Sample Budget Form. Utility expenses such as electricity and water should be on top of your list followed by your secured debts such as your mortgage, then your unsecured debts such as your credit cards, followed by your miscellaneous expenses. Your miscellaneous expenses need to be at the bottom of your list since these are expenses that you need to let go of or cut back on when you need to later on adjust to your budget.
Get the Grand Total
Now that you have categorized each item according to priorities, you will need to calculate the total amount of all these expenses. The main goal is to make sure that your expenses are lesser than your income. If the grand total exceeds your expected incoming finances, then you will need to look at items you can cut back on. You can start listing out items under your miscellaneous expenses since these are items that you can temporarily do without or items that do not demand interests or payment compared to your mortgage, utilities, and your debts.