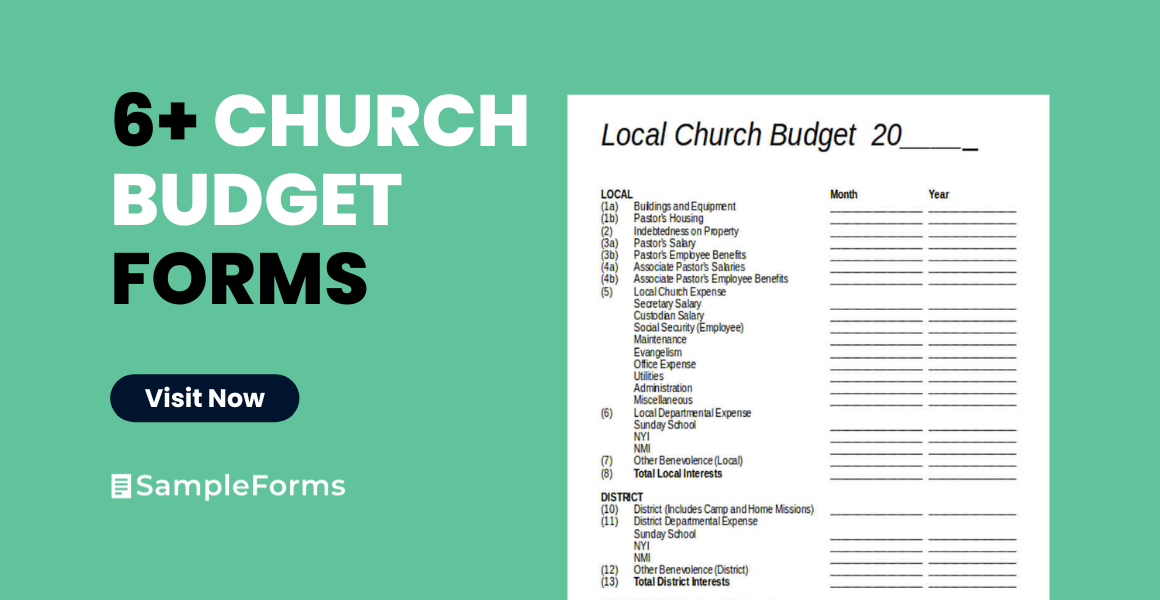 Budgeting is an important process in every type of organization. The budget will consist of the estimated amount of money for expenses in a specific period of time. When the budget plans from different departments of a company are combined into one, a Master Budget is made.
A budget for a nonprofit organization is made from the savings of the volunteer members and sponsor donations. Federal tax exemptions are granted to these organizations. Although churches are considered as charitable organizations under the IRC Section 501, they undergo the same filing process of nonprofitable organizations in filing for tax exemption.
Church Budget Request
Church Budget Planning
Small Church Budget
What is a Church Budget?
Just like companies and businesses, churches also do their best to manage their expenditures with the use of Budget Forms. The church's budget will be divided based on the ministry's priorities, the short and long term goals, and the church's funds to be used per day. Budgeting requires careful decision-making skills to avoid having shortfalls in the expenses. When there are baptismal, wedding, and other ceremonies held in the church, the members of the financing department also needs to set a budget plan for the event with the help of an Event Budget Form.
How to Create a Church Budget?
Anyone who is just starting to make a budget plan might have difficulty deciding where to start. Here are the steps in creating a Church Budget:
Step 1: Choose and edit a form from our Sample Budget Forms.
Step 2: Determine the income of the church.
Step 3: Prioritize what needs to be spent.
Step 4: Include the year's missions in the church's budget.
Step 5: Gather the monthly expenditures and input in the form.
Step 6: Compare the monthly expenditures.
Step 7: Adjust the church's expenses to meet the level of income.
Step 8: Total the income and expected expenses.
Step 9: Print the document.
Church Ministry Budget
Local Church Budget
Event Church Budget
Sample Church Budget Form
10 Tips for Church Budgeting
1. Clarify your Goals. Avoid being too superficial about where the church is heading a few years from now, instead, set specific and concise goals.
2. Spend wisely. Be sure to spend only for the necessary things that will help the church attain its goals.
3. Learn the art of saving. Assign someone who can manage the finances of the church.
4. Give generously. Though budgeting is tight, it is still important to give back to the people who helped and became a part of the church.
5. Do a cloud tithing. Open an account online that will help in receiving donations from sponsors.
6. Use our Budget Forms Free templates. Drafting from scratch will be easier with our ready-made forms, so choose your formats now.
7. Find a way to have a discount. This refers to having annual payment plans instead of a pay-to-go system for the church's needs.
8. Budget the events. Make a separate budget sheet for church ceremonies and occasions, such as using a Wedding Budget Form for planning a wedding event.
9. Hug the advantages of new technology. Say goodbye to pens and markers, and use projector screens for hymnals instead.
10. Welcome the volunteers. Churches usually don't need to hire anyone, as there are many people willing to volunteer at their local church. Welcome volunteers and compensate them through snacks and fun activities.