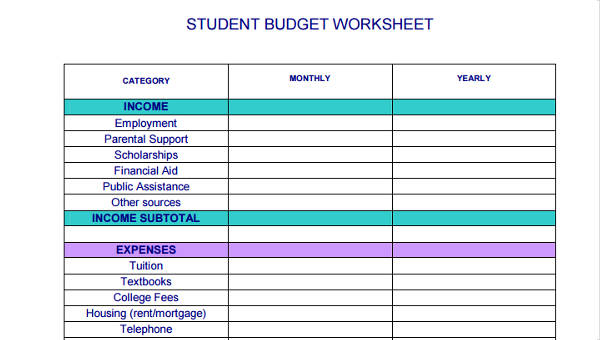 Having a budget is always great. It lets you know just how much of your money you should spend and where you should spend it on. However, you'll also need to know how to properly make one in order to maximize efficiency. With our forms, we'll be able to help you by showing a step-by-step guide on how to make a personal budget.
Learning how to construct a budget form is especially important to a student as they have so many things to pay for. Things such as their tuition fees, books, rent, food and other miscellaneous payments. If you're still studying in any educational institution, then these forms can definitely help you out.
Annual Student Budget
Student Budget Worksheet
Student Grant Budget
Student Monthly Budget
College Student Budget
What is the Average College Student Budget?
As a college student, you have a lot of things to pay for, and your budget depends solely on the type of program you're taking. So here are are the averages  for college students depending on their program and school.
$17,000 estimate for a public two year program on commute.
$24,610 for a public two year program while living on campus.
$49,320 for a private four year program while living on campus.
So if you're a college student, make sure to use your Student Budget Form wisely to help you make sure that you don't go over your budget.
How to Make a Student Budget?
Making Student Budget Forms depends on the kind of student you are. Lets say you're using College Budget Forms, you have more things to think about because a high schooler is not required to worry over the issues of dormitory payments and other things unlike a college student. You'll want to know just how much you're making and you need to know how to place your money in the right places. Which means planning things such as how much your tuition fee costs will be, your utilities, food and much more. So try to use these forms as efficiently as possible.
Student Budget Planner
Printable Student Budget
University Student Budget
Sample Student Budget Form
Guidelines for Student Budget Forms
Here's a few things you should know when making a student budget form.
Know all your sources of income and put them into the form. So payment from your part time job or even allowance from your parents should be in these forms.
Know which expense to prioritize first. It would not be advisable to focus your entire budget on food, and none on rent, so take note of which expense must be prioritized.
Make the list as detailed as possible. That means indicating everything you're paying for and how much you will be paying for them.
Never go over budget. That should go without saying, unless the expense is absolutely necessary.
While there are other forms for a student such as Project Budget Forms which makes the student handle the finances properly for a single project, nothing is more important for the student than to budget his own personal finances. And there are lots of Sample Budget Forms here for you to download and help you out.