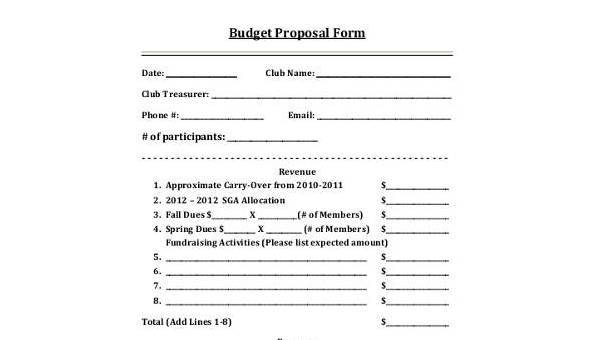 A Budget Proposal is one crucial term in the world of grant-making and plays a key role in the process of determining the merits of funding projects. A Budget Proposal is exactly what it sounds; it is a proposal for funds to be given for the completion of a project. Budget Proposals typically include the total cost of expenditures needed for a project, its individual expected expenses, and any other anticipated costs. Budget Proposals also include revenues that a project may generate and helps investors or grant providers determine if the project merits funding.
Since a Budget Proposal provides an estimate of a project's future cost, revenues, and resources, the business world and almost all types of government agencies utilize it as a means to obtain funding. A Budget Proposal can be tailored to suit the requirements of complex financial figures or smaller financial numbers. The Proposal Forms we offer are designed for your easy access and are flexible enough to suit your Budget Proposal Needs. Our forms range from Business Proposals to Project Proposal Forms and even Construction Proposal Forms.
Agency Budget Proposal Form
Student Budget Proposal Form
Club Sports Budget Proposal Form
Free Budget Proposal Form
Budget Proposal Form Example
Developing a Budget Proposal can be quite a demanding situation. It is a type of document that needs to be carefully and thoroughly constructed in order to create a huge impact among investors so that they will be convinced to provide financial support to a project. Below are tips on how to make an effective Budget Proposal.
Measures a Business's Target
A Business Proposal must be able to quantify a business's objectives and goals and must also be able to identify ways on how to reach these objectives. By conducting benchmarks, organizations are able to identify the level of performance that is needed to achieve the benchmarks provided. These benchmarks should be flexible, in a way that it permits the business to shift its goals and performance levels easily to make up for an adverse market condition that is financially permissible.
Evaluate Performance
Budget Proposals must also be able to establish parameters for assessing performance in achieving goals and meeting benchmarks. By doing this, a business or an organization is able to forecast the potential of them meeting the goals that have been established in the proposal. Typically, the higher the standard is for measuring performance, the lower the chances of meeting goals.
Basic Budget Proposal Form
Budget Proposal Form in PDF
Printable Budget Proposal Form
Budget Proposal Form in Word Format
Research Budget Proposal Sample
Allocating Funds
Allocation of funds is considered to be the meat of a budget proposal because it provides information on how a department or an organization can use up the available funds to meet their goal. Cutbacks may be done by certain departments in an effort to decrease spending and increase the allocation of funds to more critical business departments or programs.
Cost Estimation
Use generally accepted cost estimation methods such as catalog prices, price quotations, or previous or current costs that are appropriately escalated. Cost estimates need to be as accurate as possible to cover the expenses proposed in the project.