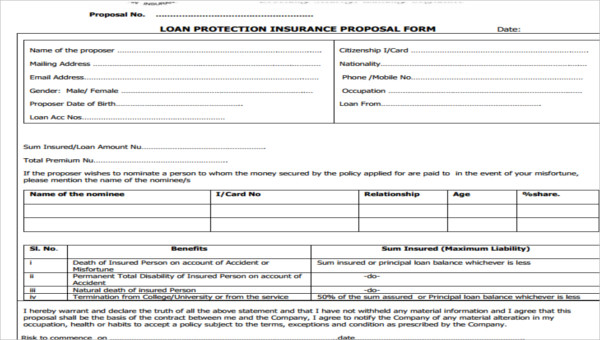 There are really times when business owners need to apply for a loan to improve and develop their business, or to cover up for losses to ensure the continuity of their business. There are also people who want to open a business but do not have the financial means to do, and so they apply for a loan. When applying for a loan, the key to ensuring the approval of your loan application is by presenting a well thought of and comprehensive Loan Proposal. Many types of Proposal Forms are used in various business functions, and a Loan Proposal Form is one of the many kinds available.
Business Loan Proposal
Personal Loan Application
Loan Application Proposal
Home Loan Proposal
Application Form for Micro Home
Global Personal Loan
What is a Loan Proposal?
A Loan Proposal contains various essential information about the applicant and his financial standing that will help creditors identify if he is qualified to take out a loan. It allows the applicant to showcase his strengths and assets to show that he is credible and capable enough to repay the loan. For each type of loan that the applicant wants to apply for, there is a corresponding Loan Proposal Form that he can use. There are also Insurance Proposal Forms that are used by people who want to apply for any types of insurance. An Insurance Proposal Form contains pretty much the same information as a Loan Proposal Form.
Common Users of Loan Proposal Forms
Basically any company or entity who wishes to provide loans utilize Loan Proposal Forms. The most common of these users are credit companies and banks, since providing loans and mortgages is one of their main functions. Another user of Loan Proposal Forms are educational institutions who provided student loans as a form of financial assistance to their students. Employers or business organizations can also choose to provide loans or financial assistance to their employees to help them develop their career and character.
Bank Loan Application Example
Application for Short Term Loan
Insurance Loan Proposal
Reliance Loan Proposal
Application for Student Loan
Loan Protection Insurance Proposal
Things to Remember
Credit Report: The moment you are thinking of applying for a business or personal loan, you should think about your credit report as well. Your credit report contains a summary of your credit history, which means it shows your financial activities. Creditors and banks usually pull a copy of an applicant's credit report as this will help them determine if the person is financially capable of repaying the loan if it is ever approved. So before you even apply for a loan, you should pull a copy of your credit report to check for any inaccuracies. Everyone is entitled to get one free annual credit report from any of the three credit bureaus (Equifax, Transunion, and Experian) so you can obtain one from any of them.
Business Plan: A Loan Proposal is basically a business plan, where you show the history of your business, your years of experience in the type of business you want to start or expand, your business financial statement, and any other supplementary information being asked by the creditor or bank. It is important to show the strengths of your business so that your loan will be approved. If your business is in catering, you may also see our Catering Proposal Forms to be used for catering events and parties.