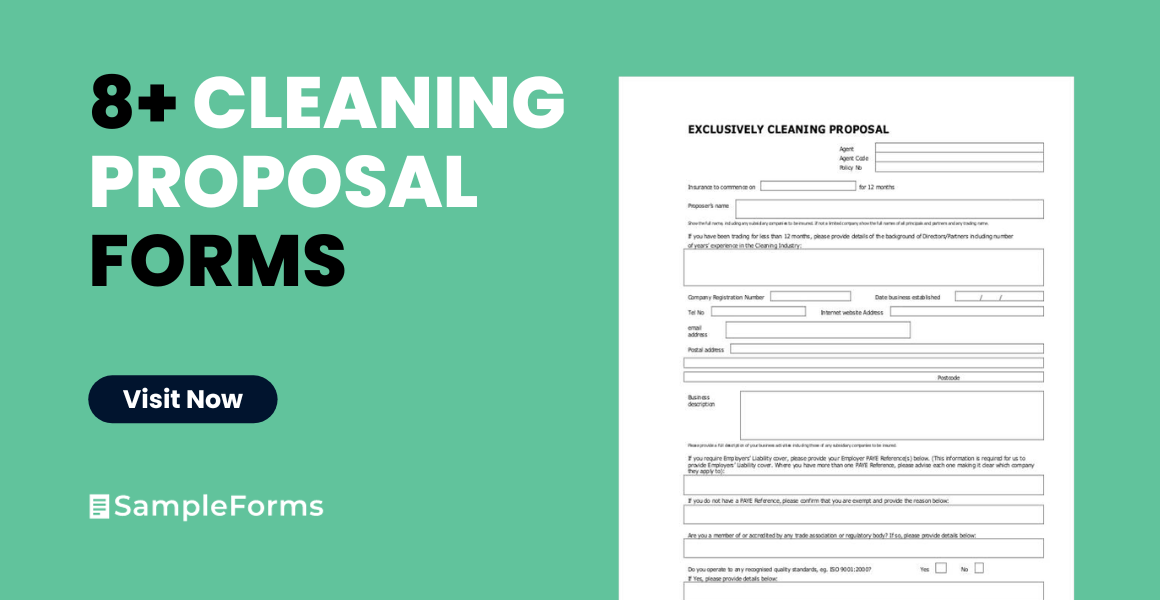 One must learn to make use of proposal forms if that person has any plans or ideas that he or she wishes to suggest. It can also  be used if that person would like to apply for something such as an insurance. All one has to do is provide all the information that is required.
Making proposals is important to businesses that would like to provide their services. A good example would be utilizing service proposal forms wherein one can indicate information regarding how much certain services charge, and other information such as how hourly rates and the types of services that will be provided.
Cleaning Business Proposal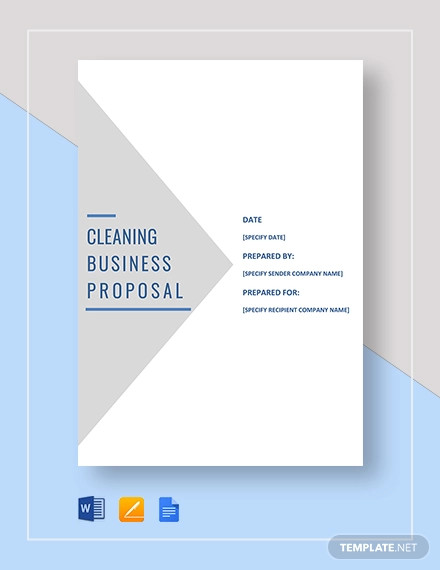 Cleaning Bid Proposal Form Example
Office Cleaning Services Proposal
Exclusively Cleaning Proposal Form
Public Products Liability Cleaning Proposal
What Is a Cleaning Proposal Form?
A cleaning proposal form is a document that is utilized by cleaning companies wherein they provide their clients with information regarding the cleaning services that they offer. Clients that receive these forms are able to understand the type of cleaning services the company is willing to provide, as well as other information such as the pricing and agreements. So as a client, be sure that to check our service proposal form samples regarding cleaning proposals if you would like to know more about them.
How to Write a Proposal Letter For a Cleaning Contract
For those who would like to make a proposal letter or even write up bid proposal forms for cleaning services, then the follow these steps to help you:
You will first have to decide whether you are charging by the hour, or by the job. Both have their advantages and drawbacks so it is up to you to decide.
Know your hourly rate even if you decide not to charge by the hour.  This is so you can provide quotes that do not overcharge your customer and at the same time does not result in you getting paid less for your services.
Write down everything it will take for you to complete the cleaning services you are going to provide.
Calculate the total amount of hours it will take to complete the job, and apply your hourly rate to get your bid amount.
Sample Cleaning Proposal Request Form
Cleaning Services Proposal Form
Free Cleaning Proposal Form
House Cleaning Proposal Form
What to Include in a Cleaning Proposal
When creating a cleaning proposal, you must make sure that you include the following:
Indicate information about your company. You should be able to provide a proper introduction to your company. Put your point across on how your company deals with clients.
Provide accurate descriptions of all the services that you provide. Provide details about how your company provides the services and how you are going to meet the needs of your clients.
Also provide information regarding the materials that you are going to use during the service.
Make a section that shows the pricing estimates of all the services you are going to provide for your client. So total the amount of all the services for your client and provide details such as the quantity and description of each. If you have any discounts, then provide it in the proposal.
If you would like to learn more on how to create a proper cleaning proposal, then you may check out our other sample proposal forms to help you.