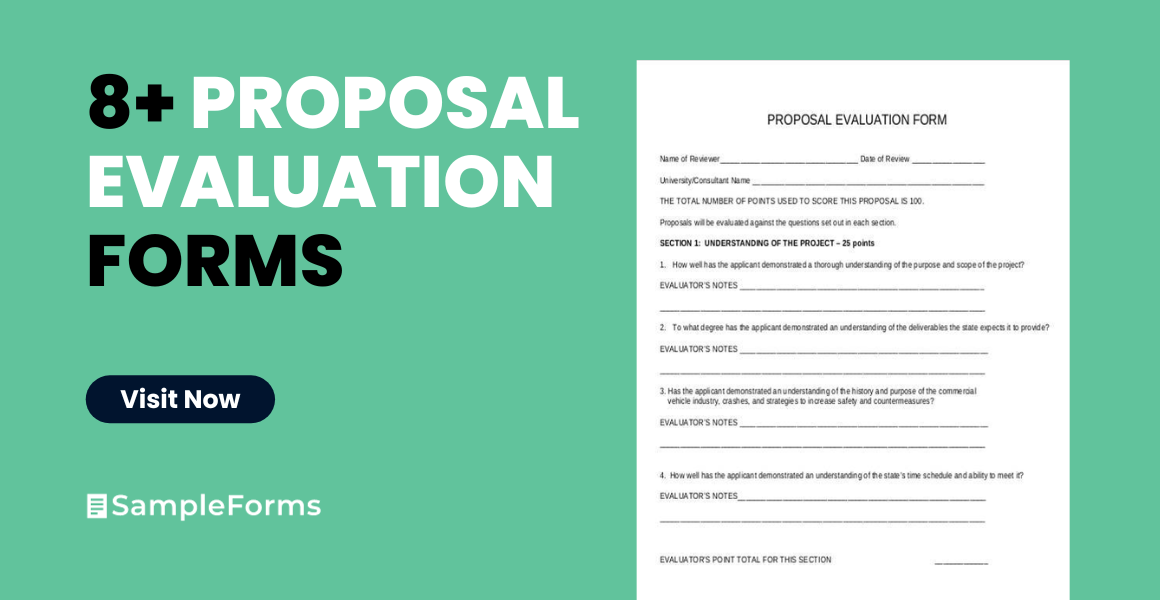 In a time wherein researches and thesis writings are a requirement for graduation, it is important to make Proposal Forms in order to suggest and thoroughly explain your study and topic with those who are involved. It is required that both the researcher and the subject know the terms and conditions that would protect their interests and private life.
There are things included here that are expected to be accomplished during the course of the study, and each action should be followed thoroughly in order to avoid complications in the future. Make a checklist and understand the main goal for your team's study.
Research Proposal Evaluation Form
Sample Grant Proposal Evaluation Form
Project Proposal Evaluation Form
Proposal Evaluation Form Example
Aside from the actions and the coverage of the topic you plan to pick up, it is ideal for both the researchers and subjects to know what the objectives of this study are. Knowing this gives you a clearer view of what you should do and what your goals are when you are doing this subject. This also helps you understand if there are any mistakes you are making in achieving the results you want and thus correct the content where necessary.
It can also help in deciding which topic is appropriate for you and understanding the consequences of choosing subjects poorly in the process. These forms also serve as a checklist in the process of the study in order to understand better the ideal actions that would guarantee to make your thesis a success. These forms also allow input from evaluators.
Through here, you are able to guarantee the success rate of your topic in order to avoid unnecessary corrections and revisions in the future. See Project Proposal Forms to check for ideas or download any of the forms available for your study.
Thesis Proposal Evaluation Form
Training Proposal Evaluation Form
Audit Proposal Evaluation Form Sample
Consultant Proposal Evaluation Form
General Proposal Evaluation Form
Aside from thesis forms for students and researchers, it is also ideal for trainers to understand the effectiveness of their programs in order to correct the steps that are not necessary in the process of the exercise. It also helps you understand what components you have neglected and hope that you manage better in future performances.
This will also serve as proof in order to see how much you have improved compared to when you first started. It also helps that it will give you more knowledge in performing your tasks in the present or future. This will also help your performance and check your overall quality for possible improvements with the help of the scores from the evaluators. These forms will also be useful when you are trying to start a new business and check the overall performance in order to understand the risks and resources wasted on a poorly scored component.
It will surely help you keep records and create ideal proposals out of unified ideas from your company in order to make the business soar or even a personal research successful. In order to help you completely plan your future business plans and dreams, see Sales Proposal Forms.