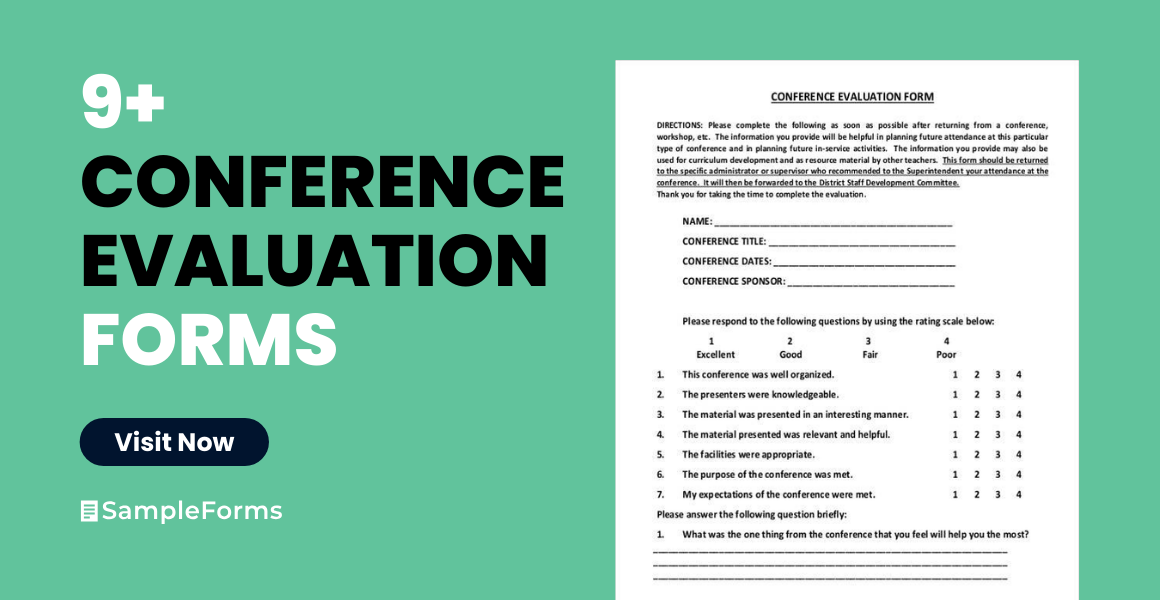 A conference is an avenue for people who are championing the same advocacy or those who are involved in the similar study to gather together to learn new things and acknowledge successes within the industry where they belong. There are different kinds of conferences since there are also various fields of expertise where formal gatherings are organized for the betterment of the entire community. At a conference, innovative ideas are thrown about left and right, and new information is exchanged among experts.
How would you know if people benefited from these conferences? Or determine whether these conferences did any good or were just a complete waste of time?
These are what Conference Evaluation Forms are for, to assess how useful and how well a conference was conducted.
Post Conference Evaluation Form
Video Conference Evaluation Form Sample
Conference Session Evaluation Form
Conference Presentation Evaluation Form
The Different Types of Conference Evaluation Forms
There are various types of Conference Evaluation Forms that determine how well prepared a presenter was, and how excellent his execution of the conference was. Here are some examples of such forms:
Post Conference Evaluation Forms are used by those people who participated in a conference and who wish to evaluate aspects such as the clarity of the speaker's voice. These kinds of aspects can only be evaluated after the conference.
Video Conference Evaluation Forms are used in assessing how well video conferences were handled. These also tackle and evaluate its other aspects such as the topics that were being discussed and how interesting they were.
Conference Presentation Evaluation Forms are used to evaluate how well the speakers during the conference managed to present their topics. These are to see if they managed to get their points across clearly and at the same time capture the attention of those listening.
Medical Conference Evaluation Forms are used when holding conferences that discuss medical-related topics. These are to see if the presenter was knowledgeable about the topic he was talking about and determine its relevancy toward the medical field.
A conference can be considered a workshop for those who wish to learn how to publicly present and discuss specific topics. This is why Workshop Evaluation Forms can also come in handy when assessing conferences.
Generic Conference Evaluation Form Sample
Medical Conference Evaluation Form
Conference Evaluation Form Example
Free Conference Evaluation Form
Case Conference Evaluation Form
Standard Conference Evaluation Form
The Importance of Evaluating Conferences
It's really important that when a person is evaluating a conference, he or she should be as honest and critical about it as possible. A conference is where someone talks about certain topics in front of a large gathering of people and makes sure that those who are listening understand and become interested in that topic. However, what if the presenter discussed about things that have no relation to the topic whatsoever? What if the facts he gathered for his presentation are either lacking or are all dead wrong?
It's up to those who listen and evaluate conferences to make accurate and sound judgement on whether or not the presentation was worth the time listening to.
A conference is an event wherein people have fun and where they learn new and interesting things about certain topics. Making sure that all information in a conference is trustworthy, along with its execution and the speakers's capability of convincing people, are all important aspects that should be taken into account when evaluating a conference.