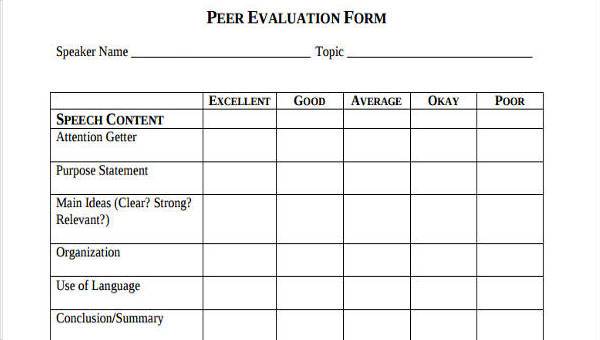 Gathering information about a particular individual or business institution can significantly affect any future relationships. From a wider perspective, the development of certain individuals or businesses is greatly affected by how they react in certain situations. In most cases, an Evaluation Form is necessary to be able to determine these facts and how to address them.
Feedback can occur on a casual basis such as during regular conversations. However, a more formal approach can be taken through the use of these forms. These forms are typically quantitative as they involve a specific amount of data needed to address a specific type of person or situation.
Peer Evaluation Form For Work
Quick Peer Evaluation Form
Peer Project Review Evaluation Form Example
Peer Work Group Evaluation Form
Student Peer Evaluation Form Example
Independent Peer Evaluation Form
An evaluation form can collect information such as attendance, workplace behaviors, dependability, motivation, and judgement. These make Team Evaluation Forms a vital part of addressing certain issues in an organization. Well-run organizations and effective programs are those that can demonstrate an achievement of certain goals, and more often than not, gathering of the required information is done through evaluation. Managers, for that matter, should conduct evaluations to get the needed information for them to be able to make sound decisions that can greatly affect the organization as a whole. Although evaluations can be done internally, there is still a need for larger-scale external evaluations for the purpose of addressing some questions about the organization's impact on society.
Evaluations conducted on a regular basis can greatly improve the quality and effectiveness of the organization's programs. Additionally, evaluating a team's performance is a very important skill certain organizations or businesses should have. Before anything else, one must revisit the goals of an organization to be able to draw realistic conclusions. It should also be necessary to personally talk to each member of the organization to determine their feelings and gauge their thoughts.
Team Member Peer Evaluation Form
Self & Peer Evaluation Form Sample
Peer Powerpoint Evaluation Form
Peer Teaching Evaluation Form Example
Peer Evaluation Form
Project Team Peer Evaluation Form
Project Peer Evaluation Form
Evaluating group work can provide vital information such as finding out how learning is achieved. This is when Group Evaluation Forms come in handy, though there is no single method on how these forms are designed or conducted. Methods can be quantitative or qualitative, formal or informal, formative or summative, self-administered or externally administered, or any combination of these. However, there are advantages and disadvantages in each given method, and your choice will largely depend on the purpose of the evaluation as well as the content, material, practices, tasks, or activities being evaluated.
An evaluation can also occur at any given time, but more often than not, it comes at the end of the semester or at the end of any given task. It should also be important to clearly explain the real reason behind the evaluation. Explanation of such reasons at the start should give the participants the opportunity to reflect along the way.
An evaluation can also be built as a part of the requirement of a specific group work as it encourages more participation of the members of the group. It is equally important to consider who will use the findings of these evaluations and how such will be used.