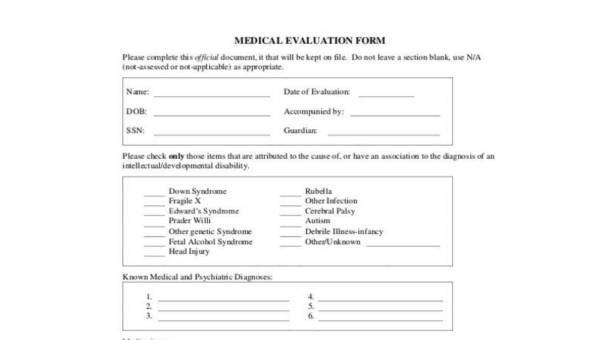 In the field of medical treatment, it's very important that you have the right tools and resources. It's important that medical practitioners know the equipment that they're using, along with what kind of medicine they should apply in certain situations.
However, how would they go about assessing these things? How would they know if the equipment they're using is obsolete? How would they prevent other people from using them?
These are where Medical Evaluation Forms come in handy. These allow medical professionals to assess certain aspects of their studies and the resources they have to ensure that those they treat get the best medical care.
Medical Product Evaluation Form
Medical Device Evaluation Form
Medical Equipment Evaluation Form
Medical Evaluation Form Example
The Different Types of Medical Evaluation Forms
There are various forms that medical professionals can use to assess what they have and what they need before they start any kind of procedure. Here are some examples of these kinds of forms:
Medical Self Evaluation Forms are used by those medical practitioners who want to conduct self-assessments of how well they're performing in their field.
Medical Teaching Evaluation Forms are used to assess those who are teaching medical-related topics. These forms are especially useful for those who need to see if the person in charge of teaching is a reliable source of medical information or not.
Medical Employment Evaluation Forms are forms used to employ those who wish to get into the medical field. These are to evaluate if this person has the right qualifications to enter the company providing the medical opportunity.
Medical Equipment Evaluation Forms are used by medical professionals to assess the kind of equipment they have before they use them to conduct tests or treatment.
Medical Product Evaluation Forms are used to make sure that the medical products that would be used by medical professionals are safe and can provide them with the help they need.
Medical Teaching Evaluation Form
Medical Employment Evaluation Form
Driver Medical Evaluation Form
Free Medical Evaluation Form
The Importance of Medical Evaluation
This is very important due to the fact that these kinds of evaluations could very well save lives. Those who have undergone their medical studies can use Course Evaluation Forms to see whether the medical education they received in certain schools is important and trustworthy or not.
These can also help by allowing medical professionals know if the company they're working for has the right equipment and other resources or not. If they know how to assess how a machine should work, how much medical education another employee has, or even the kind of medical product that's supposed to be used in certain situations, then these could very well save the lives of hundreds of people.
Medical information is very important. These allow the professionals to give high-quality treatment to anyone and everyone who needs them.