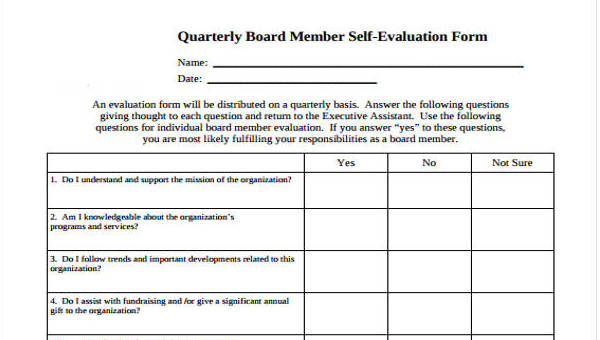 Everyone has to know just how well they're doing  when they're doing specific tasks. If you're a teacher you have to make sure you're competent enough to teach your students. Likewise, if you are a student, then you have to check if you're doing a good enough job with your academics.
The point is that these people have to properly evaluate themselves so that they can assess how well they're performing. However, the results of these assessments must be properly documented in the right kind of forms. This is to ensure that the results can be viewed by certain superiors that could either lead to something positive or negative. To make sure that these evaluations are properly documented, there are self-evaluation forms.
Employee Self-Evaluation Forms
Sample Performance Self-Evaluation Form
Employee Self-Evaluation Review Form
Student Self-Evaluation Forms
Student Self-Evaluation Form Sample
Student Product Self-Evaluation Form
Team Student Self-Evaluation Form
Teacher Self-Evaluation Forms
Preschool Teacher Evaluation Form
Teacher Lesson Self-Evaluation Form
Teacher Assistant Self Evaluation Form
Teacher Self-Evaluation Form
School Self-Evaluation Forms
Primary School Self Evaluation Form
School Board Self Evaluation Form
School Self Evaluation Review Form
School Self-Evaluation Form in Doc
Different Types of Self Evaluation Forms
There are a wide variety of these forms that just about any person can use in the event that they need to check how well they are in terms of performance and how they're achieving their goals.
Here are a variety of self evaluation forms you can use:
For Employee Self Evaluations
For Student Self Evaluations
Board Self-Evaluation Forms
Board Self-Evaluation Questionnaire
Board Member Self-Evaluation
Group Self-Evaluation Forms
Group Work Self-Evaluation Form
Group Presentation Self-Evaluation Form
Student Group Self-Evaluation Form
Interview Self-Evaluation Forms
Job Interview Self-Evaluation Form
Mock Interview Evaluation
For Group Self Evaluations
Performance Self-Evaluation Forms
Employee Performance Evaluation
Music Student Teaching Evaluation
Annual Self-Evaluation Form
Project Self-Evaluation Forms
Group Project Self-Evaluation Form
Group Project Self-Evaluation Form in Doc
Staff Self-Evaluation Forms
Child Care Staff Evaluation Form
Church Staff Self Evaluation Form
Teaching Self-Evaluation Form
Speech Self-Evaluation Forms
Persuasive Speech Self-Evaluation
Informative Speech Self-Evaluation Form
General Employee Self-Evaluation Form
For Job Interview Self Evaluations
Importance of Having Self Evaluation Forms
People need these forms because these forms give them the opportunity to seek out all of their strengths and weaknesses. For example, if you are working for a company that requires you to put out as much work as you can within an allotted time.  You can then use forms such as employee self evaluation forms that help you see just how much work you're putting out within a certain period, and to see if it's enough or if you need to do more.
They allow you to see if you're reaching your goals or not, or at least meeting with company standards. If you see that you aren't reaching what you need to get to, then these forms will help you make sure to assess as to what you need to do. If there are problems, then you can easily fix them by knowing what they are to ensure that future evaluations are much better.
This can be also really great for those employees who want to rise up from their current positions. If they list down their achievements and their superiors show that the employee has been doing a good job, then there's a very likely chance that they'll be promoted or at least be given other benefits to reward them for their effort.
So make sure to  use these forms for when you need to know how you're doing, it could save you from losing your job or it could give you what you deserve.