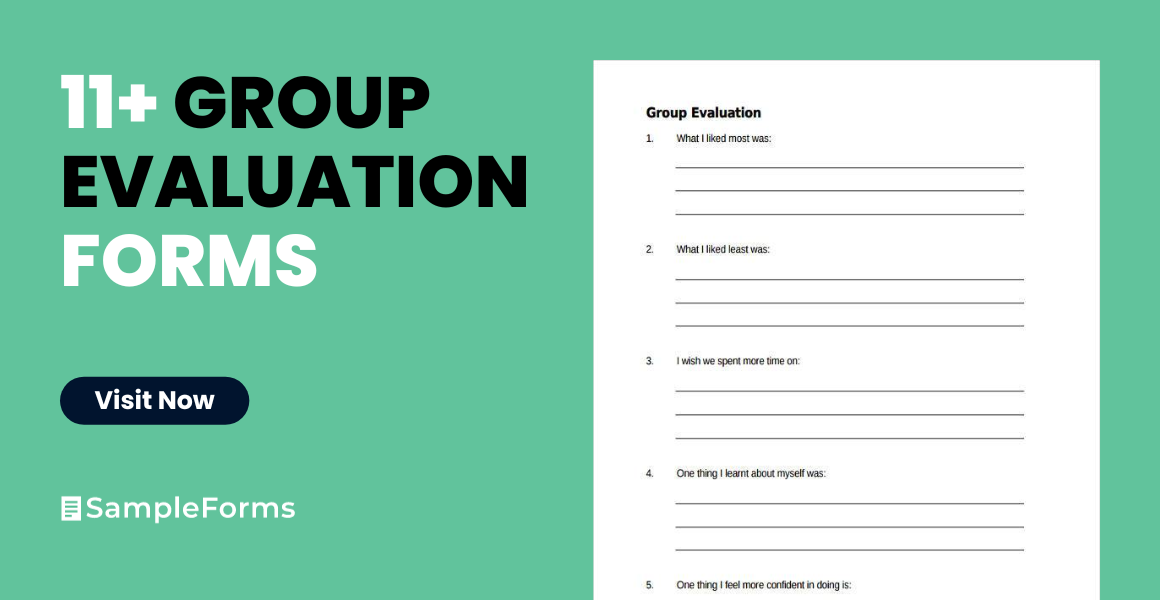 Groups are formed when people with the same ideas who are comfortable with each other come together to form one team. A group of people know that they can be more productive together rather than by working individually. They'll be able to accomplish tasks much faster than if they were alone. However, how would these people know if they worked better together together or not? How would they know if working together actually makes them produce better quality work?
Luckily for these people, there are Group Evaluation Forms, examples of which can be found here.
Work Group Evaluation Form
Group Presentation Evaluation Form
Student Group Evaluation Form Sample
Team Member Confident Group Evaluation Form
Focus Group Evaluation Form
The Various Types of Group Evaluation Forms
There are many different types of Group Evaluation Forms that allow people to properly asses a group and determine if they're doing a good job together or if they're better off splitting up. Here are some examples of these types of forms:
Student Group Evaluation Forms are the kinds of forms that are used by students to properly evaluate each and every member of their group. These help check if a particular student contributed to the project or assignment the group was assigned to.
Group Presentation Evaluation Forms are used in either companies or schools to properly assess the presentation of a group and determine how well they were able to present their topic and if they understood the topic at all during the whole presentation.
Focus Group Evaluation Forms are for those who need to evaluate groups that were formed to discuss their perceptions, beliefs, attitudes to products, television series, advertisements, services, and basically anything that they can discuss about.
Group and Self Evaluation Forms are used by those who want to assess how the members of the group performed along with the individual himself.
Group Evaluation Form Sample
Parent Support Group Evaluation Form
Group and Self-Evaluation Form
Group Process Evaluation Form Example
Group Exercise Evaluation Form
General Group Evaluation Form
The Importance of Evaluating Groups
There's a reason why there are Group Evaluation Forms or Team Evaluation Forms; these are to make sure that each and every member of the group contributed to the team by performing certain tasks that benefit everyone in it. If in the evaluation it was found out that one member of the group didn't contribute much to a project – or didn't contribute at all – then the obvious thing to do is to not give that person any credit for the work and possibly even kick that person out of the group.
These are also really important because they give those who did a job well done a sense of satisfaction knowing that he or she contributed a lot to the group that made the assignments or projects a success. If not that, then it lets them figure out what they should work on, such as participation or communication skills.