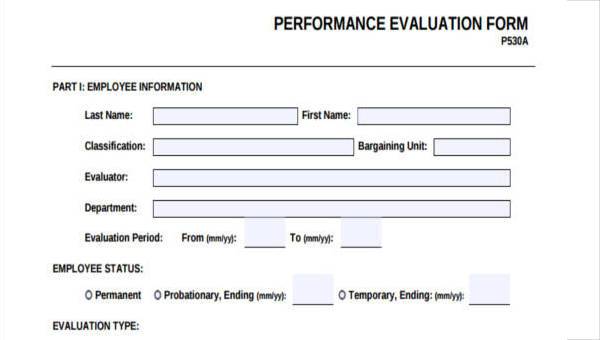 Human Resources, or HR, is the company department charged with finding, screening, recruiting, and training job applicants, as well as administering employee benefit programs. Basically they're the people who try to see who's qualified for the job, as well as tasked with making sure that the employees keep up their performance and also take care of their well-being.
However, companies need to make sure that their Human Resources Department is trustworthy enough to the point that they know what they're doing and if they're doing their job well or not. They'll need to properly assess those who are a part of Human Resources and find those who have the potential to improve the company.
The best way for these companies to properly assess those in the Human Resource Department is by using HR Evaluation Forms.
HR Interview Evaluation Form
HR Employee Evaluation Form
HR Candidate Evaluation Form
Sample HR Self Evaluation Form
HR Evaluation Form Sample
The Various Types of HR Evaluation Forms
There are various types of HR Evaluation Forms that allow just about any company to properly check on how well their Human Resource Department is performing. These can even be used by the HR themselves to properly evaluate those they're planning on actually employing into the company. Here are some examples of these types of forms.
HR Performance Evaluation Forms are the kind of forms that are utilized by companies that need to guarantee how well their HR department is performing. This is to see if they know how to handle employee management well and if they know which applicants are most suited for employment or not.
HR Employee Evaluation Forms are used by those in the HR department to try and assess how well certain employees are doing. These are used to make sure that the employees are doing their job well and that they're keeping up with the quality that's expected from them.
HR Interview Evaluation Forms are used by those from HR to properly evaluate how well an interview of an applicant went. These allow them to assess the qualities that the interviewees have and whether or not they would be a right fit for the company.
HR Performance Evaluation Form Sample
HR Recruitment Evaluation Form
HR Vendor Evaluation Form
HR Evaluation Form Example
HR Training Evaluation Form
The Importance of HR Evaluation Forms
It's important that  there are forms such as HR Work Evaluation Forms because these make sure that they understand just how well the employees are doing their job and lets them know what kind of action they should take to improve the work of these employees.
These forms also help out the HR department in properly evaluating job applicants. A company owner decides if the person gets the job or not, but he has to go through a lot of forms before he can make the final decision. One of the forms he has to go though are the evaluation forms made by the Human Resource Manager and this may either make or break the applicant.
With these forms, the Human Resources Department will be able to determine which of the employees is an asset, and which of them needs improvement. What these forms aim to look into are how the employee's behave around their coworkers or even their superiors, and pinpoints their work ethics. If these evaluations show that the employee has too many problems, then there's a high possibility that the specific employee may be terminated to make room for someone that can provide better service.