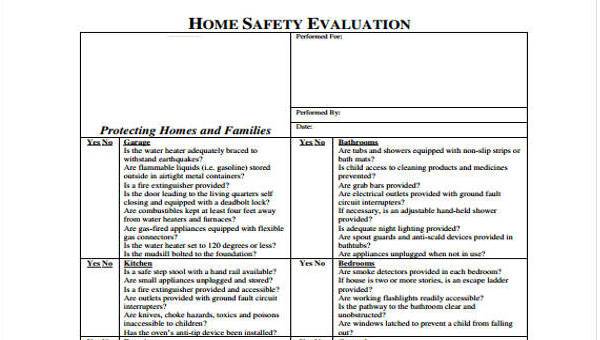 A home is a place where people come to after a hard day's work. It's a place for them to relax and just enjoy. There are some people who want to pick a home that matches their personality. One person might want a Victorian house and another might want something a bit more modern. It all depends on the person. But they can all agree on one thing: if they're going to choose the right house, then it has to be a place where they feel the most comfortable.
However, these homes need to be properly assessed first. What if the home is actually infested with parasites? What if there are internal issues such as leaky plumbing or rotting wallpaper?
The best way for home buyers or homeowners to figure out if their home is in the best living condition is to look through their Home Evaluation Forms.
Home Assessment Evaluation Form
Home Safety Evaluation Form
Home Health Care Evaluation Form
Home Evaluation Form Example
Real Estate Evaluation Form
The Different Types of Home Evaluation Forms
There are various types of these forms that allow home buyers or homeowners to properly assess the living conditions of the establishment and if they think they should do major changes or not. Here are some examples of these types of forms:
Home Team Evaluation Forms are the kinds of forms that are used by a team of professionals to be able to properly assess a home. These are used when homeowners or buyers want to make sure that each and every aspect of their house is properly checked.
Nursing Home Evaluation Forms are used to evaluate nursing homes. These are to make sure that the living conditions are best suited to match the patients who reside in them.
Home Safety Evaluation Forms are for those people who want to make sure that their home is as safe as possible. These are to make sure that each and every safety hazard is assessed, and possible safety precautions are met in the event an emergency or a problem occurs.
Nursing Home Evaluation Form
Home Assessment Form in PDF
Free Home Evaluation Form
Home Evaluation Sample Form
The Importance of Evaluation Homes
Wouldn't you want to live in a home that you're comfortable in and free from any problems? This is why you have to make sure that your home is properly evaluated by professionals. You can even do these evaluations yourselves to make sure that if there are any problems, then at least you know what they are. If you can't fix them, then you can hire professionals who can.
School Evaluation Forms, Home Evaluation Forms, Facility Evaluation Forms, the main point of these three is to make sure that the people who reside in these places are staying in a healthy living environment. So if you're an aspiring homeowner or if you just want to make sure that your home is A-okay, then have it properly evaluated.