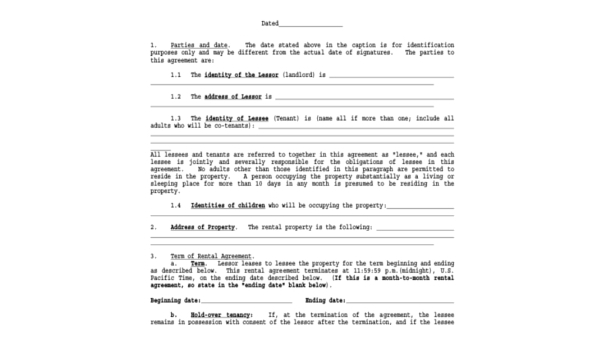 When you put your residential property up for rent, interested applicants know that certain terms and conditions come with the territory. These terms and conditions – rules of residency – are detailed and officially signed between renter and rentee, landlord/landlady and tenant, in a document that is similar to many other Agreement Forms.
This list of free form templates caters specifically to home-owners who wish to rent out living space – whether the whole building or a single room. Each template is professionally laid out and available as a free download in either PDF or Word doc format. No cost, no stress.
Home Rental Agreement Form
Home Rental Lease Agreement Form
Rental Agreement Form for a Room in a Private Home
Free Home Rental Agreement Form
Sample Home Rental Agreement Form
How and When to Use These Templates
If you're the owner of residential property, any of these templates should be useful. The Basic Home Rental Agreement Form, for example, should give you a great idea of what should be considered when renting out a house.
Expecting visiting guests for a season? Leasing out a beach house for the summer? Check out the Vacation Home Rental Agreement Form.
Looking to share your living space with someone to split the rent with? The Sample Roommate Agreement Form should give you what you need.
If you are looking to rent out a room, either for residence or business host purposes, check out Template.net's free Room Rental Agreement Forms.
Simply click to download – then either edit and modify before printing, or straight away print and use. You will find space for most of the necessary details already included.
Home Rental Agreement Form in PDF
Home Rental Agreement Contract Form Printable
Basic Home Rental Agreement Form
Vacation Home Rental Agreement Form
Sample Roommate Agreement Form
Additional Resources
Rental Agreement Forms are only one part of the whole, multi-step process of being a landlord or property owner. Before any agreement is signed, a prospective candidate for tenancy will have to file an application. During the tenancy, there may be other situations requiring an official document to be filed. No worries. This is just more paperwork we can help you with, so you don't have to draft from scratch.
Be sure to check out additional forms available on SampleForms.com for these types of landlord contracts:
Rental Application Forms. Step one, when candidates for residency come to apply. Having the right form template for all of them to fill out will greatly help you streamline the decision-making process.
Rental Agreement Forms. There are forms that cover your basic rental agreements (residential or otherwise).
Extension Forms (Lease Renewal Forms). This is for situations when you want to extend a fixed-term contract.
Eviction and Termination Agreement Forms. Use these forms if you need to legally end rental agreements for valid reasons.