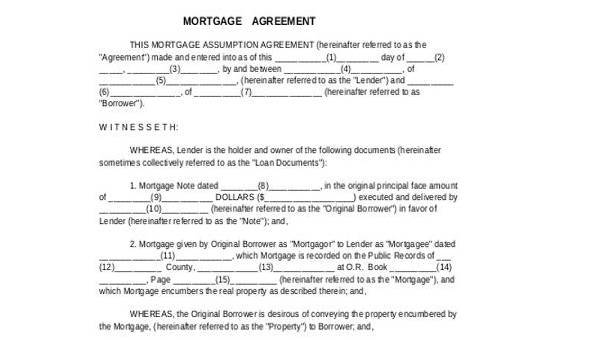 Nowadays, a person's word of honor cannot be depended on as much anymore, which is why companies and organizations have made use of various Agreement Forms to document certain stipulations agreed upon by two parties. An Agreement Form has to be signed by both parties and have reasonable and just terms and conditions for it to be legally binding and enforceable.
In this article, we will focus on the use of Subordination Agreements, which is used by creditors in cases wherein the debtor has more than one debt or mortgage to pay. Aside from Subordination Agreements, we have also provided various other forms used in mortgages.
Mortgage Subordination Agreement Form
Mortgage Loan Agreement Form Sample
Free Mortgage Agreement Form Example
Mortgage Origination Agreement Form
Mortgage Modification Agreement Form
What Is a Subordination Agreement?
A Subordination Agreement is used by creditors when the debtor has more than one loan or debt to repay. The priority of the debts has to be ranked accordingly in case the debtor defaults or is unable to pay off the rest of the loan amount or debt. This is important so that there are no misunderstandings or disputes as to which loan or debt should be paid off first. A hierarchy or ranking is created, and low-ranking loans or debts may have little to no repayment. This can be a disadvantage for other creditors who are supposed to receive repayment for such loans, which is why a Subordination Agreement has to be signed to make sure that they understand the terms, and so that they can plan other ways to compensate for the loss, such as imposing higher interest rates. For the initial drafting of such loan agreements, creditors are also to use Loan Agreement Forms to set the terms and conditions of the loan, such as the terms in the case of a default.
What Is a Mortgage Subordination Agreement?
This is used when an individual wants to refinance a first mortgage on a property that has a second mortgage. A Mortgage Subordination Agreement has to be signed by the second mortgage holder to ensure that the newly refinanced mortgage has a higher priority when it comes to repayment.
Mortgage Purchase Agreement Form
Mortgage Broker Fee Agreement Form Example
Mortgage Extension Agreement Form Sample
Standard Mortgage Agreement Form
Simple Subordination Agreement Form
Other Types of Mortgage Agreement Forms
Mortgage Origination Agreement Forms – This is entered into by mortgage brokers when an individual wants to purchase a house with a mortgage, instead of with cash. Instead of going to a bank or lender, an individual may choose to go to a mortgage broker, and that is when a Mortgage Origination Agreement Form is used. It also serves as a precautionary measure to prevent fraud.
Mortgage Extension Agreement Forms – When a debtor or borrower defaults on a mortgage or is late in payment, the creditor and the debtor may agree to extend the time for repayment of the mortgage. An Extension Agreement Form has to stipulate that the term of a previously drafted agreement has been extended. If there are any payment terms that have to be revised, such as higher interest rates, these would have to be properly stipulated as well.
Mortgage Purchase Agreement Forms – This is an agreement between a buyer and a seller that a real estate property is being purchased by the buyer through a mortgage loan. The terms and conditions of the mortgage have to be included in this form, such as the repayment schedule and remedies in the case of a default or breach of agreement.