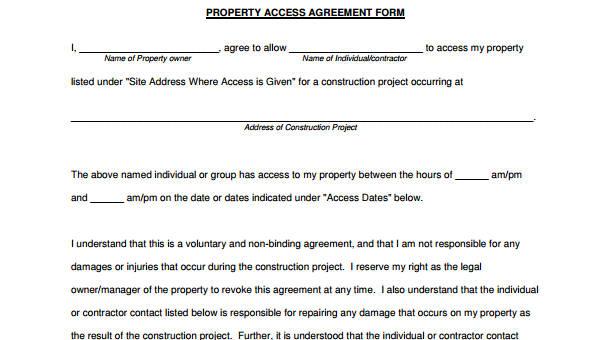 Property is sold just about everywhere. There's always going to be at least on or more piece of property that just about anyone is willing to buy. Which is why there are also a ton of real estate agents, they know what property people need and they have to make sure that these places are sold.
However, before people can buy off these properties or even lease them, they need to sign a couple of agreement forms first. They'll need the proper documents and one of them is the Property Agreement Forms.
Property Model Agreement Form
Free Property Settlement Agreement Form
Property Management Agreement Form
Property Lease Agreement Form Example
Property Purchase and Sale Agreement Form
Community Property Agreement Form in DOC
The Different Types of Property Agreement Forms
There are lots of these types of forms, such as the Property House Agreement Form, that allows just about any person or company to properly state the terms and conditions before purchasing any property. Here are some examples of these types of forms.
Company Property Agreement Forms are the kind of forms that are utilized by those employees who are granted company property and who agree to take responsible for it. It doesn't always have to be a home, property can mean anything that someone owns. And in this case, it's company property.
Property Purchase and Sale Agreement Forms are forms that are used by many real estate agents when they're ready to sell any kind of property to those who are willing to purchase one. These forms cover the price of the property and the type of payment method the client must be willing to do. Certain changes can be made, but if and only if the agent, and the company that he or she works for, agrees to these changes.
Property Lease Agreement Forms are used when a person wants to lease a certain property for his or her own reasons, but must accept the terms and conditions before doing so. These lease agreements usually involve how much a person has to deposit before actually going through the transaction. If it's not the matter of payment, then it's usually an agreement as to what a person can and cannot do while leasing the property. These are all properly discussed and negotiated in these forms.
Company Property Agreement Form in PDF
Intellectual Property Agreement Form
Marital Property Agreement Form
Vacation Property Rental Agreement Form Format
Free Property Access Agreement Form
Property Exchange Agreement Form
The Importance of Having Property Agreement Forms
If you were going to sell a piece of land or a building to someone, you'd want to know what they're going to use it for, right? That's why, in forms such as Tenant Agreement Forms, there are rules and conditions that these people must abide to if ever they decide to rent these places or buy them off.
These also help out those that are in charge of selling or renting these properties. It lets them know what the intentions of the buyer are, along with how they'll be compensated for the sale. Plus, if at any point that these clients break the agreement, the seller has every right to cancel the deal.