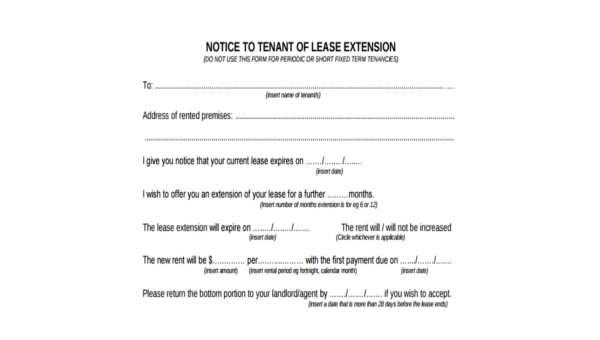 There are people who opt to lease certain things out because they know they can't afford them. However, there will be those moments wherein the period of the lease is almost over, but the client still has need of whatever product or location they're still leasing.
So what do they do? They file for an extension on the lease so that they may continue using these places or products until the end of the extension.
The businesses that allow these lease extensions have to make sure that they're written in the right legal document as proof. So how are they going to make sure that it's all official?
The one thing that can easily help them out is through the use of the right Lease Extension Agreement Forms.
Residential Lease Extension Agreement
Commercial Lease Extension Agreement
Free Lease Extension Agreement
Month to Month Lease Extension Agreement
Lease Modification and Extension Agreement
The Different Types of Lease Extension Agreement Forms
There are lots of these types of Lease Extension Forms that just about any person can use whenever they need to check on the kind of agreements arranged should they wish to extend their lease. Here are some examples of these types of forms:
Month to Month Lease Extension Agreement Forms are the kind of forms that are utilized by those people who need to have an extension on their month-to-month lease plan. It could be that these people don't have the necessary funds to be able to pay for the lease on the desired date. So when that happens, they may use these forms so that they can get a slight extension on when they're able to pay the lease. If they still aren't able to manage, then the owner of the property being leased has every right do whatever he wants with the property.
Lease Modification and Extension Agreement Forms are used by those who need to modify a certain lease and ask for an extension. There are cases wherein a boarder needs to change as to when he may be able to pay rent and to extend his stay within the establishment. He may use these forms to do just that.
Lease Extension Agreement in PDF
Apartment Lease Extension Agreement
Business Lease Extension Agreement
Equipment Lease Extension Agreement
House Lease Extension Agreement
The Importance of Lease Extension Agreement Forms
You find out that your current lease on a property is about to run out, but you still have no intentions of moving out. So instead you mention to the owner of the property that you would like to extend your stay. This is an example of a situation wherein forms such as Free Lease Extension Agreement Forms can come in very handy.
In the event that someone needs to extend his or her stay in a certain area, or extend his or her usage of certain products being rented out, then that person may use this form. However, they'll have to adhere to the agreements that have to be made once they ask for an extension. This is a big benefit for those leasing whatever it is their client needs.
Hence, the agreements made are usually with regard to the amount and method of payment, the date that it should be paid, and many more. In the event that you need to extend on certain things you rented out, then don't be afraid to download any one of these types of forms, or at least scan a couple of them to get an idea on how to go about crafting your own.