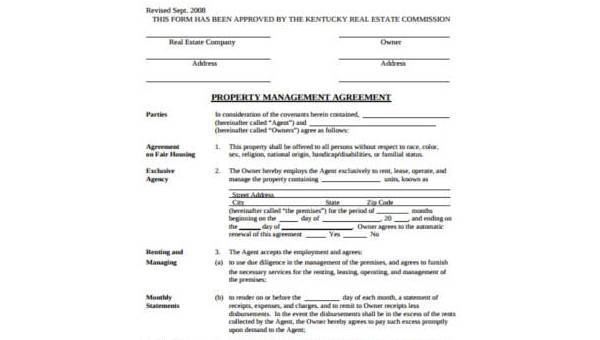 Management Agreements are used by management service providers to outline the specific administrative, management, and development services they provide to their client, and the service fee or price for said services. Hiring a third-party management company can be beneficial for business owners who do not have enough time or the expertise to manage certain areas in their business. There are various types of Management Agreement Forms depending on what type of management services they provide.
Management Agency Agreement
Management Consulting Agreement
Management Services Agreement Sample
Money Management Services Agreement
Property Management Agreement in PDF
Types of Management Agreements
Management Consulting Agreement: This is used by a company that provides consulting services. Because they only give advisory services to their clients, it is important to note that the client has the right to reject advice that they do not agree with.
Money Management Services Agreement: This is used by a wealth management or money management company, wherein they are hired by a client who wants them to manage their investments. That includes selling and holding investments within their designated investment programs.
Property Management Agreement: This is used by agencies who provide management services for real estate properties. Their responsibilities include management of the property and its leasing, which includes collection of rent or any due fees, and signing lease agreements on behalf of the client or owner among others.
Project Management Agreement: This is used by companies who manage projects for their clients. If the project is a construction project, Construction Management Forms may be used.
Artist Management Agreement: This is a contract entered into by an artist and his manager. The manager is responsible for assisting his client with the advancement of his career, such as generating opportunities and negotiating deals. Artist managers have a commission-based compensation, so when the client gets paid, so is he. You may also see our Business Agreement Forms for other business contracts.
Management Agreement Form in Word Format
Investment Management Agreement Form
Project Management Agreement Example
Artist Management Agreement Form
Property Management Agreement Form
Parts of a Management Agreement
Although there are various types of Management Agreements, each type should contain the following information:
Definition of the services the management company is going to provide
Fees and payments for the services
Length of the agreement
Responsibilities of both the management company and the client
Limitations on the authority of the management company
Termination Clause
Although there are some disadvantages to hiring a management company, like unforeseen conflicts and risks, there are a handful of advantages to it. Management Agreements can help business owners ensure the continuity of their business. For example, if a company owner loses some employees because they quit, a management company can replace those employees to ensure the smooth operation of the business. It can also be helpful for companies that lack expertise in some areas of their business.
Hiring a management company means having access to a team of experts who can help your business reach its maximum potential. Construction Agreement Forms also help organizations and companies who do not have the time and resources to develop their properties.