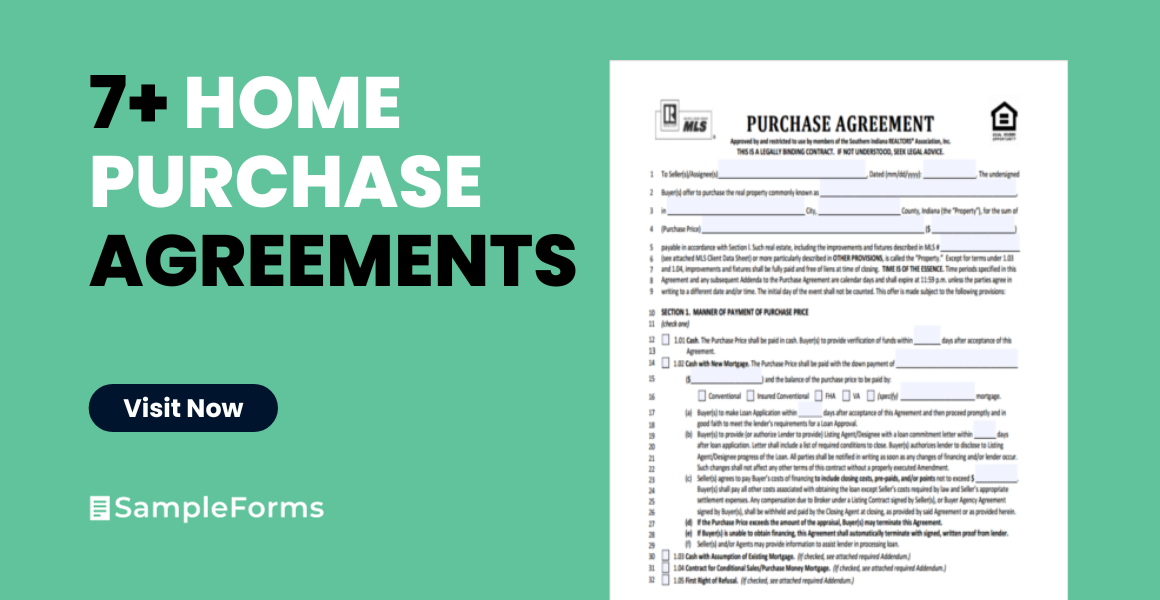 Buying and selling property requires a great amount of paperwork that specifies the terms of the sale and the purchase. A Home Purchase Agreement is an agreement to sell a property under certain terms and obligations.
A Home Purchase Agreement is an Agreement Form or contract that is used when you are ready to sell your property to an interested buyer and would like to make a specific outline of the terms or if you would like to purchase a property and want to set guidelines with the seller.
Free Home Purchase Agreement Form
Home Sale and Purchase Agreement Form
Sample Home Lease Purchase Agreement Form
Simple Home Purchase Agreement Form
New Home Purchase Agreement Form Example
Home Purchase Agreements and What's In Them
A Home Purchase Agreement can differ in lot of ways depending on the complexity of its contents; however, the basic contents of a Home Purchase Agreement are as follows:
Names
As with all other contracts and agreement documents, a Home Purchase Agreement should contain the names of the parties involved regardless if it is a corporate entity or a Limited Liability Company (LLC.)
Dates and Duration
The next crucial content of a House Purchase Agreement is the indication of all dates involved in the agreement, such as the expiration date of the contract and the start date of the contract
Legal Descriptions
A Home Property Agreement should contain a legal description of the property. Generally, a legal description of a property can only be provided by a licensed surveyor who is trained and authorized to locate and determine the legal description of any property such as the county and the state where the property is located.
Offering Price of the Property and Financial Terms
Indicate here the total purchase price of the property.
Seller Assist
If a seller and a buyer have agreed that the seller will pay a part or all of the closing costs, then this must be indicated in the agreement. Closing costs are expenses that are over and above the price of the property. Examples of closing costs are origination fees and private mortgage insurance.
Related Link: Purchase and Sale Agreement Forms
Home Purchase Agreement in PDF
Printable Home Purchase Agreement Form
Manufactured Home Purchase Agreement Form
Free Home Buyer Purchase Agreement Form
Home Inspection Contingency
If you are purchasing a residential property, you will want to make sure that you have the liberty to walk away from a deal if the results of a Home Inspection are deemed to be expensive.
Key Clauses
In addition, it is also a smart idea to include other aspects of the Home Purchase Agreement, such as title requirements, warranties, and escrow.
Who Can Use A Home Purchase Agreement?
Generally, a Home Purchase Agreement can be used by anyone involved in the buying and the selling of a property. The most common people who utilize these types of agreements are buyers, sellers, real estate agents, and attorneys.
The Cancellation of a Home Purchase Agreement
Cancelling a Home Purchase Contract can be easily done if the offer has not yet been accepted. A buyer or a seller can simply issue a document that states the withdrawal of the offer. However, things can get a little tricky when the offer has already been accepted and especially if the seller does not have other or better offers for the property.
Related Link: Real Estate Purchase Agreement Forms