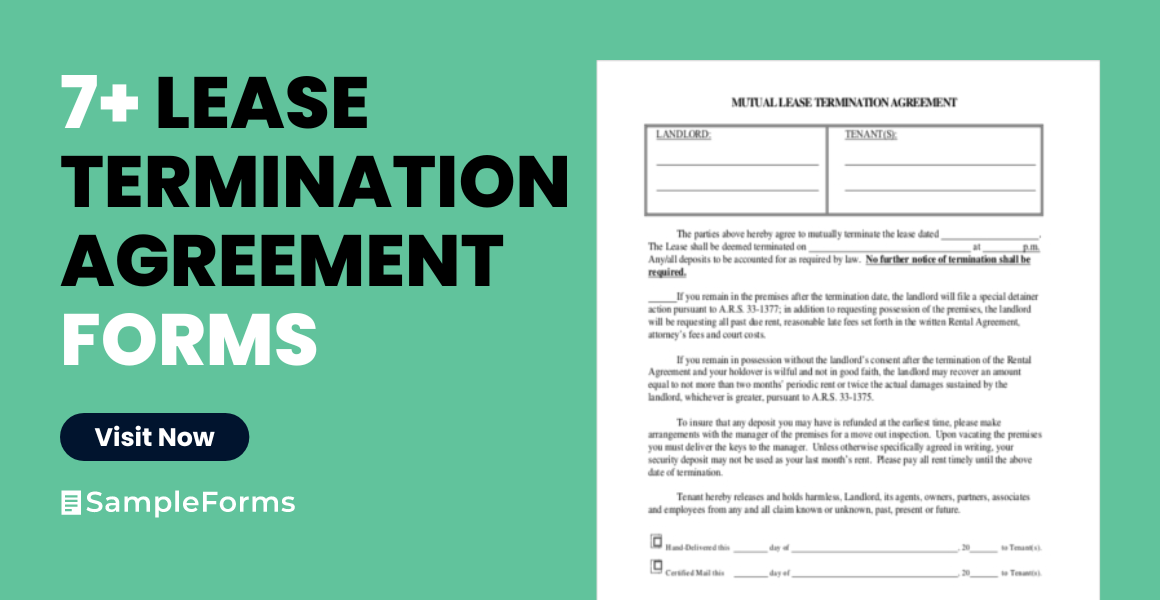 You will likely have signed Agreement Forms for leasing certain property or equipment. If so, you might find yourself in a situation where you need to cancel or terminate the lease – earlier than the originally agreed-upon lease duration – for certain valid reasons. You will then need a legally binding lease termination agreement form to officially notify the tenant of the cancellation. Here is a list of lease termination agreement forms for a variety of situations. Each sample is available for free download in either PDF or Word document formats and may be used as easy, direct templates.
Early Termination of Car Lease Agreement Form
Residential Lease Termination Agreement Form
Rental Lease Termination Agreement Form
Commercial Lease Termination Agreement Form
When to Use a Lease Termination Agreement Form
When negotiating contracts or Lease Agreement Forms, you want to make sure there is a "rip cord" in the contract stating the circumstances when the lessor or the lessee may legally release the other from the contract.
Always check your lease or rent contract in case there is a written requirement for you to give notice of termination before the stipulated end date.
Ideally, the original lease agreement should have this covered. In the event of such a contingency without an early termination clause, a lease termination agreement form or notice should be issued.
How you go about this will depend on the kind of lease agreement initially signed.
To help you out, some of the variations we have provided in the following:
early termination of lease
termination of car lease agreement
termination of commercial lease agreement
termination of residential lease agreement from the landlord to end tenancy
mutual termination of lease agreement (this is where both parties agree to terminate the lease contract before the officially stipulated end in the original agreement)
termination of lease agreement by lessee
Reasons for Termination Agreement
the contract has run its course earlier than expected and requires official notice
there are irreconcilable conflicts that make the continued contract impossible
there is a major violation of the original agreement terms
the lessee opts to cancel the contract due to a variety of personal reasons; e.g. a move (see mutual lease termination agreement)
Mutual Lease Termination Agreement Form
Landlord Tenant Agreement to Terminate Lease
Notice of Termination of Lease Agreement Form
Termination of Lease Agreement Letter Sample
Additional Resources
To start from the top of the leasing process, you might want to look at any of the collections of Sample Lease Agreement Forms we have on SampleForms.com, available to download as free PDF, Word, and Excel files. These samples are for the first lease agreements before termination even becomes a possibility.
Instead of forms, you might also want to draft Lease Termination Letters, which are functionally similar to lease termination agreement forms. These may take a similar format to the original lease agreement contract.
Lease Renewal Forms are also useful in the event you have signed a fixed-term lease contract and wish to extend the original duration.
Forms for all these and more rental and leasing situations are available in our archives. Go check them out for free and helpful guidelines.