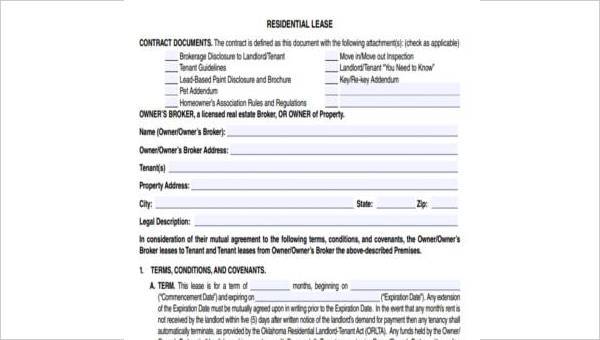 A residential unit is a type of property that is primarily utilized as a living space instead of being used for business or commercial purposes. Landlords who put their residential spaces up for rent will need to have a written residential lease agreement contract in order to protect themselves, their property, and the nature of their business.
A residential lease agreement is a little bit different from an ordinary rental agreement because while rentals renew after a 30-day period, a lease typically lasts longer than that. You can download our sample Agreement Forms to help you save on time and to help you steer clear of the tedious work of having to make your own contract from scratch.
Free Residential Lease Agreement Form
Residential Rental Lease Agreement Form
Residential House Lease Agreement Form
Residential Lease Agreement Form in PDF
Residential Lease Termination Agreement Form
A lease agreement form shall be able to present all the information that the parties involved in the transaction are expected to be aware of. Your property is an asset and securing it means securing your financial security too. When setting up a Lease Agreement Form, you have to consider the lease and rental laws covered in your state. Below are some of the important details that you need to include in your agreement:
Names of All Parties Involved. Indicate the complete names of the lessor and the lessee in the agreement. However, don't stop there. It is also a good idea to list down the names of the other house occupants such as the husband or the wife, or an in-law, perhaps in your lease agreement. Listing down all the people who will be occupying the property makes them obligated to follow the agreement as well and makes them liable too.
House Rules. The regulations that are followed within the vicinity of the house should all be clearly outlined in a contract. Properties vary when it comes to the rules that they implement which can range from a simple no-smoking policy up to hygiene policies. Tenants can be more aware on how they are expected to act if they are already guided by a set of house rules.
Payment Plan. The payment plan that must be presented to tenants usually include the following information:
The specific payment dates
The accepted modes of payment
The payment terms and conditions
The amount that should be paid either on a monthly, quarterly, or annual basis
Being able to set these details on the initial parts of the transaction can make late payments and other issues related to the matter be minimized.
Residential Lease Agreement Short Form
Residential Lease Agreement Renewal Form
Residential Lease Agreement Form Example
Generic Residential Lease Agreement Form
Residential Lease Purchase Agreement Form in Word
Security Deposit Terms. A security deposit is the additional payment that is asked by a landlord to a tenant who would like to rent a property. This amount is reimbursable and will be given back to the tenant at the end of the lease. Security deposits are asked for the following reasons:
For the landlord to have an amount on hand if damages have been made to the property by the tenant and repair is necessary
For lost keys and other items to be replaced if the tenant is proven to be guilty of losing them
For the landlord to ensure that additional money is present in the instance of overdue payments
Be sure to state the terms relating to the refund policy of security or advance deposits to avoid misunderstandings. Place these terms in your residential lease agreement. Be aware that the content of Residential Lease Agreements differ from one another especially in terms of addressing issues and disputes. Both the tenant and the landlord should agree upon the content of the document before the tenancy starts.
Terminating a Lease. Both a tenant and a landlord have the right to terminate a lease before it ends for many reasons. The agreements that the tenant and the landlord have made will identify whether termination of the tenancy is applicable in a particular instance. When terminating a lease, due process should be made so that no further misunderstandings and possible filing of lawsuits will occur.
If you are a renter, you have to make sure that you have a legal reason for terminating your lease or your landlord may have reasons to take you to court and keep your deposit.
In some cases, your landlord may mutually agree with you to terminate the contract. If such is the case, you just simply have to create a Termination Agreement and part ways.