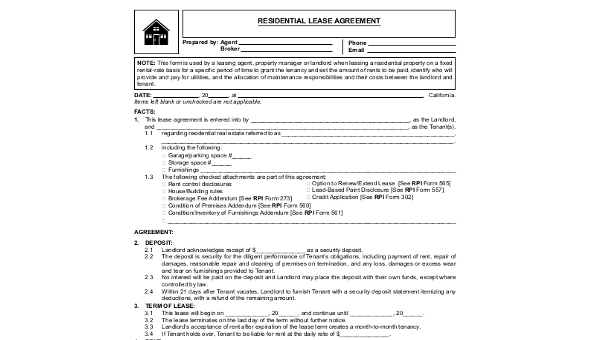 Residential lease agreements fall under that branch of Agreement Forms, which deals with leasing rooms or renting out residential buildings that you own. (This is vastly different from residential sublease agreements.)
With these forms, a property owner (called the lessor or landlord) comes into agreement with a tenant (lessee) who wishes to pay to rent the property for a length of time.
If you are a property-owner looking to lease, use these free templates and samples to guide you in drafting a residential lease agreement.
All samples and templates are free of charge and provide an excellent, comprehensive reference.
Sample Residential Lease Agreement Form
Free Residential Lease-Rental Agreement Form
Month to Month Residential Lease Agreement Form
Printable Residential Lease Agreement Form
Free Basic Residential Lease Agreement Form
How to Use These Templates
As prototypes. If you find something that meets your needs perfectly, it's a simple matter to download for free in one click, and print them out.
As base templates. Download for free as either PDF or Doc files (depending on the available file format) and edit using your favorite PDF editor or word processor. These forms contain the basic details all lease agreements should cover, but you can modify them to better reflect your own terms.
As reference samples. From the sample Tennessee Residential Lease Agreement Form, you can get an idea of how lease agreement contracts can be modified to reflect the local law.
For more free samples and templates on this topic, check out the other collections of
Sample Residential Lease Forms and Sample House Lease Agreement Forms available on SampleForms.com.
Generic Residential Lease Agreement Form
Residential Real Estate Lease Agreement Form Format
Example of Residential House Lease Agreement Form
Tennessee Residential Lease Agreement Form
Residential Lease Purchase Agreement Form in Word
Additional Resources
Can't find what you're looking for? SampleForms.com offers a host of other related articles aside from Sample Lease Agreement Forms to help you out.
To get you started, you can search our archives for the most commonly needed forms we've encountered within the jurisdiction of landlords:
Rental Applications. The same as job application forms but specificallty tailored for candidates looking for residency. This will greatly aid in streamlining the process of selecting tenants.
Room Rental Agreements. These are contracts when you rent out a room instead of a larger residential unit as a whole building or apartment.
House Lease Contracts. For when you are leasing (renting) out a residential building.
Short-Term Rental Agreements. For when you are expecting visitors renting for a season, especially useful if you're running a summer vacation rental or a bed and breakfast.
Extension Forms (Lease Renewal Forms). This is for situations when you want to extend a fixed-term contract before the lease expires. By default, rental agreements stating a fixed duration of time are fixed-term contracts.
Eviction Letters and Notices. At some point or another you will always need these for all sorts of legal and practical documentary purposes.