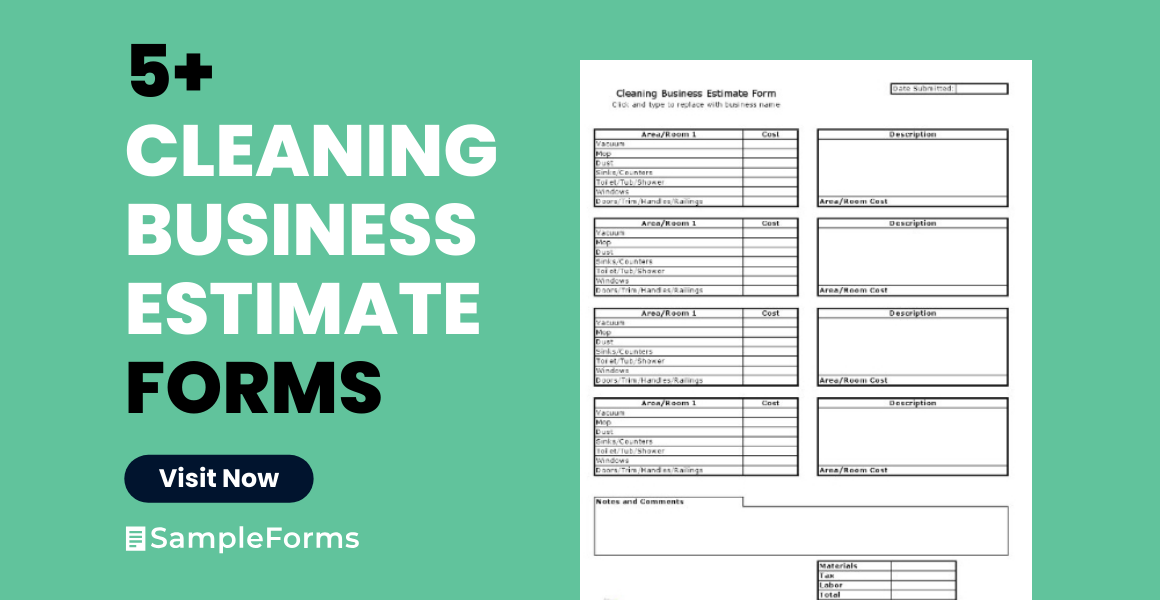 You have always learned and emulated the art of cleaning. Cleaning entails not only the organization of your space but also your mind. At an early age, your parents trained you to do intensive cleaning services. You are examining every nook and cranny in the household for dirt, dust, and trash. Eventually, when you grew up, you created a cleaning business out of your organizing habit. Your services always started with having a site inspection. You then sent out a cleaning service estimate for the approximate amount the client will pay. This routine became your thing, inspecting the site before the actual cleaning service.
FREE 5+ Cleaning Business Estimate Forms in PDF
Cleaning business estimate forms usually have a single aim, which is to give a calculated or estimated amount that the client must pay to the service giver. Here are six examples of cleaning business estimate forms that we have procured from various websites on the Internet. Carefully examine the sample estimate forms that we have presented below. Look at the format and the content of each sample estimate. Compare and contrast the examples and see what you can find afterward. Start browsing the samples now so you will get a gist of the estimate form's structure.
1. Sample Lawn Service Estimate Form
2. Sample Cleaning Estimate Form
3. Sample Cleaning Business Estimate Form
4. Generic Cleaning Business Estimate Form
5. Cleaning Services Estimate Form
6. Generic Job Estimate Sample Form
What Is a Cleaning Business Estimate Form?
An estimate form is a business document that the seller gives to the buyer. The seller usually hands out this business form after an inspection has occurred. The seller would like the buyer to have an idea of how much the client will pay for the service. The prices in this type of sample business form are not the exact total amount that the buyer will pay, but the prices are merely an estimation or a calculation based on the site inspection.
As a widely-popular business, cleaning businesses highly utilize an estimate form since most clients would want an overall cleaning service of their home. They usually have two market groups, consumer and commercial, according to Entrepreneur.
Consumer services entail that a cleaning business focuses on giving services to homes. Such examples of consumer cleaning services are maid services, where a maid goes to the house on a daily, weekly, or monthly basis. The frequency of the maid service depends upon the agreement between the client and the business.
Commercial services entail a broader scope of a cleaning service. If consumer cleaning services aim for home cleaning, this type of service aims for cleaning of commercial properties such as companies and schools. Janitorial service is an example of a commercial cleaning service. The frequency of a cleaning service also depends upon the agreement between the business and the client. However, most companies apply for an annual cleaning service.
The Difference Between an Estimate and an Invoice
It has become a struggle for some to determine the difference between an invoice and a sample receipt. The same truth can be said for estimate forms and invoices. People continuously mistake an estimate for an invoice, or vice versa. Both of the mentioned forms have similar elements, but both are still different in terms of function and utility.
The business owner usually gives an estimate form after a cleaning inspection occurred in the house of the client. The estimate serves to provide the client with an idea of a calculated amount of money he must pay to the business owner. Estimate forms, in this situation, are informal since the price rates are in the manner of a business guess.
The business owner sends out an invoice after the client has requested a list of the orders he made. Sample invoices serve to provide the client with a list of products he asked for so he can check if what he ordered was correct. Invoices then act as a confirmation letter in this situation.
Despite the differences, an estimate form and an invoice are still similar. In this sense, both files present a list of the goods and the prices the client wants. The seller usually gives the invoice or the estimate form before the client pays for the services or products.
How to Construct a Cleaning Business Estimate Form
Here are a few tips and steps on how to construct an effective cleaning business estimate form. Use this guide as your reference when you create an estimate form for your cleaning business.
Step 1: Select a Cleaning Business Estimate Form
Browse through various websites and look for one that hosts professional cleaning business estimate forms. We suggest you visit Template.net and scour the vast media library for a template.
Usually, people would search for sample quote forms, receipts, invoices, or estimate forms. However, since you already have an idea of the mentioned forms' differences, you know what to select. Select one estimate form template that you like and download it.
Step 2: Customize the Cleaning Business Estimate Form
Open the cleaning business template and start customizing it. You must personalize the model that fits the image of your business. Use colors that you used on your company logo or name.
Step 3: Add Your Business Information on the Estimate Form
You must always remember to add your company information in case future clients would want to book your cleaning services. Add your company hotline number, email addresses, street address, and mobile numbers on the topmost part of the estimate form. As we have mentioned, some clients would want to avail of your services, ask about your company, or even give feedback. Adding your business contacts will help boost the visibility of the business.
Step 4: Add Your Business Logo or Name
For further visibility, add your business name or logo on your estimate form. Some businesses opt to use a monochrome color scheme for their business logo and name on their documents. Add color if you want to stand out! Doing this ensures the customers that you are keen on the details, cleanliness, and presentation.
Step 5: Review the Whole Output
Once you finished writing and customizing, you must review the output so you can correct any mistakes and errors that you have forgotten to fix along the way. Print multiple copies of the document as much as you like!