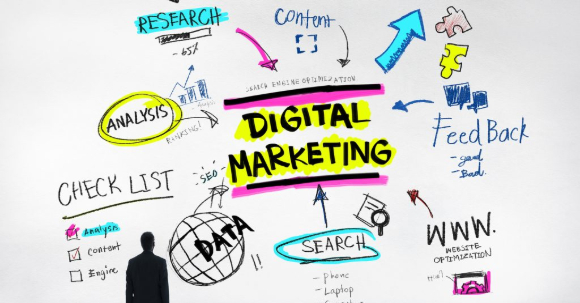 Service invoices help communicate the prices of the services of digital marketing businesses. Visual content marketing is a growing trend in the business world. Business owners used to go for hard-selling tactics, but that did not work in their favor. In this article, get to know more the relevance of an invoice in helping the growing trend of internet marketing businesses.
What Is An Internet Marketing Business Invoice?
An invoice is a sample business form that enumerates the goods that the customer requested from the company. Customers receive invoices as a means of confirming if the list is correct. Once the customer approves, the company will then prepare the items needed for internet marketing services. But, first of all, what is an internet marketing business?
Internet marketing businesses aim to deliver stories of various voices through the use of commercials and other digital marketing platforms. One example of an internet marketing business is Twelve Sixteen Media, a company that aligns itself more with visual storytelling than the usual hard-selling tactic in commercials. According to their site's statistics, most of the Internet traffic happens to be video advertisements.
Video marketing is a great strategy since visuals appeal better to the audience. And what better way to market a product than to use visual storytelling. This is why internet marketing businesses are booming nowadays. However, such digital marketing is not cheap, so better inform the clients through the use of invoices to let them get a gist of the prices.
8+ Internet Marketing Business Invoices
1. Sample Internet Marketing Business Invoice
2. Generic Internet Marketing Business Invoice
3. Minimalist Internet Marketing Business Invoice
4. Sample Blank Service Invoice
5. Company Internet Marketing Sample Invoice
6. Sample Invoice with Partial Payment
7. Plain Sample Internet Marketing Invoice
8. Internet Marketing Business Sample Invoice
Benefits of Using a Manual Invoice
Majority of the internet marketing business forms, especially invoices, nowadays are on the Internet since the business deals with marketing using posts and sites. In the age of technology, most internet marketing business forms are accessed and shared digitally. This manner of access is convenient than the printed version of business files. However, in terms of security, online forms are subject to cyber-based infiltration and damage. Printed invoices might be the more useful option for your company. Here are a few benefits why internet marketing invoices are best when printed.
1. Easy to Fix
The appearance of mistakes while inputting data in the online invoice is a major common occurrence. Making a mistake due to using a defective software will give you various issues since you might encounter problems when going back to fix it. Using a computer may seem easier to fixing invoices but that is far from the truth. One small error can spell disaster. Manually fixing the invoice is easier since you have all the control over the printed material. You may do it all over again but at least no data is lost.
2. More Secured
Manual or printed sample invoices are not subject to any cyber-hacking. Online invoices are more likely prone to danger than printed materials. In terms of privacy, printed materials are always better since no one may hack the information on the paper. Printed materials receive more protection than its online counterpart does. Online invoices are more vulnerable since hacks are difficult to trace and pose more of a threat. Printed materials suffer less information theft. Printed invoices must then be the medium that businesses must use.
3. Loss of Data
Using software that focuses on inputting data unto the online invoice form seems easy and safe but still problems might arise. When problems arise regarding using the software, it is not a good situation to be in. You might erase some information by accident or reset the whole thing. Now that is truly a terrible disaster.
How to Create an Internet Marketing Business Invoice
Invoices play a vital role in helping the company relay a customer's order information. Create your very own internet marketing invoice output by reading these few steps that we prepared below. You must remember that you can opt not to follow the guide process faithfully. You may even skip some of the tips and steps in the guide if you want to do so.
Step 1: Look for a Professional Template
The first thing you must do is to look for a website on the multiversal Internet. There are various websites that you can visit, and there are other sites that are far too risky. Try to check if the site domain that you'll visit is credible by using smallseotools.com. Once you found the site reliable enough, open it and check out internet marketing invoice templates. Select the model that you think is best to use and download it right now.
Step 2: Customize the Business Invoice Template
Tabula rasa—this is the philosophical idea that people are clean slates. Well, in this case, the templates are the clean slates. Once you come across a model, you will realize that these are void of any information, untouched by a client's hands. A virgin—fresh from the womb. For this business invoice template to function, you must give it an identity, the company image. Explore all of the possibilities that you can do with the model as you exploit and tread every nook and cranny.
Step 3: Use Sans-Serif Font Style for the Output
In the TV series Los Bastardos, the story revolves around five men who share the same father. Usually, it is five women with one father. We can see there is a shift of perspectives from the usual popular cliche to newer styles. We can also see the change of font styles from the formal serif font to the stylish sans-serif font. People before once followed the serif font style for printed materials, but in the age millennials, sans-serif found its way in the spotlight. Select a sans-serif font style that is readable and known by your clients.
Step 4: Include a Section for the Itemized List of Goods or Services
A gender contains a specific trademark that defines it from the other one. A man biologically has powerful features, specifically a jawline, while a woman biologically has softer ones, specifically curves. Each sample business forms also contain a trademark that differentiates it from the rest. An invoice includes an itemized list of the requested goods, so create a table with a certain number of columns. You may search the Internet or look at the references for the column titles to include. Just remember to include a table for the list of goods or services that the customer requested.
Step 5: Include a Section for the Signature Block
The last thing you must do for your template is to add a signature block. Signature blocks help companies know that their clients find no error to the list you gave. Once the client signs the invoice, the transaction may begin. Remember to add a signature block at the bottom part of the invoice so it may act as a confirmation letter, letting your company know that the client agrees.