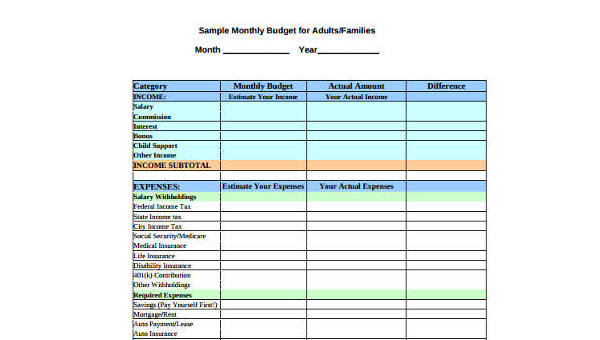 Budgeting is a smart and useful tool to help you control the amount of money that you spend. Proper budgeting actually helps people plan for their future, pay off debts, and allows one to have savings. However, budgeting is not as easy as it seems. Controlling yourself not to spend money impulsively on things you do not necessarily need can actually be a difficult feat.
Our Budget Forms can help tackle the challenges of budget planning a tad easier. Our Sample Budget Forms come in a variety of templates to tailor to your needs, such as our Monthly Budget Forms and our Household Monthly Budget Forms.
Personal Monthly Budget Form
Household Monthly Budget Form
Monthly Budget Components Form
Printable Monthly Budget Form
Blank Monthly Budget Form
Creating a Budget Plan might sound like a simple and insignificant process; however, when done properly, budgeting might just make you the next Bill Gates. Below are tips and tricks on how you can work your way to structuring a Budget Plan.
Keep Track of Your Income; Deduct the Expenses
By using our Sample Budget Forms, keep track of your income and your expenses. Pulling up receipts from previous purchases is a great way to get an average of the cost you spend on every month for particular items such as gas and groceries.
Categorize Your Expenses
After you have determined your expenses, set them apart into 2 different categories. The first category should list down the expenses that you essentially need and have to be paid immediately, such as your mortgage and you utilities. The second category should list down your extra expenses – items that do not necessarily have to be paid or bought, such as Chinese take-outs or that new Givenchy tote.
Basic Monthly Budget Form Example
Sample Monthly Budget Form for Families
Monthly Financial Budget Form
Monthly Budget Planner Form
General Monthly Budget Form
Be Flexible with Extra Expenses
Look through your list of extra expenses and mark those that you do not immediately need to purchase or pay ASAP.
Add Up Both Categories
Add up both categories of extra and essential expenses. Get the separate total for your extras and a separate total for your essentials.
Deduct the Essentials from Your Income
Deduct the total amount of essential expenses from your total income and if you still have extra, see if it is able to cover for the expenses listed in your extra expenses.
Learn to Cut Back
If you still have extra money left after covering both essential and extra expenses, then good for you! You can use that extra money to add into your savings. However, if covering your essential costs alone already gives you a negative amount, then look into your list again and see where you can cut back.
One important thing to remember when budgeting is to live within your means. Rule of thumb is that your income should be at least twice as much as your total monthly expenses. If your current salary does not give you enough leeway to buy a new car, then don't. When people live beyond their means, they usually end up in a web of debt.