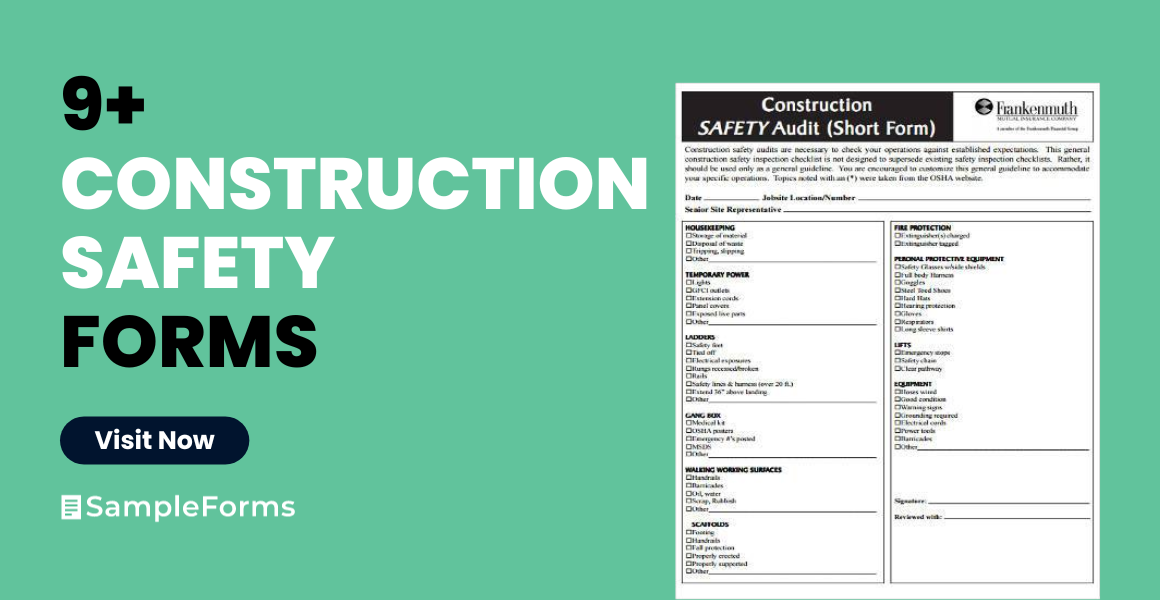 Construction Safety is very important when conducting construction projects. Making sure that the employees who are working on these projects are safe is usually a top priority. It also ensures that civilians who happen to pass by the construction sites are also safe from the harm and danger during the construction process.
Construction Safety Forms make sure that all safety precautions are taken before, during, and after a construction project.
Construction Safety Inspection Checklist Form
Construction Safety Checklist Form
Construction Safety Induction in Word Format
Construction Project Safety Form
Construction Safety Audit Form
The Different Types of Construction Safety Forms
There are many types of forms to ensure safety during construction projects. Here are some examples of these:
Construction Safety Agreement Forms are used by companies to make sure that their employees agree to the safety precautions that they need to observe during the construction process.
Construction Safety Contract Forms are made for employees to sign to make sure that they adhere to the safety rules and regulations during construction.
Construction Safety Inspection Checklist Forms are forms used to inspect the different kinds of safety regulations and making sure they're upheld within the construction site.
Construction Safety Violation Forms are forms needed to make sure that none of the employees or construction workers violate the safety regulations.
Sub Contractor Safety Orientation Forms are used by subcontractors when they conduct orientations on the safety regulations.
Construction Safety Audit Forms are employed when an official inspection of the construction site is conducted, usually by an independent body.
Sub Contractor Safety Orientation Form
Construction Safety Violation Report Form
Construction Safety Report Form in PDF
Construction Safety Checklist Form Example
Sample Construction Inspection Checklist Form
The Importance of Construction  Safety
Construction safety should never be taken lightly. These should always be prioritized for any form of construction project at all times. The construction industry is prone to many hazards and accidents. There are different types of accidents, but the main types of accidents which cause death or serious injury on construction sites include falls, incidents with site vehicles, collapsing materials, contact with overhead power lines, and so many more.
Most accidents can be avoided by implementing strict health, safety and security measures within the entirety of the construction project. Protocols that address these matters should always be maintained to ensure that incidents will be minimized or even be completely stopped from happening. These are all for the safety of every construction worker and for every civilian who happens to enter or even pass by a construction site.
There is simply no excuse for slacking when the safety of all the people in the vicinity of the construction is at stake. Taking care of the health and safety of these people can contribute a lot in the success of the project. Providing poor execution of health and safety techniques, shoddy designs, and lax management can result in accidents, illness and even death. These could eventually lead to lawsuits that could potentially lead to the downfall of any construction company.