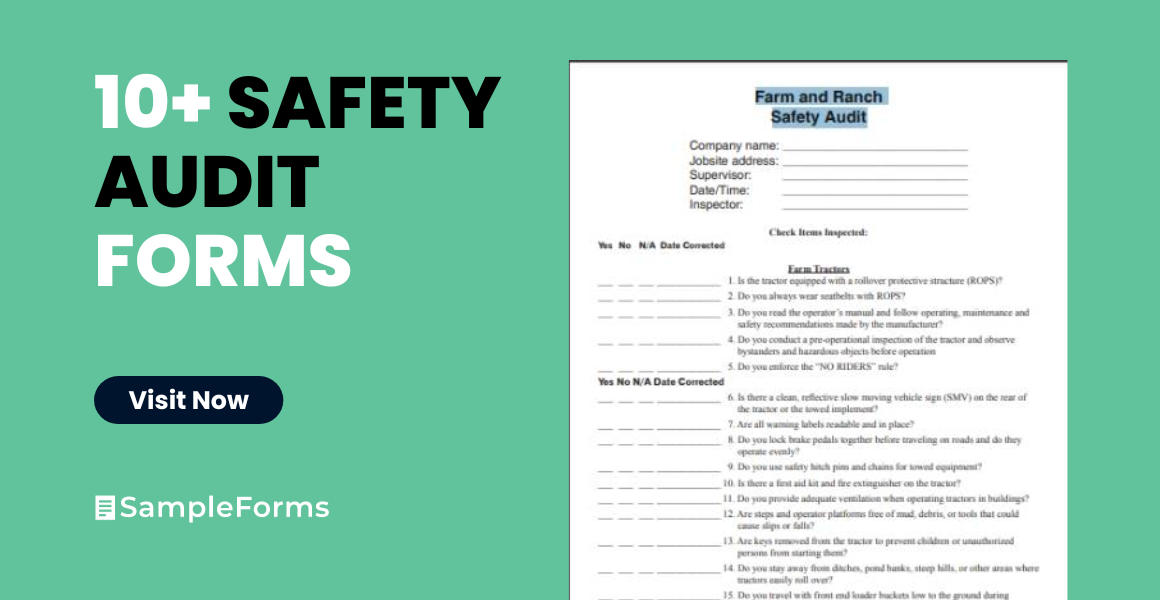 A safety management system is essential in every organization for it to function properly. It's among the important aspects covered in an organization's operational planning. Providing a safe space for its members and stakeholders to work and interact in is a testament to the efficiency and effectiveness of an organization's safety management system. Likewise, it is also essential to maintain or improve the quality of its existing safety management system by conducting a Safety Audit.
What is a Safety Audit Form?
A Safety Audit Form is an audit report form where data and information about an organization's safety management is gathered in order to assess its efficiency and effectivity. This form is also used as a reference in maintaining or improving an existing safety management system. In addition, a Safety Audit Form is also used when making an organization's operating plans.
10+ Safety Audit Forms in PDF
1. Generic Safety Audit Report Form
2. Monthly Safety Audit Form
3. Health and Safety Audit Form
4. Safety Program Audit Instrument Form
5. Laboratory Safety Audit Form
6. Farm and Ranch Safety Audit Form
7. School Safety Audit Checklist Form
8. Arborist Safety Audit Report Form
9. Road Safety Audit Form
10. Office Safety Inspection Checklist & Audit Form
11. Building Safety Inspection & Audit Checklist Form
Where are Safety Audit Forms used at?
Safety audits are conducted at high-risk facilities and areas. It is to ensure that these areas are safe for working and operating. Also, safety audits are done to identify and mitigate risks, update existing safety measures and skills, and check the operability of equipment. Without safety audits, accidents would be commonplace. An estimated 40,000 deaths were reported in 2018 due to car crashes, according to the NSC or the National Safety Council. That would have numbered more if safety audits were non-existent. Because of its importance in the daily operations of an organization, safety audits are adopted by organizations and institutions, both private and public. Listed below are the institutions and organizations that regularly conduct safety audits.
1. Construction Sites
Construction sites are places where heavy machinery and humans mix and interact daily. It is also a place where even the slightest mistake could either mean being maimed for life or eternal rest six feet below the ground. Safety audits in construction sites are based on various on-site construction reports.
2. Schools
Although schools might not be considered as a dangerous place to start with, safety audits are maintained to provide students a safe and controlled environment for learning. School staff and faculty are expected to be well-versed in emergency response skills such as first aid and basic life support. Proficiency in the use of safety equipment is important as well. Safety audits in schools are usually done with a site inspection and aided by school safety acknowledgment forms.
3. Food Establishments
Food establishments are expected to meet health and sanitary standards as mandated by law. Safety audits conducted in these establishments deal mostly with matters concerning health and food safety. It usually covers the usability of kitchen tools and equipment and the staff's proficiency in food handling and preparation.
How to Write a Safety Audit Form
As an important aspect when planning, safety is the top priority in any organization, whether it is a business or an educational institution. If you are the designated company safety auditor, having a very handy tool at your side enables you to achieve maximum efficiency when conducting a safety audit. To get started, listed below are the steps on how to make a standard and effective Safety Audit Form.
Step 1. Obtain a Safety Audit Form Template
The first step in making a Safety Audit Form is to obtain a ready-made template of the form. To do that, download any of the free Safety Audit Form templates provided in this article. These templates save you time and money, plus, it enables you to customize it according to your company's standard.
Step 2. Edit the Safety Audit Form
Edit the Safety Audit Form Template right after downloading one. Start by putting your company's name and logo on the header section located on the top part of the form. Then, list down all the needed items on the Safety Audit Form. These items may include items such as safety equipment, emergency response skills, and safety measures. These items should be according to the company's safety requirements and standards. To easily make your audit form, you can format the form to function as an audit checklist. Also, provide space for your name and signature at the bottom part of the form.
Step 3. Answer the Safety Audit Form
After listing all the needed items, you may now proceed with answering the Safety Audit Form. In answering the form, you can use the help of different safety reports from different departments. These reports contain all the information about the status and condition of all the safety measures in that particular department.
Step 4. Print the Completed Safety Audit Form
Print the Safety Audit Form right after filling it out with the answers needed for accounting all the safety equipment, skills, and measures in the company. Print the Safety Audit Form using your office printer. To certify the Safety Audit Forms truthfulness and correctness, sign the form above your printed name. Aside from printing a completed Safety Audit Form, it is also wise to print multiple copies of blank safety audit forms so that you can perform safety audits on-site when necessary.
Step 5. Submit the Printed Safety Audit Form
Submit your Safety Audit Form to the company's senior management right after printing it. These forms will be used as a basis for the improvement of safety measures and equipment and for updating emergency response skills and safety practices of employees.