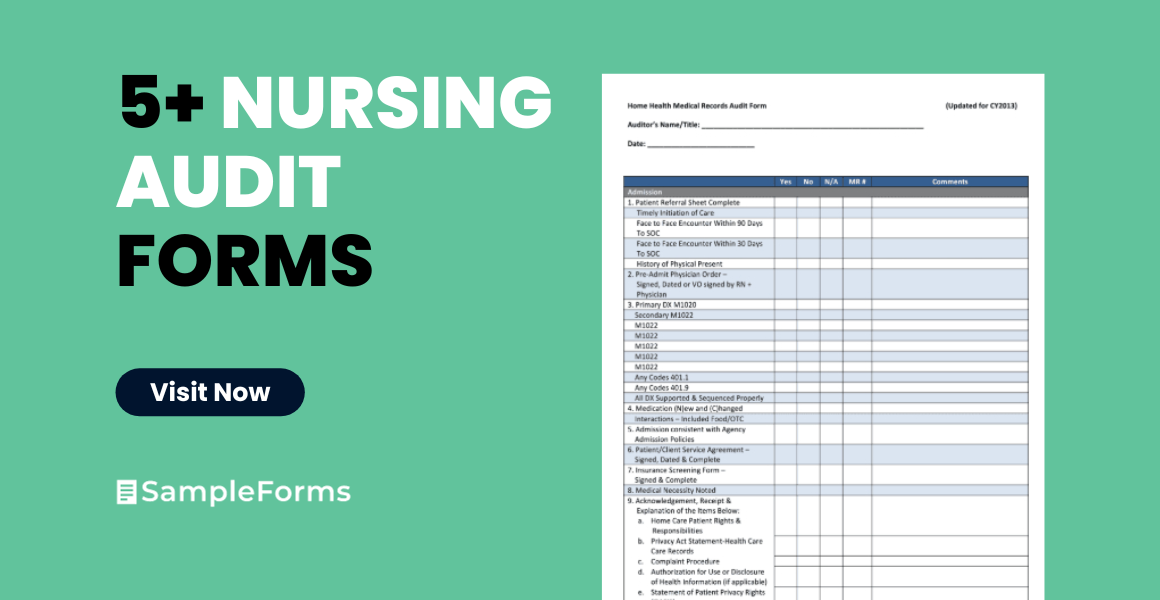 There have been many famous hospitals in the country. Each of the hospitals are known for their excellent medical staff, specifically the nurses. You planned on applying to one of the hospitals, but you want to know how the training goes first. You asked someone you know from each of the hospitals to check the audit reports. You found out some of the hospitals covered up some mishaps with some of their resident nurses. If you never checked the nursing audit report, you would have applied to that hospital. You decided to apply to a hospital that has the best nurse training.
What Is a Nursing Audit Form?
When talking about audits, the general idea that comes into mind is a financial report. Most of the time, a company's finances come into account when opening the topic about an audit. However, the funds and investments of a company are just a part of the scope of an audit examination.
Auditing is an organized process of an overall assessment of the company. The range of an audit is the finances, operations, and management of a company. Why must a company undergo an audit inspection? Companies always aim to improve and change. An audit examination form will help a company see its flaws and areas with which it operates poorly. There are various audit forms with different focuses. One example is the nursing audit form.
A nursing audit form is similar to any audit report form. The focus of a nursing audit is in the name itself. A nursing audit form aims to help hospitals improve the quality of training that nurses will undergo. The nursing audit will also deal with how the nurses giving services to the patients. This type of audit report form may also look into how the hospital has dealt with its expenses and funds. Are the prices for the services and medications too high? Are the nurses treating the patients well or not?
FREE 5+ Nursing Audit Forms in PDF
Nursing care must always undergo assessment and observation. A hospital needs to assess its nurses on how they give medical care to the patients. If a nurse does poorly on providing medical services, the hospital will know who is responsible, with the help of a nursing audit form. Here are six samples of nursing audit sample forms that we have carefully selected from the Internet. Ponder on the content and structure of each sample. You might see some similarities or differences.
1. Sample Nursing Chart Audit Form
2. Nurse Staffing Audit Checklist Sample Form
3. Home Health Medical Records Audit Form
4. Nursing Audit Sample Form
5. Community Health Nursing Audit Form
6. TB Case or Suspect Chart Audit Form
Types of Care
There are various types of medical care available to the public for use. Here are the most frequently requested or utilized types of medical care. You may have heard that these types of medical care when going to the hospital or when taking care of your grandparents.
1. In-Home Care
This type of medical care, as the name suggests, takes place in the comfort of a patient's home. Anyone can provide this type of medical care, so long as that person has the right skills and knowledge of the essential medical arts. A family member, a friend, a neighbor, or a professional can give this type of service. This type of sample service entails assistance with daily tasks such as cooking, bathing, walking, etc.
2. Adult Day Care
This type of care offers part-time or full-time help, usually in groups. This type of medical care provides supervision in a safe environment. The usual patients are those who are adults. Mostly, typical patients are those of old age. Some are in their forties with mental problems. The services provided include serving daily meals, giving medical attention, and organizing recreational activities.
3. Respite Care
This type of care is different from the previous two since it mostly focuses on providing caregivers a short break. The usual timeframe for the work is from a few hours to a few weeks only. This type of care helps caregivers relax and enjoy.
4. Assisted Living
This type of health care centers on giving providing a home-like setting with varying levels of observation and care. This type is suitable for a person who can no longer live alone but also does not need extensive attention and care. The facilities for this type range from a private room to an apartment, depending on the patient.
5. Skilled Nursing Care
This type of care offers 24 hours of extensive health care services to the patient. This type requires a higher level of health care than the previous models. A nurse may frequently check the patient's health status and medicine dosage.
6. Medical Care
Doctors often give this type of care. This type of care is a one-on-one situation between the doctor and the patient.
How to Create a Nursing Audit Form
Conducting a nursing audit examination is hard work. The auditor must be able to generate an inspection that aims to improve the quality of service given by the hospital's nurses. Here are a few tips on how to effectively create a nursing audit form.
Step 1: Select a Nursing Audit Form Template
Go to template.net and browse the vast media library. Choose only a nursing audit template that you like and click the download button.
Step 2: Customize the Nursing Audit Form Template
Open the download nursing audit template and start customizing every area of the model. Do not leave anything untouched. You must make this template your own!
Step 3: Create Multiple Columns and Rows in the Nursing Audit Form
A nursing audit appears organized if there is a table. Construct a simple table with two columns and multiple rows. The first column will contain the question, and the second contains the answer. The succeeding rows contain the sets of questions.
Step 4: Construct Sets of Questions
You must be able to create numerous questions. Sort the questions into multiple sets. Each set must be able to give you information regarding a specific aspect of nursing care.
Step 5: Evaluate the Nursing Audit Form
Once you have created the table and the sets of questions, you need to evaluate your final output. You may opt to do it yourself, or you may let another do the review. Thoroughly check the content for any grammatical and contextual errors. You might have missed some errors when you were customizing the nursing audit form template.