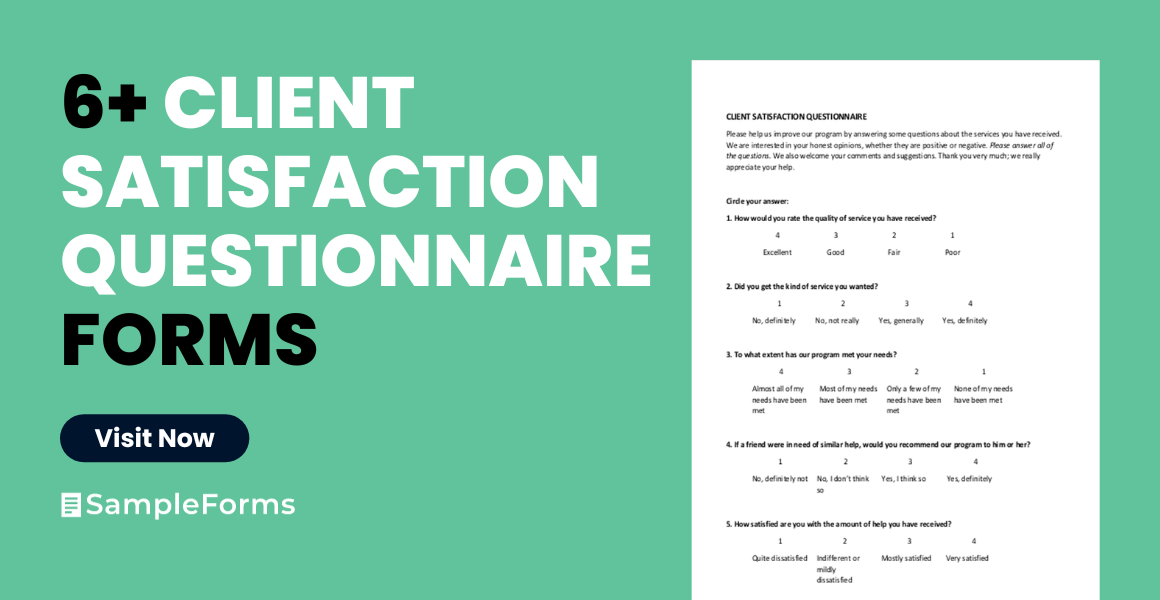 If one were to utilize questionnaires, then that person would find out that questionnaires are a quick and easy way to obtain specific types of information. Which is the reason why many decide to opt for using questionnaires in research as it allows one to create a set of questions in regards to whatever subject needs to be researched.
Many different companies and organizations benefit greatly from using questionnaires. A good example would be when certain businesses were to hand out customer service surveys to those willing to do transactions with them. It helps them understand more on what these people want and what these people are satisfied with.
Client Satisfaction Survey Questionnaire
Audit Client Satisfaction
Sample Client Satisfaction
What Is a Customer Satisfaction Survey?
A customer satisfaction survey or Client Satisfaction Questionnaire Forms are what many businesses use to assess all the different factors that affect a customers level of satisfaction.
So the set of questions in these types of surveys and questionnaires refer to different aspects of the business such as the products, services, customer service, or even the location of the business.
Knowing how satisfied customers can help these businesses adapt and improve to ensure that they meet their customers needs and to keep them from going to their competitors.
How to Create a Customer Satisfaction Survey
To create these, one must use software such as Microsoft Word and select from a list of templates specifically designed for customer satisfaction surveys.
Once that is done, customize these forms by placing statements on the purpose of the questionnaire or survey. You must then think of a set of questions that help you know what the customers feel that they are satisfied with, or what they feel should be removed or at least improved upon.
This information can also be used to create other satisfaction survey or questionnaire forms such as Patient Satisfaction Questionnaire Forms wherein one obtains information regarding how satisfied a patient feels during his or her stay.
Services Client Satisfaction Questionnaire
Construction Client Questionnaire
Social Assistance Client Satisfaction
Client Satisfaction Survey in DOC
10 Essential Tactics for Creating Valuable Customer Surveys
Keep it short and don't place too much. Customers aren't willing to fill out Satisfaction Questionnaire Forms if they see that it is a jumbled mess.
Only ask the questions that fulfills the goals of your business
Make questions that people cannot answer with just a yes or no
Create a structure wherein the sentences do not ask the same question
Be sure to provide a proper explanation on the rating scale
Make your questions neutral to ensure that there is no bias on how your customers answer your survey
If the questions is a rather simple one, then make a yes or no questions.
Provide statements that tell your customer to provide you with specifics in their response
Know when to timely send customers your surveys, especially via online means
Provide incentives to customers willing to answer surveys to ensure participation
So if you intend on downloading using any of our free questionnaire forms to help you gather what you need to learn about how your customers feel about your business, then follow these tips to ensure that you create an effective one.