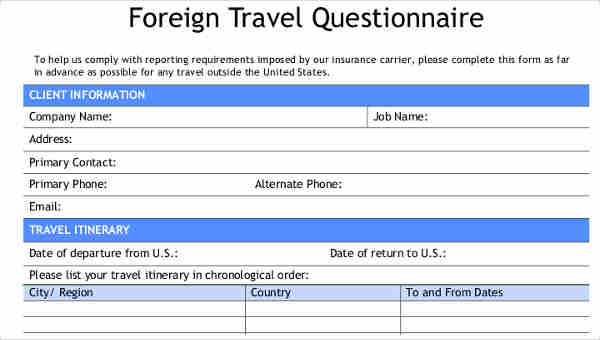 Businesses use questionnaires and surveys every single day. It's a great and efficient way for them to gather information as to what the people want and what they need. It allows them to provide the products that they know will sell.
There are lots of different types of surveys and questionnaires. A good example would be customer service survey questionnaires, wherein customers are given the opportunity to rate how satisfied they are on the customer service they received in certain establishments. However, when it comes to traveling, questionnaires and surveys can help see if a person is fit to travel and to help understand the purpose of the travel.
Pre-Travel Form
Pre-Travel Client
Foreign Travel Questionnaire
International Travel Form
Medicine Screening Questionnaire
When Should I use Travel Questionnaires?
Companies that focus on transporting people to different places always have to make sure that their clients are fit enough to travel, which is why if you travel for a couple of days, like around four to five, you'll have to fill out travel questionnaire forms to ensure that you've put all the information you need. So long as you fill up these forms and make sure that you give out specific details about your physical and mental health, then there should be no problem with you being authorized for travel. That's assuming that you don't have any conditions that prevent you from doing so.
How Often Do You Use Travel Questionnaires?
People use these on a daily basis, especially if they're on an important business trip or if it's for a study that requires them to travel internationally. Whenever you're required to write down and fill these out, you will be required to place in information regarding the details of your travel—where you're going, when you're going there, and why you're going there. So if you need to lets someone fill out these forms, then you can print them by going through different travel questionnaire forms in PDF that are at your disposal.
Patient Travel Form
Residency Travel Questionnaire
Travel Health Questionnaire
School Travel Form
Travel Vaccine Form
Basic Travel Questionnaire Form
Sample Travel Questionnaire Form
Tips in Writing a Travel Survey
If you're going to write a travel survey for tourists, then make sure you take note of the following:
Put in the location of where the tourist is visiting
Make sure to ask about the important details of the travel
Ensure that the questions being asked can determine the level of satisfaction of the traveler
The questions need to be about the travel experience and their stay
Just take all of that into account if you need to know how travelers found their experience.
Travel surveys and questionnaires can be used in different ways. The surveys can be used to determine the level of enjoyment a traveler had, while a questionnaire can be used to see if the person is fit enough to travel, such as when someone uses health questionnaire forms to assess if the person has any health problems that prevent him from traveling.
So if you need more information on these forms, then there are a ton of sample questionnaire forms for you to view. All you have to do is to use the right one for the right purpose.