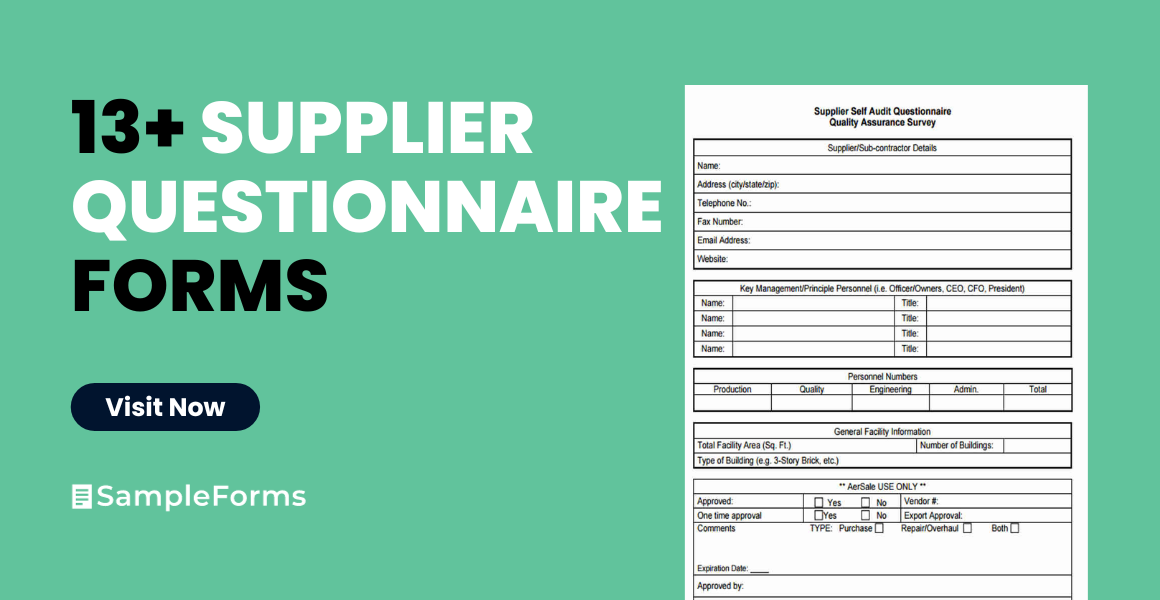 Learning how to use surveys and questionnaires is a must for just about every company and organization. When a certain establishment uses customer service surveys to see how well the customers feel about how they're being treated by their employees.
Businesses use questionnaires so that they're able to gather important data on certain subjects that can help improve their success. The reason why they use surveys or questionnaires is because it allows them to gather necessary data in a quick and simple manner. While it has its flaws, using this research method is cost effective and can help them out much quicker.
New Supplier Form
Supplier Quality Questionnaire
Supplier Evaluation Form
Questionnaire Assessment
Supplier Approval
Vendor Qualification Questionnaire
What is the Content of a Supplier Questionnaire?
Supplier questionnaires contain information regarding the supplier of any company or organization, so it has all of their personal information such as the name, contact details, address, and the job title. Other things that are contained in these forms are the products that the supplier provides.
These questionnaires seek to rate as to how the supplier is able to provide these products to the company. If you need to know more information regarding how the components of  a supplier questionnaire, then there are sample questionnaire forms here for you to check out.
Why Must I Complete a Supplier Profile Questionnaire?
The reason as to why this has to be completed is so that companies that hire suppliers will be able to see if these are the people they need. It helps them assess if the quality of the products and services that a certain person can provide is actually of use to the company. Think of it like using buyer questionnaire forms, but instead of assessing if the buyer's needs and wants are met, it's evaluating if the company's standards of finding the right supplier have been met.
Supplier Self-Audit
Supplier Pre-Qualification
Supplier Sustainability Form
Database Registration Questionnaire
Commercial Supplier
Supplier Appraisal Questionnaire
Sample Supplier Questionnaire Form
Basic Supplier Questionnaire Form
10 Practical Tips for Creating Supplier Questionnaires
Include the request from customers. Some customers might suggest that you change your supplier so take note of that.
Make sure that there are no omissions to the questionnaire you're sending out to the supplier
Make sure that not all questionnaires are the same for different suppliers, create one for each to see how well they do.
Only ask for information regarding what it takes for one to be the supplier.
Divide your questions into different segments for the suppliers to answer.
Ask for updates on the supplier's information.
Use questions to help you see which supplier is valuable, and which is a risk.
Make sure that the supplier is able to understand all the questions and that it has been revised.
Make the instructions clear on how to answer these questionnaires.
Ensure that the questions will answer what kind of supplier you need.
Even if it's something like a vendor questionnaire form which requires you to assess would-be vendors, it's best to take all of that into account when making these forms.
Remember to use the right questionnaire form for the right time. If you need to know someone's financial status then you use financial questionnaire form. If you need to know how satisfied someone is then you use a satisfaction questionnaire form.