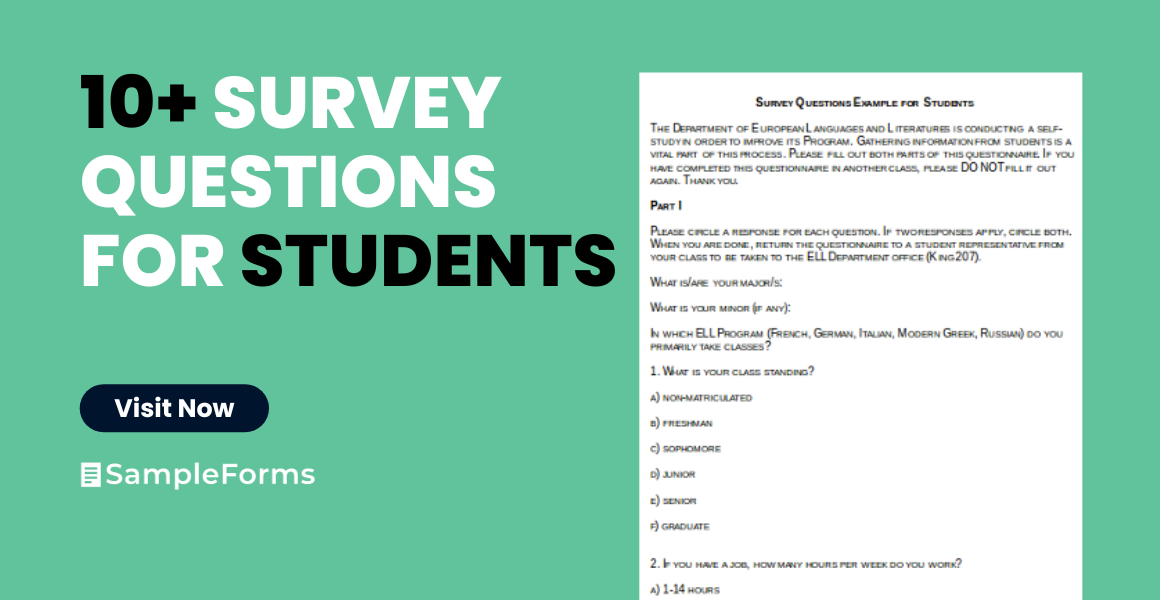 A research study is only as good as the questions that are used to find the answers. These questions are formally put into a questionnaire or survey format, which are then distributed to the members of the target group under study. It is a popular and efficient method, but how would one go about making reliable Questionnaire Forms?
Below are some samples of the best and most practical questionnaires and surveys on some of the most commonly researched topics for students, available for free and easy download. You can get them in either MS Word document format (.doc) or PDF, as indicated.
Survey Questions for High School Students
College Student Survey Questions Sample
Survey Questions Example for Students in Word
Survey Questions for Students about Teachers
Exchange Student Exit Survey Questions
Most Common Topics for Research
A good topic is just as important as having a good survey. You can have the best questionnaire, technically speaking, but without the right research topic for your chosen field of focus, the whole study can still be led astray.
What if you are looking for a general topic? Some of the most common themes researched by high school and college students are as follows:
overall student satisfaction with faculty
evaluation of student experience in general
evaluation of student experience in specific area under study
foreign and transfer student experience
student leader experience
minority student experience
demographics of the student population
Free Survey Form Examples on some of these topics are also available for easy download and reference.
Student Athlete Survey Questions in PDF
Course Survey Questions for Students
International Student Survey Questions
Leadership Survey Questions for Students
Sample Research Questions for Student Survey
National Student Survey Questionnaire Free
Good and Bad Questions
They say there are no "right" or "wrong" questions – but there are good and bad questions.
A good question is
clear (unambiguous)
brief and to the point
unbiased (uses neutral wording)
asks only one thing at a time
doesn't make assumptions that would significantly misdirect the answer
A question that does the opposite of this will, at best, give you an inaccurate picture of your study.
Different Kinds of Questions
By now you can recognize the different kinds of questions you would find on a typical questionnaire, the most common of which are
close-ended (yes/no, multiple choice, scale ranking)
open-ended (allows for elaboration)
Choose the type of question that would be well suited to the type of answers that can be reasonably given.
Close-ended questions are the easiest to analyze and can be used for a wide variety of purposes. But be sure to include an "other," "unsure," or "none of the above" option in the list for more accurate testing.
To develop a sense of whether a question is best asked close-ended or open-ended, start by finding a free sample from our Questionnaire Survey Forms closest to your research topic and using this as a point of reference.