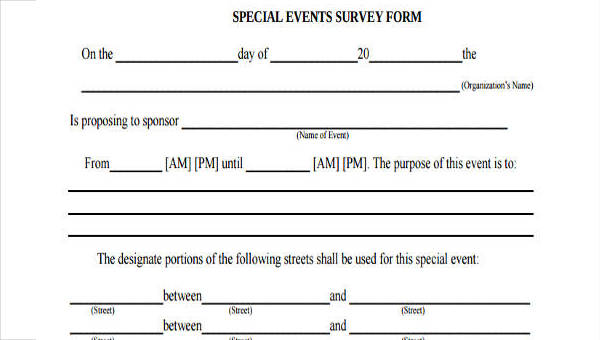 Surveys are made to help organizations and businesses have information about a particular matter or undertaking. Most surveys are created to gather details for the purpose of market research, product development and academic studies.
A survey gives any company or organization an insight into how their target audience perceives them or how satisfied they are with the products and services they receive. This can help any organization know how well they perform and make the necessary adjustments and improvements based on the suggestions of their target audience as stated on the Survey Forms.
Survey Consent Forms
Survey Participation Consent Form
Survey Parental Consent Form
Survey/Research Consent Form
Survey Questionnaire Form
Health Survey Questionnaire
Customer Survey Questionnaire Form
Survey Questionnaire Consent Form
Food Survey Forms
Food Poisoning Survey Form
Food Consumption Survey Form
Free Food Preferences Survey Form
Simple Survey Forms
Simple Customer Survey Form
Simple Survey Form in PDF
Customer Satisfaction Survey Forms
Customer Satisfaction Survey Form Sample
Free Customer Satisfaction Survey Form
Basic Customer Satisfaction Survey Form
Survey Consent Forms
Before you start conducting a survey research, it is imperative that you let your participants sign a Survey Consent Form to protect you from liability issues in the future. But a Survey Consent Form is more than just a mere document and some signatures. It is also a process and an agreement. It is an agreement made by the research group that the information given by the participants will be strictly confidential and used only for its intended purposes. This is important so that your participants will feel safe with sharing personal information with you. You may also see our Questionnaire Consent Forms for other samples.
Aside from the usual legal reasons, a Survey Consent Form can also be used as an informative tool. This will help keep the potential participants be well-informed about the specifics of the research study and to what extent their participation will be. You cannot just let anyone answer questions for your research right then and there. It is important that they are educated so that they do not blindly agree to it. There may be parts of the research questions that the participants will find uncomfortable in answering, and it is your moral obligation as a researcher to inform them of that. Writing a good Survey Consent Form is the first step to any survey research study. Here are a few tips:
Introduce yourself and your group. This can be done verbally or through writing, but it is better to do both.
Indicate the purpose of your research and what benefits your research will bring to the community.
You need to inform the potential participants that should they feel the need to, they may revoke their participation at any point during the research or leave any question blank if they are not comfortable with answering it. It is always important to make your participants feel safe.
Specify the time needed to complete the survey and give instructions as to what to do with a completed survey.
If there is any compensation for participating, provide this information on your Survey Consent Form, aside from announcing it verbally, to reiterate it.
Provide your contact information or that of any member of your group. The participants should feel that you are approachable should they have any concerns or questions regarding the research.
Use straightforward and brief statements in your Consent Forms. Do not beat around the bush. This will make you lose the interest of your participants.
If your participants will be under the age of 18, you would also need a Parent Consent Form signed by the parents or legal guardian.
Food Survey Forms
These are survey forms used by the food industry or any other organization that deals with food, to assess the eating habits, food consumption, and food preferences of a certain group or population. Food is consumed daily and is a factor in assessing nutrition. So that is what Food Survey Forms are for. They are used to identify or predict problems in food and nutrition, to implement programs to assess those problems, and to monitor and evaluate the results to see if there were any improvements.
Survey Evaluation Forms
Course Evaluation Survey Form
Performance Evaluation Survey Form
Supplier Evaluation Survey Form
Free Survey Evaluation Form
Customer Satisfaction Survey Forms
Blank Customer Satisfaction Survey Form
Customer Satisfaction Survey Form Example
Sample Customer Satisfaction Survey Form
New Customer Satisfaction Survey Form
Salary Survey Forms
Free Salary Survey Form
Salary Survey Request Form
Salary Survey Order Form
Annual Faculty Salary Survey Form
Survey Form in PDF
Community Health Survey
Patient Safety Survey Form
Speed Limit Survey Form
Carpet Cleaners Survey Form
Customer Satisfaction Survey Forms
This is a good way to determine the satisfaction of your customers with the service or product that you provide. As a business, you need to make sure that the steps that you will take in developing and improving your offerings can help your company be more sustainable. Comparisons of the performance of your products and/or services and that of your competitors' can also be done through the help of customer satisfaction survey forms. With this document, your market can help you assess what makes your products and/or services different from your main and indirect competitors. Lastly, you can have a deeper insight of how your products and services are perceived by your customers and measure their loyalty to your brand by asking them of the likelihood they are to recommend you to their family and friends. After all, they are at the receiving end of the products and services provided by your company. Therefore, they can provide objective observations about it.
When you are unsure about how well your company is performing, Customer Satisfaction Survey Forms help to quantify that for you. The key is asking the right questions.
Ask questions about your product or service. You might ask questions that involve how fast the service or task was completed, why the customer chose you as their service provider, how well your employees communicated with the customer, and how likely they are to recommend you to their friends and family. You can also ask the likelihood of them using your company again for their future needs. This typically measures the satisfaction of your consumers of the services you provided for you to be able to get a clearer picture of consumer loyalty and advocacy.
Ask questions about the competition. Ask if your products and services are better, the same, or worse than the alternative brand. You can also ask questions about the competition's pricing and what made the customer choose you over them. When you know why your customer prefers you, you can use that as a marketing strategy. Knowing your competition can be an edge for you. Chances are, you already know who your biggest competition is in your particular industry, but it would also be good to look at things from your consumers' perspective. They may have a different view of things since they are at the receiving end of the product or service.
Ask questions about the customer's preferences. This is the part where you get to know your customers better. You can get an insight of what they want and what they need, and what their priorities are when choosing brands. This will make your customers feel that their opinions and preferences are valued. After all, they are the very reason why businesses exist and as the saying goes, "The customer is always right."
Survey Evaluation Forms
This is a good way to measure and quantify a person or company's performance to identify areas of improvement, if any. There are various types of Survey Evaluation Forms, depending on their purpose.
Course Evaluation Survey Form – This will help the developers of a course gain information from its participants about how well the course was conducted and how helpful and applicable it is to their line of work or field of study. For a course to be feasible, it has to be practical, applicable, and the participants have to be responsive to it.
Performance Evaluation Survey Form – This will help a company know how well they did in performing a certain task or project.
Survey Forms in DOC
Example of Staff Survey Form
Project Survey Form
Employee Survey Form
Survey Approval Form
Event Survey Forms
Event Feedback Survey Form
Free Event Survey Form
Post-Event Survey Form
Special Event Survey Form
Faculty Salary Survey
Salary Survey Forms
Salary survey forms can be used internally or externally. Businesses tend to use salary survey forms to get information on how employees think of the salary that they are given in a particular time period. This can help the human resource department the needs of the workforce when it comes to their finances.
On the other hand, there are also Salary Survey Forms that are used to help the conduct of studies about the comparison of salaries given by organization and establishments in different industries and fields of expertise. This can also be used to measure the salaries of various professional work positions.
With the help of a salary survey form, the management can have metrics on the amount that they will give an employee for a particular time period depending on his/her work functions, expertise, qualifications and job description.  If proper compensation will be practiced, an employee can have more reasons to be motivated to work which can directly positively affect the operations of the business.
Benefits of Conducting a Survey Research
Now that you have a glimpse of the different types of Survey Forms, you understand the myriad of purposes a Survey Form serves. Aside from those purposes, there are four benefits as to why a company should conduct a survey research. They are:
Inexpensive: Surveys do not need a lot of materials for the entire process to be implemented. Whether you conduct a physical or electronic survey, the amount that you need to use will only be kept to a minimal. This is the reason why most companies use surveys rather than other kinds of data gathering processes. More so, with the development in technology, getting details through social media and other online platforms is very doable.
Wide Scope of Reach: A survey research, through the help of different channels especially those that are supported by the internet, can reach a lot of people. With this, there are more chances of getting responses from a big community. The survey population may be controlled at some researches, but using a survey can help you ensure that your target community or population will be reached accordingly.
Flexible: You can utilize many modes of surveys, like online, over the phone, or face to face surveys. This is why survey research is flexible. You can adjust the mode or use various types of surveys to cover remote areas or hard to reach places. The flexibility of survey research is also key to it being extensive and inexpensive.
Dependable: The data you gather from surveys is dependable because it is usually accurate, and its accuracy is due to the fact that the respondents to the survey are kept anonymous and there is always a statement that says the data collected will be held strictly confidential and used for the intended purposes only. This is called the Confidentiality Agreement. This way, the respondents are going to be more honest and unambiguous with their answers because they know their names are not going to be linked with their answers. This is why it is important to make your respondents feel safe in answering the questions.