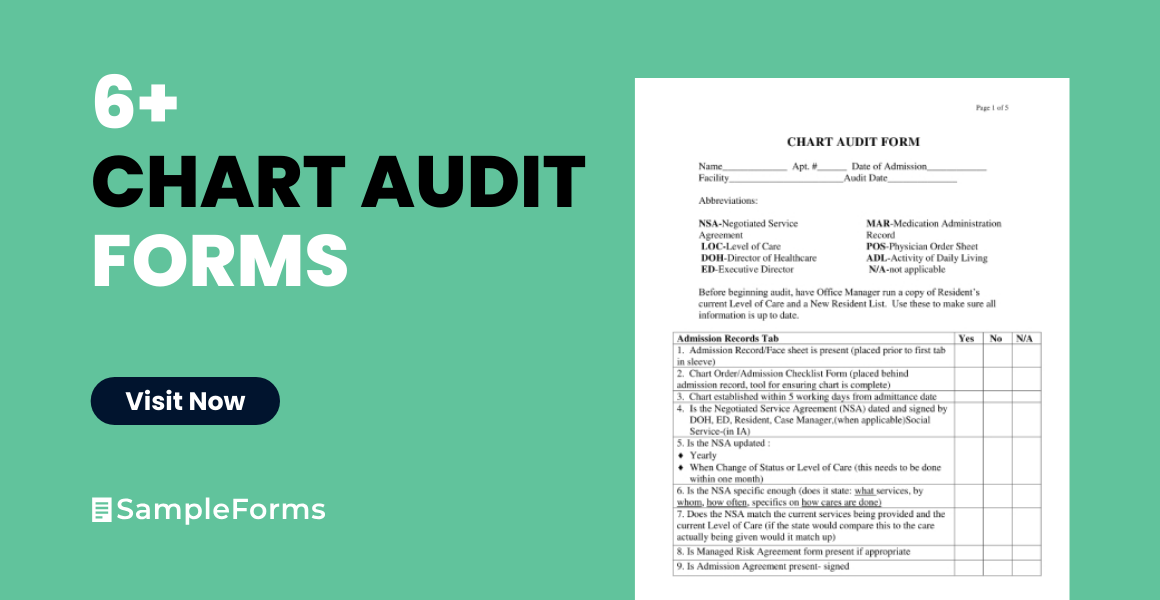 Quality improvement is one of the top priorities of a business. As a business owner, you must make sure your operations are going according to your management's policy. But for you to do this action effectively, you must have a tool to help you monitor your activities. That is when chart audits come in handy. A chart audit is mostly useful in medical operations. To know more about chart audit forms, you may read further in this article. We have listed a few sample audit forms and a few more details about how useful chart audits are.
What is a Chart Audit?
Chart audits are documents usually used for clinical purposes. Just like other audit forms, this file helps a person determine areas with defects or lapses that need to be improved. It works closely like a quality audit form. Chart audit forms are standard tools used in quality improvement processes in a company. With a chart audit form, a company can manage and maintain quality control in all procedures. Chart audits are either in digital or on printed paper.
FREE 6+ Chart Audit Forms in PDF | Excel
Here are a few sample chart audit forms you can freely use as references. It is available in all versions of PDF for you to have a convenient viewing and editing.
1. Sample Chart Audit Form
2. Chart Audit Example
3. Medical Chart Audit Form
4. Chart Audit Form Sample
5. Sample Chart Audit Tool
6. Chart Audit Tool
7. Internal Chart Audit Form
Advantage of Chart Audit Forms
Every business would strive to get its operations to improve and have fewer errors. Audit charts are one of the tools a company uses to achieve quality improvement. So, how does it help companies in improving? How does a chart audit works? Here are a few benefits and purposes of a chart audit in a company.
Quality Improvement: Chart audits are known tools for quality improvement in companies. It helps out in identifying errors in processes and procedures in company operations. It is an excellent tool for quality improvement since it monitors the activities if it is doing according to the management's compliance.
Record Documentation: This document can record the performance of an operation or procedure. For instance, you are going to use a chart audit in monitoring a patient's condition and run tests. You can use the chart audit as a medical record for the patient. It helps you track if the patient has gone through all the tests they need to have.
Fee Schedule Form: Since chart audits document operation process and procedure, it's also an excellent reference for a fee schedule form. Some chart audits that are used for medical records already have corresponding fees of the tests run for the patient. Audit charts make it easier to track all the procedures that need charges.
These mentioned advantages are only part of how useful chart audits are. It has more benefits than you can imagine. The overall purpose of a chart audit is to track mistakes in a process to take action for solutions.
How to Create Chart Audit Forms
Creating chart audits might sound technical and challenging, but it will be easier if you understand its purposes and uses. Chart audits are the usual tools for quality control. Quality improvement is essential for a business since it deals with the performance of their operations. That is why making this document needs thorough planning and preparing. For your convenience, we have a few tips and steps you can follow to create chart audits effectively.
Step 1: Determine Operations to Manage
For you to create a proper chart audit, you should know what operations you have to manage. Since most of the chart audits are useful in clinical aspects, you need to make sure you are familiar with the procedures and cases of the patients. For instance, you are going to manage the condition of a patient. You need to know the medical tests they had and have to go through. Knowing the things you need to audit will help you create a checklist.
Step 2: Create an Organized Audit Checklist
Chart auditing usually comes with an audit checklist. This document will help you have organized auditing since you already have a list of operations. After knowing the procedures you need to manage, you can finally arrange them in a checklist format so you can audit them easily. Most chart audits are in a clean format. It will make your audit forms more understandable and presentable. There are available sample chart audits online you can freely use as references.
Step 3: Fill in Details to Finalize
Once you have selected on a format, you can now start filling in your chart with the details you need. Make sure you have listed all essential information to avoid any conflicts in auditing. Usually, chart audits contain the operations you are managing, procedures to do, and the proceeding payments. In the clinical aspect, it sometimes has the list of the test you are about to run on the patient to keep on track.
Step 4: Perform a Thorough Auditing
Now that you have finalized your chart audit checklist, you can now conduct the auditing. Perform the inspection thoroughly so you can have accurate results. Always bear in mind that your chart audit will help you figure out lapses and errors in your procedures. Go over the checklist you prepared earlier for quick and easy auditing. The audit checklist will help you avoid any problems and pick up mistakes before it escalates.
Step 5: Analyze and Plan Solutions
After auditing the operations, you must analyze the results to come up with proper solutions. Once you have examined the chart, you can present an audit report where you have to list the data you have gathered while auditing. You can either have your chart audits in softcopies or on paper. Make sure you have proofread your audit reports before presenting them to the management to prevent miscalculations and misunderstandings.