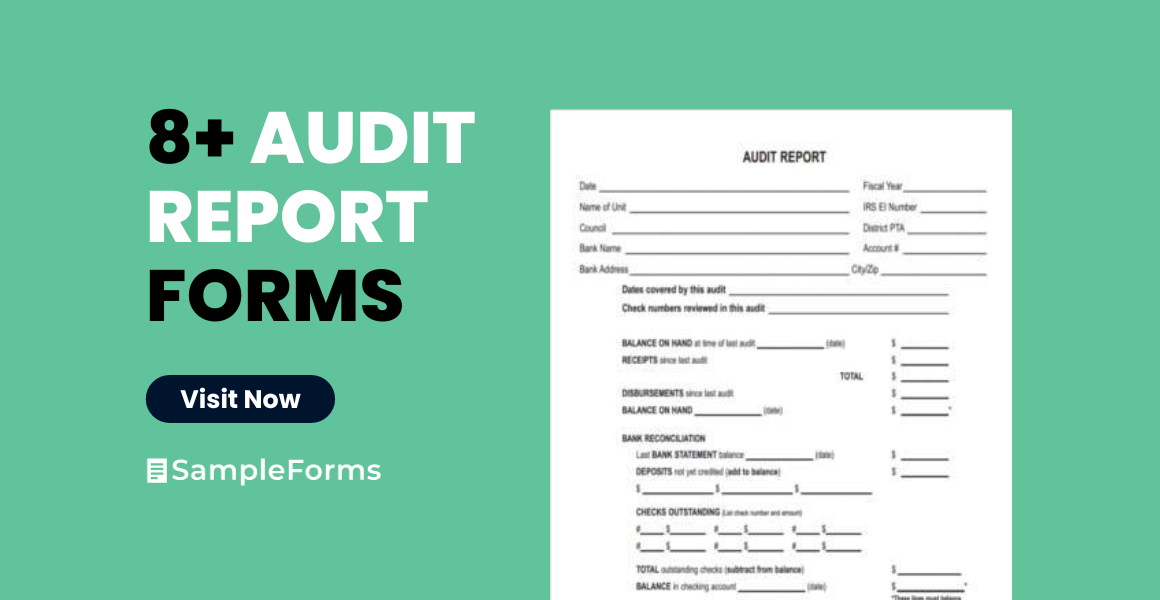 An audit is an examination and evaluation officially done into an individual or an organization's financial documents such as books, accounts, statutory records, and vouchers. It is usually done by an independent body from the individual or organization being audited.
An audit report is a document that specifies the results of the examination or evaluation. By looking at a person's or business's Expense Report Forms and other financial statements, the auditor provides a written opinion of the financial statements' validity and reliability in a generally accepted auditing standard format.
Internal Audit Report Form
Audit Report Request Form
Audit Report Long Form
Security Audit Report Form
Audit Report Form in PDF
Types of Audit Reports
Unqualified Opinion
Also called the clean opinion, this report is made when the auditor thinks that all financial documents presented by the audited individual or company are proven correct and acceptable.
Qualified Opinion
Just like the Unqualified Opinion, a Qualified Opinion indicates that the financial documents provided are accurate; however, the business was not able to follow the necessary practices and adhered to the conditions set by the body.
Adverse Opinion
An Adverse Opinion shows that the auditor has recognized not only discrepancies in some financial statements like Business Expense Report Forms, but also non-adherence to the set standards.
Disclaimer of Opinion
A less common report, which means that the auditor was not able to complete an audit due to certain circumstances. Reasons include the absence of appropriate financial records where financial status couldn't be determined.
Social Audit Report Form
Audit Report Form Example
Safety Audit Report Form
Audit Report Form in Word Format
Uses of Audit Reports
Appraisal
Covering a business's assets and liabilities, an audit report is an educated assessment which presents the company's future as it determines its financial position and value in the market.
Adherence
An audit report is usually mandated by governments and companies that trade publicly, or industries that are regulated by particular bodies are required to adhere to these standards.
Funding
Investors would want to spend their money on financially stable businesses, so reports like Book Report Forms are necessary. This will also let them feel secure and confident, especially when they see that large profits are gained.
Improvement
Companies usually have a number of stockholders, and a good financial record enables operators to gain more internal control of company operations. It ensures more success since decisions are made within the workforce.
To validate the reliability of the financial statements of any organization, an audit report should be completed by an external accountant or auditor. Its ultimate reason is to provide an assurance that material errors are not present in the company's financial documents, and adherence to rules is in order.
Therefore, it is essential for individuals or businesses to keep track of their finances should they be subject to an audit. They should make sure that their bank accounts coincide with their income and expenses, their assets and liabilities are declared, and they follow government standards and body regulations.