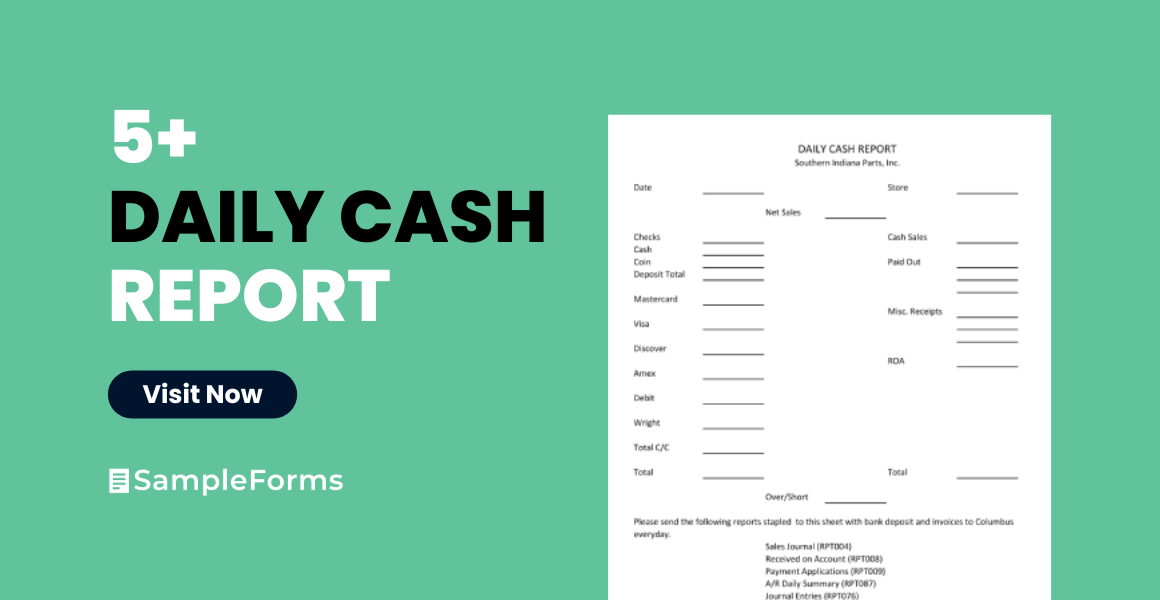 Keeping track of your financial operations in a business will be challenging. That is why you need to have a tool that allows you to monitor your cash-in and cash-out of money. One of the tools used for this situation are daily cash reports. Cash reports are excellent tools in tracking your cash management since it reflects all payouts, credits, revenues, and sales for the day. It does not only help you monitor but as well as keep transparency and increases your business' integrity.
What is a Daily Cash Report?
A cash report is a document that allows you to record all your business' financial activities for the day. It helps you track all the expenses, revenues, and sales you have with your business operations. This report document is an excellent tool in analyzing the condition of your cash flow. Having a daily cash report will help you identify if the procedure are active and enables you to generate revenues. The cashier in-charge will be responsible for keeping track of the report sheet until the end of the operations. Cash managers will then review all the entries for errors and mistakes.
FREE 5+ Daily Cash Report Samples in PDF
1. Daily Cash Report Sample
2. Simple Daily Cash Report
3. Cash Handling Report
4. Daily Cash Report Guide
5. Sample Cash Report
6. Sample Daily Cash Sheet
Elements and Benefits of a Daily Cash Report
Daily cash reports are always essential in terms of the cash management of a business. It has different advantages in keeping your financial statement balanced and monitoring your cash flow. But for you to appropriately use cash reports, you must have all the essential elements reflected on your report sheet. Here are the details of a cash report you need to remember.
1. Cash Drawers
2. Cash Receipts
3. Cash Payouts
4. Granted Credits
5. Payment Methods
These elements play a significant role in conducting your daily cash reports. The cash register's drawers are where cashiers store the coins and bills for the day. This element means you need to record all the cash placed in the register at the beginning and end of your operations. Cash receipts also play an essential part since it helps you maintain transparency in your financial transactions. You must also remember to state the payment methods such as credit cards, checks, or cash to have your report organized and easy to track.
Your daily cash reports are the summary of your financial operations of the day. The primary purpose of this document is to acknowledge that you are genuinely tracking down all your transactions. This report sheet will help you assess all your processes in terms of your business' financial aspects. You must monitor your business' profitability to know if your business is doing well or not. Through cash reports, you will know which areas need to improve and develop.
How to Write a Daily Cash Report
Using daily cash reports will surely benefit you as a business cash manager. This document aids you in keeping transparency in your operations and allows you to track down every transaction for the day. But for you to have accurate data, you must create your cash reports appropriately. For your convenience, here are a few tips and steps on how to make cash reports effectively and efficiently.
Step 1: Decide on a Sheet Format
Select a sheet format you can use for your cash report. You should choose a report format that makes your report sheet readable and presentable. Most report sheets are in a table format, making it easy to input the details you need for your report. There are various sample cash reports available online you can use as references. You may download one that suits your preferences, and you can freely start your very own cash reports.
Step 2: Determine the Elements Needed
You must know the details you need for a daily cash report. There are certain elements you need to include in a daily report to get accurate results once your finance head goes over it. Usually, a simple cash report contains opening and closing cash drawers, the name of the cashier in-charge, receipts numbers, amount, and the date it covers. You must make sure you have all the vital elements needed.
Step 3: Fill in the Form with Essential Details
Once you have the elements ready, you should start filling in the essential data needed. Place specific transactions and receivables in the report sheet to determine how smooth your cash flows are for the day. Include the description of every entry to be aware of the purpose of the transaction. Remember that your cash report does not only cover sales and revenue. You should also include the payment obligations of your business.
Step 4: Calculate All the Numbers
After filling in all the data, you can start calculating all the amount you have accumulated and consumed for the day. Bear in mind that your cash reports are like a daily financial statement. Make sure you included the previous total balance to see your cash position. Your cash position helps you estimate the overall number of cash-in and out in just a week. That is why you need to compute accurately and thoroughly.
Step 5: Analyze the Result
You need to analyze the results of your daily cash reports for you to find out the daily performance of your financial operations. Usually, the people in the accounting department would analyze the data of all your daily cash reports. Through your cash reports, you would know if your business is profitable enough to support all your necessities. If there are areas that need fixing, you would quickly track it down with the report sheet. You need to thoroughly compute and analyze the entries so you would be guided accordingly in coming up with improvements and solutions.