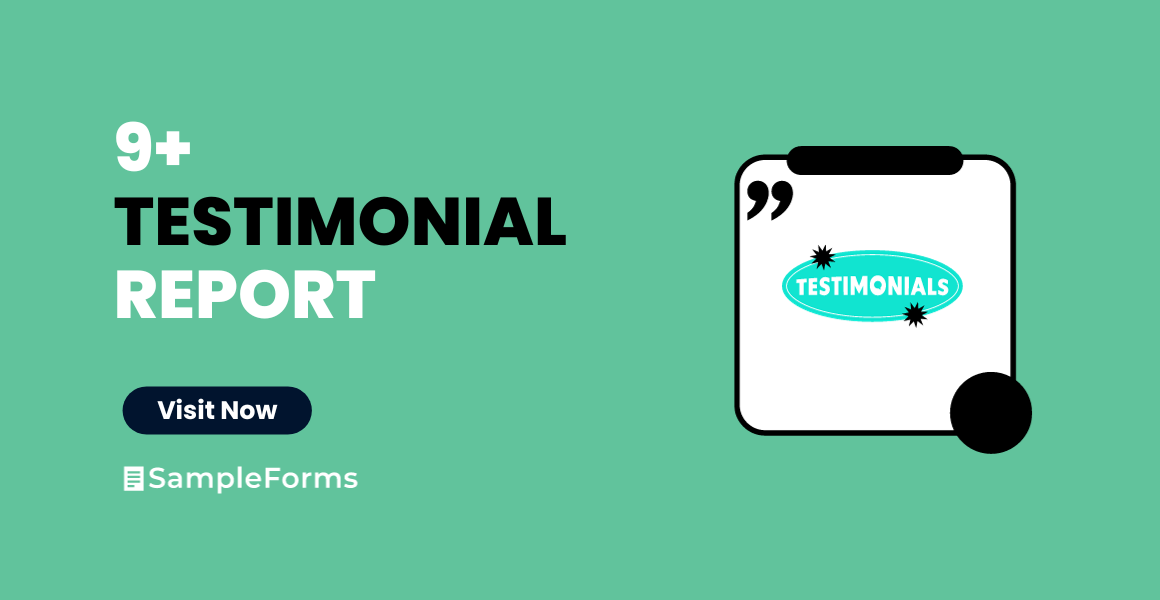 Businesses had never seen an escalation on the advertising of their products before compared to this age of technology. People flock to whatever product freshly comes out on their phone screens, as long as the product resonates with the audience. Nowadays, whenever people click a specific product post, another product post will come into their feed. Some of these items displayed seem questionable and annoying to the customer. Customers opt to click the doubtful post to assess other peoples' reviews or testimonies. The more positive the testimonial accounts the product possesses, the more customers will deem it as credible. With this in mind, businesses decide to add a certain amount of sample statements into their advertisements—remarks that they get from customers, and also from their managers, who send them testimonial reports—to further gain trust from the people who consume their items.
What Is a Testimonial Report?
A testimonial report form is a written account of a person's review and opinions about a particular product, service, situation, etc. Most testimonials seen in advertisements assure the quality of the company is credible, praising a company's services and products. This business document exists to help both the company and the customer know what products or services are popular and are salable.
Testimonial reports function in one manner, but its usage and application are extensive. Business owners use the sample testimonial reports to advertise the credibility of their products while lawyers use such documents to fortify their claims against the opposing party. Testimonial reports are not limited to a single field or job. The file is essential to bringing in excellent and truthful accounts to an audience. Without these files, businesses will find a hard time convincing their customers to buy their products or avail their services.
FREE 9+ Testimonial Report Samples in PDF
As we have previously discussed, most business owners use testimonial reports on advertisements to help further establish some truth and experience in their products. However, this is not the only manner that testimonials serve. Testimonial reports exist in any work environment that needs further credibility from those who possess a particular experience of a situation, service, or product.
Listed below are some examples of testimonial reports that we obtained from the Internet. You may or may not examine the sample forms. However, we implore you to look to gain insight into the differences and similarities of each of the examples' content, structure, and usage.
1. Sample Testimonial Report
2. Sample Company Testimony Report
3. Sample Tourism Board Testimony Report
4. Detailed Company Testimonial Report
5. Sample Community Foundation Testimonial Report
6. Sample Fast Food Testimonial Report
7. Generic Business Testimonial Report
8. Sample Grant of Immunity Testimonial Report
9. Sample Director's Testimonial Report
10. Sample Resort Director's Testimonial Report
Pros and Cons of a Testimonial Report
Testimonial reports are witness accounts that is difficult to depict as invaluable or fake. Testimonies come from selected people who experience a situation—in this case, the product that your business is selling—that only them can state.
No other witness from the company can verify that what the client said was true or not. Only the customer feedback and statement is proof. With this in mind, other customers can say that what the customer said is correct since it is a personal experience. Other customers are prone to believe statements from other customers who are similar in financial and social status rather than what celebrities and other high-profile people state about the item.
However, this aspect of a testimonial report can also defeat its very own credibility. Testimonial report forms only offer one side; this can mean that the testimony may not be so credible after all since there are no other key witnesses that can verify the authenticity of the customer's statements.
How to Integrate Testimonial Reports Into Your Advertisements
Contrary to the usual approach of a how-to guide, we calibrated this guide so you can integrate testimonies unto your advertisement. Numerous how-to guides tell you how to create a statement form, but no manual has yet to help you integrate the testimonies properly unto an ad. Here are a few tips on how you can effectively incorporate the statements from your customers to better the chances of customers trusting your products and services because of it.
Step 1: Gather Your Customer Testimonies
First things first, you must gather a specific amount of customer testimonies. You may ask your most trusted customers to give you an honest testimonial report about your company's products and services.
Step 2: Use Sans-Serif Font Styles in Your Advertisement
Advertisements are customer-friendly and, usually, are informal. Better use sans-serif font styles to appeal to the most abundant generation nowadays—the millennials and Generation Z. Sans-serif font styles appear more stylish and appealing than serif font styles, which emulate formality and authority in its appearance. Serif font styles worked better for Generation X and Baby Boomers but not for millennials and Generation Z. Just make sure that the sans-serif font style that you will use is readable.
Step 3: Listen or Read Other People's Testimonials
Before you must select which statement in the testimony reports suits best for the ad, you must read and listen to the ads of other companies. Understand what comments offer something to the customer and why the company chose to place that in the ad. Read as much as five online posts or look at five video commercials.
Step 4: Pick Statements That Highly Give a Substantial and Genuine Review
After looking at advertisement references, you can now pick statements that you want to include in the ad or commercial. Carefully select a positive statement that affirms the right parts of your product or services. Place as many as three to five testimonies to push the chances of your product's salability higher.