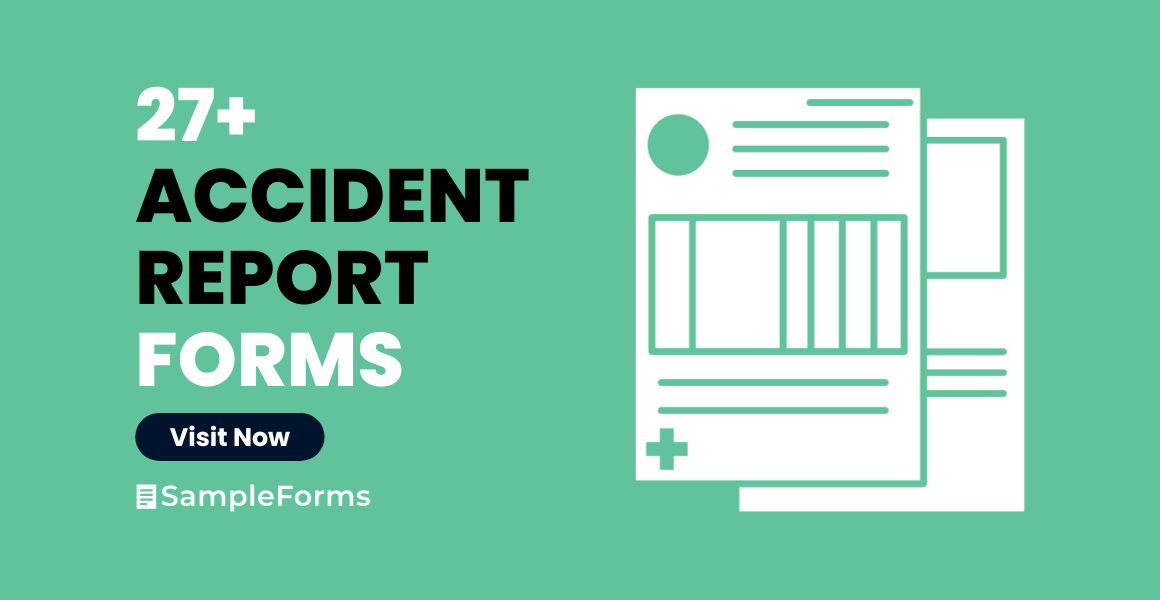 A report is what one hands out to a higher authority and contains specific information about certain events. So this includes important details such as what happened, when, where, and why. To properly document all of this, people make use of standard report forms and submit these to those who may verify all information within the accident report.
Anything that a person see, hears, does, or investigated must all be filed in the report, as leaving any information out could be crucial during certain cases. This is especially important in the case of having to submit an accident report form that may have caused one or more people to get injured.
Accident Report Form
DMV Accident Report Form Template
Vehicle Accident Report Forms
Company Vehicle Accident Report Form
Motor Vehicle
Vehicle Accident Investigation Report
Commercial Vehicle
What Is an Accident Report?
An accident report is what one is required to conduct in the event of any incident that may have caused damages or injuries to certain people, places, or things. This means that all details regarding the accident must be properly filed to determine who were involved and to help determine the necessary action that needs to be taken.
A good example would of an accident report would be if one were to make use of DMV Accident Report Forms to submit information of case which involves the damages incurred by two or more auto-mobiles.
How to Write an Accident Report
If one has to provide details regarding what accident occurred, then it is best to write a report with the following information included:
Date of the report
Name of the people involved
Other information required from those involved such as department number and position
Location of where the accident took place
Date of the accident
Time of accident
Details regarding how the accident occurred
Any injuries sustained
Types of treatment conducted
To make sure that one does not suffer any accidents, it is also best to make use of Safety Report Forms to ensure that certain risks are looked into to prevent them.
Auto Accident Report Forms
Blank Accident Report Form
Employee Accident Report
Auto Accident
Workplace Accident Report Forms
Standard Workplace Report
Engineering Workplace Accident
Workplace Accident Investigation Report
Tips on How to Write a Good Accident Or Incident Report
Always gather the facts first. This means every factor regarding the accident such as the complete names of the people who were involved, names and accounts of those who witnessed the accident, and any damages or injuries sustained. The facts must always be gathered first so that people have a general idea of what happened and how the incident came to be.
Now all the sequence of events. It should be described in a way that any person can clearly picture how everything happened. So know how the events leading up the incident, things that were involved during the incident, and what happened post-incident. It may even help to provide a diagram of how everything happened for better visualization.
Analyze the cause of the incident. Look into all the details so you may identify the primary cause, as well as the secondary cause of any accident you must investigate. By conducting a proper analysis on the incident, a person may be able to figure out as to what caused the incident, and can help management decide on the necessary actions that need to be taken.
Provide a recommendation on the kind of action to be taken based on the type of accident that occurred. This is very helpful because providing a solution to the problem may help management consider the idea and implement it to prevent any future accidents form occurring.
If you would like to know more on the different types of accident report forms and how to properly utilize them, then you may check out any of our accident report forms in PDF to help you gather the information you need.
Police Accident Report Form
Self Reporting Accident
School Accident Report Forms
Primary School Report
Elementary School
School Student Accident Report
Accident/Incident Report Forms
Patient Incident
Daycare Accident Report Form
Accident Investigation Report Forms
Internal Accident
Traffic Accident Report
Supervisor Accident Report
How to File an Accident Report with the Police
In the event that a police officer decides not go to the scene of that accident, then those involved may decide to head to the nearest police station in their area to submit the report themselves.
One may even do it in a similar way to submitting Business Report Forms where those involved may simply e-mail the incident to their area's police department. In the event of any vehicular accident that requires a police report, people may decide to submit it in person by going to the station for the report, or head to the DMV to file an accident case.
Objectives and Principles of Accident Reporting
The objective of any accident report is to learn about all facts of how, when, where, and why an accident happened.
If you are planning on submitting something such as  Construction Report Forms that show how a certain accident came to be within a construction site, you must remember that all details of what was witnessed must be indicated to see what must be done and to prevent the accident from happening again.
Just remember that when creating the report, do not falsify any information as you may be faced with certain consequences such as termination or legal action if found out that the information you provided is not true.
Customer Accident Report Form
Restaurant Customer
Employee Accident Report Forms
Non-Employee Accident Report
Employee Accident Report
Accident Injury Report Form
Customer Accident Report
Child Accident
Safety Accident Report Forms
Accident/Incident Report
Safety Advisory Group
Traffic Accident Report FormsRoad Traffic Accident Report
Accident Reporting Guidelines
Always provide information that is crucial to the report. Details on how the accident seems to have occurred and who were involved are examples of the many details that you must specify to ensure that your accident report contains the information needed to be properly investigated.
Use the proper forms when reporting any accident. Considering that the possibility of any accident from happening is endless, one must know the right kind of report form to use depending on the type of accident that occurred.
Only report information that pertains to the incident that occurred. Any other information that is not involved with how the accident came to be is useless and should be immediately discredited.
Knowing how to make a proper report on just about any situation can help people decide the right course of action to take. So it is best that one knows how to tackle forms such as Medical Report Forms that can help gather all the information need to make the decision. So if you would like to know more about the different report forms, then you may go through our many samples and acquire what you need.