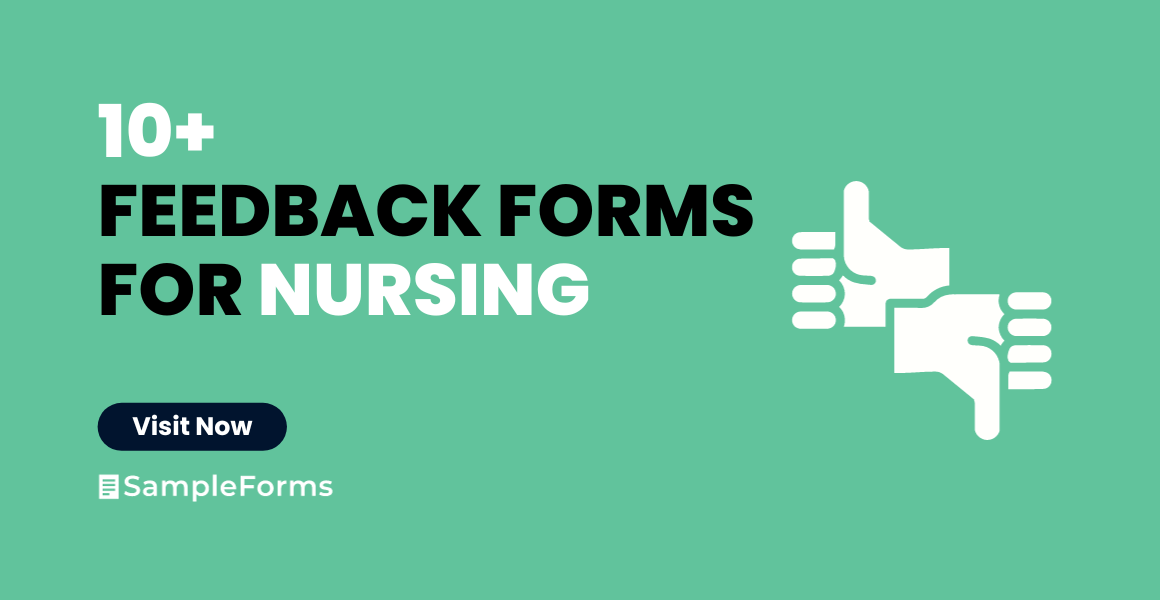 One can expect to get feedback to tell him or her as to what's being done right or what's being done wrong. One can also learn how to provide feedback to ensure that the receiver learns and improves with the given information. These are the reason why people have to learn how to provide quality feedback as well as learn how to take it.
Feedback can be given at any given point in time. There are those who know how to provide efficient and productive feedback and does who do not. And it's those that know how to are the ones that usually help people achieve success.
Nursing Peer Feedback in PDF
Nursing Feedback Form Example
New Patient Feedback Form
Patient Feedback Form Example
What are Nursing Feedback Forms?
It's the type of form where patients are able to show how they feel about the nurses who are providing them with care. With nursing feedback forms, patients can point out if there were things about the nurses that they were happy with, or if the nurses have made several errors that made the experience of the patient feel uncomfortable. This form can be used by the patient to comment about the nurse, complaint about the nurse, or provide suggestions on how the nurse can improve to guarantee that future patients are treated with much more care.
This form can be used by the patient to comment about the nurse, complaint about the nurse, or provide suggestions on how the nurse can improve to guarantee that future patients are treated with much more care.
Why Feedback  Is Important to Nursing
Many different nurses who have to provide health care services have to know if they're doing things right. Which is the reason as to why patients there are often handed out forms which allow them to evaluate the services of these nurses. So here are a couple of other reasons as to why nurses need feedback :
This can help prevent any overuse, underuse, and/or misuses of any kind of health care service to be handed out to the patient. There might be moments wherein the nurse is unaware of how certain procedures should go. The patient can then point it out with these forms as to what particular concern he or she has with how the nurse is providing the healthcare treatment.
Feedback can help measure the competence of the nurse. With the results of documents such as questionnaire forms or survey forms, doctors who are in charge of reviewing the performance of nurses are able to distinguish if the nurse is still following the proper practice, or if the nurse has too many problems in doing so.
It'll allow the patient to provide comments regarding what they would like the nurses to change or improve on. This is essential as the patient can point out the specifics as to what the nurse should do in order to better the experience of future patients. This way, the nurses can take a look at whatever is being suggested in making important decisions that could just help them improve and become the nurses that patients deserve.
The Different Types of Nursing Feedback Forms
Considering that there are many different types of feedback forms, one has to know which one to use in order to give the right type of feedback to nurses. One has to learn the purpose of each different type of feedback form in order to convey the right information to those who are either nurses or studying to become nurses. So here are a few examples of the different nursing feedback forms:
Nurse Peer Feedback Form. This is the type of form that is utilized by peers of nurses in just about every hospital or medical institution. With this form, other nurses may be able to feedback based on how well their peer is doing in terms of nursing practice. They can point out what their peer is doing right and the practices that their peer might be doing wrong.
Nursing Student Feedback Form. This is what teachers or mentors of nursing students use in the event that they would need to appraise the performance of the nursing student. By using this type of form, the instructor or mentor can properly show just how well the nursing student is performing and if the nursing student is meeting up to expectations or requires more training. The information in this form could even point out of the student is better if in finding another profession if he or she continues to under perform or continually forgets to follow the standard nursing practice.
Patient Satisfaction Feedback Form.  This is the type of forms wherein the patient is able to show whether he or she is satisfied with the care that the nurses have provided them with. Think is the type of feedback form which shows the satisfaction level of the patient by addressing what the nurse did that could have either made the patient enjoy the treatment experience and stay or if the patient felt inconvenienced in any way due to the nurse.
If you would like to learn about other types of these forms, then you may go through our other sample feedback form examples that we have available.
Generic Patient Feedback Form
Patient Feedback Sample Form
Free Patient Feedback Form
How to Handle Give and Handle Nursing Feedback
Whether you're receiving the feedback or giving it, here are a few tips that can help you either.
In Receiving Feedback:
As a nurse, you're going to have suspend any kind of defensive response you may have. The point of being given feedback is to help you improve as a nurse to deliver much better care to patients. Which is why no matter what type of feedback you receive, you have to keep your emotions in check. Otherwise, you may just end up saying something that could ruin your reputation, or it could even ruin your career.
Always remember that feedback is "information" rather than something that's meant to undermine you. So let's say that you receive the results of an assessment form from one of your patients wherein he or she provides you with feedback based on how you were able to provide the patient with care. Don't think of it as negative or positive, just think of it as a learning opportunity for you to see what you can do to improve yourself.
Seek more specifics whenever you can. Let's say that you were told "good job", obviously you wouldn't know as to what you did to receive the praise. So you try to get more information out of the patient whenever possible. This will help you know as to what you need to keep constant if you're doing something good, and what you need to change if the patient is unsatisfied with how you're working.
Try to seek understanding of the point of the feedback. This is very similar to finding out the specifics wherein you ask the patient whether you understood what he or she is trying to say. This will prevent any kind of misinterpretation and it ensures that you, the nurse, understand what it is the patient expects out of you.
Sample Patient Feedback Form
Patient Carer Feedback Form
Patient Complaint Feedback
In Giving Feedback:
You're going to need to ask yourself what the nurse need to know about. It's like thinking what feedback from a client would be useful in helping someone do better at his or her job. The goal of whatever feedback you provide is to encourage the nurse to continue with whatever good behavior he or she is showing, and replacing and changing the bad ones.
Address the specifics.  If you're going to be the one to provide feedback, then you'll need to be very careful as to what you're addressing. Whether you want to say something positive or if you want to address your concerns, you'll need to clarify by showing details of what you're trying to address. Say for example that the nurse wasn't able to communicate with the patient regarding his or her comforting needs. The patient can then place this on the feedback form and stating an example as to when the nurse was not able to meet the patient's needs.
You should send the feedback as soon as possible. This way, the nurse is able to get the praise or criticism he or she deserves after doing a certain task. This way, the memory of the task the nurse has done is still fresh and the nurse will be able to quickly remedy whatever needs to be fixed.
You'll need to confirm that whatever feedback you gave was well received by the nurse. Whatever information you provide, you'll need to make sure that the nurse was able to get the message of whatever you're trying to say. No matter what it may be, whether it's a compliment or criticism, you'll need to ensure that the nurse was able to understand what he or she needs to do in order to become better at the job.
Considering that there are so many things that a nurse needs to learn and go through before becoming a success, feedback will always play an essential role in the nurse's development. So it is our duty as patients to ensure that we provide these nurses with the quality feedback that they deserve. Whatever information the nurse needs to hear, a patient must always place it in a feedback form or even tell the nurse directly in a way meant that's meant to help.