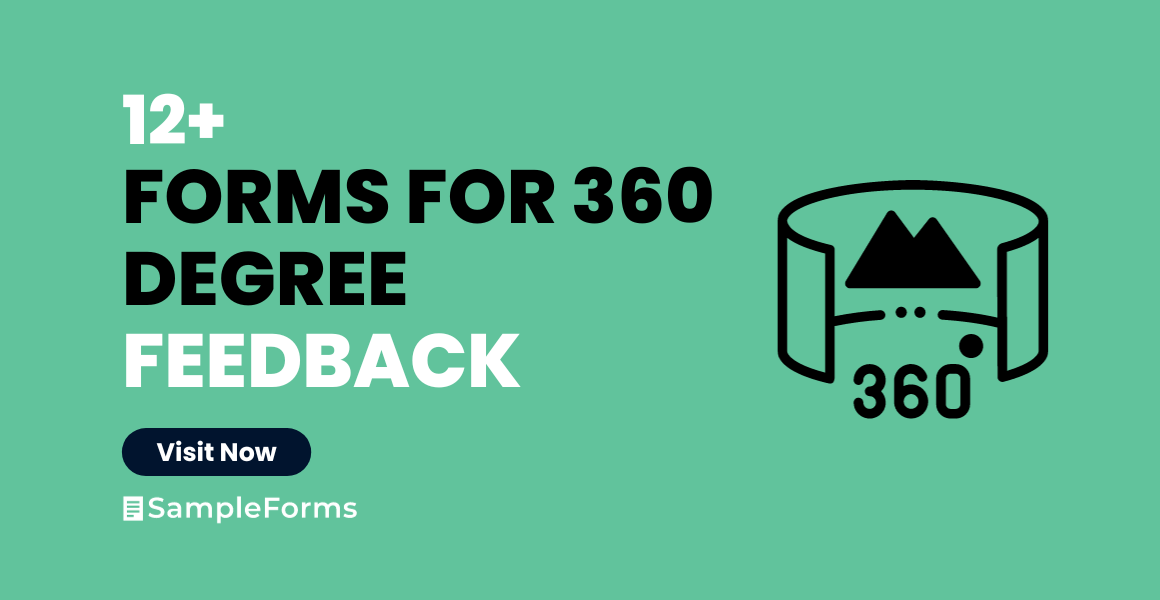 The point of doing feedback is to give someone the information they need in order to become better in their profession, as well as being better at providing services to others. This is the reason why people need to learn how to provide productive feedback.
By knowing how to provide productive as well as efficient feedback, people will be able to hand out comments, suggestions, or even complaints in a way that will show the receiver what to do in order to improve. Because knowing how to provide proper feedback is what's going to help someone propel to success.
360 Degree Appraisal Feedback Form
360 Degree Manager Feedback Form
360 Degree Customer Feedback Form
360 Degree Performance Feedback Form
360 Degree Feedback Form Example
What are 360 Degree Feedback Forms?
360 degree feedback forms are what employees receive that contain information from those that work around them. So basically people such as managers and peers. This form is usually anonymous so that the people handing out the feedback won't have to feel afraid of placing in nothing but the truth.
This type of form usually involve questions that come with a rating scale where the person handing the feedback can properly rate each question. 360 degree feedback forms also gives the receiver of the feedback a self rating survey part which includes the same set of questions that others receive.
The Pros and Cons of 360 Feedback
Not everything about 360 degree feedback is good, you'll find that it will have its own shortcomings. So here's a list of its pros and cons.
Its Pros:
It gives you a more complete assessment of yourself. By having just about everyone you work with use forms for assessment of both your skills and behavior, they'll be able to give you information in much more detail. So they'll be able to properly specify all of your strengths as well as your weaknesses.
Considering that you'll be getting a lot of feedback, you might just get new information from your coworkers and customers that your manager didn't provide. This will give you a much better picture of how well your doing in terms of your profession.
It will  improve your performance as well as your teamwork. Because your performance was appraised from multiple sources, you'll be able to understand more of what you're doing right and what you're doing wrong. Because if this information, employees will just end up performing better, assuming that they know how to properly handle whatever feedback that comes to them.
When that happens, there will be an increase of productivity within the workplace, as well as the employees working together to become more successful.
This kind of feedback tells you how others view you. Although this could sometimes be a bad thing, by learning how others perceive you, you're able to figure the different things that they think you're doing right, as well as the things you're doing wrong. You can use this as an opportunity to grow and it'll help you see which of your coworkers think you're a hard worker.
The more feedback you get, the better. It's always great to get as much feedback as you can depending on the tasks you've completed and how you've been performing. Gaining as many feedback results as you can from different sources is a fair way of telling you how you're viewing as you know that the result isn't biased.
Cons of Feedback
Negative feedback can create hostility. Lets say that an employee has received multiple negative feedback from the results of employee appraisal forms. Because of this, the employee might just create a lot of resentment and horrible emotions within the employee. That in turn could result in the employee's behavior going down such as no longer being as productive as before or treating customers in a disrespectful manner.
It might not be as accurate as you may think. Just because it's your own coworkers that's giving you feedback, it doesn't mean that all of them are going to be a hundred percent honest with you. There are multiple reasons such as colleges that might just want to get on your good side, or there could be managers who just generally dislike you.
You'll have to be really careful with all the data that you're collecting, because you might just  end up with data that you can't trust rather than one that can help you see your competence at work.
Sometimes the feedback can be too focused on weakness. Lets say that your manager has given you the results of his or her employee review. You'll see that there are so many of your weakness that the manager has pointed out and not enough of your strengths. While it may be alright to highlight the areas where an employee needs to improve, it's also best to focus on the employee's strengths and what the employee needs to do in order to improve these strengths.
Staff 360 Degree Feedback Form
Free 360 Degree Feedback Form
360 Degree Feedback Form in PDF
360 Degree Feedback Form Template
360 Degree Feedback Form Questionnaire
360 Degree Feedback Form
Sample 360 Degree Feedback Form
Why 360 Degree Feedback Forms can Fail
If 360 feedback is done well, then you can expect employees to maximize their potential by going over what they need to work on. However, there are reasons as to how 360 feedback forms can hurt rather than help an employee. So here are a few of these reasons:
Sometimes your boss might not see the importance of this kind of feedback. If there's no attention from the boss, then it's not as effective. There are some employees who needs' the recognition of their boss based on what they're doing right and wrong. If they don't get that then they'll find that other feedback might feel just as meaningless as not receiving any.
Questions from the 360 degree feedback form might be too vague. There are too many of this type of forms where people use it as more of a personality test rather than one that measures the level of an employee's performance.
You'll need to make sure that whatever questions you place in are ones that can result with answers that the receiver of the feedback can use to make important decisions that will affect his or her improvement.
There's a chance that coworkers or managers might provide comments that are personal rather than professional in nature. There will be times that people experience horrible 360 feedback because they're either the target of the scorn of employees or others feel as if that person doesn't deserve good feedback.
This is the kind of practice that needs to stop. This is the reason why managers, as well as themselves, have to understand that 360 feedback is something that's supposed to constructive as well as helpful and that it's not an opportunity to put someone down.
If there's a follow-up-plan on the 360 plan, then it usually happens just once. What one needs to know is behavioral change is hard and it takes several reminders. You're going to have to keep revisiting 360 results on a regular basis. The reason for this is because you'll need to see how the perceptions of each of these people have changed after a period of time.
Lack of any kind of confidentiality. People who have never done a 360 degree feedback session are usually afraid as to how the results of each of these feedback will be used and if it's going to remain confidential. So you're going to need to ensure these people up-front that no matter what the result of the feedback they receive, it is a confidential process and that it will not affect them in any way when it comes to their performance review.
So make sure that these employees understand that no matter how much negative or positive feedback the get from their coworkers or customers, it will have nothing to do with their final assessment of how well they're faring in the company.
Some 360 feedback don't even show you any of your strengths. You need to remember that feedback should also show the strengths because that's what keeps the employee going and becoming more productive. So lets say that you receive the results of many different customer questionnaire forms that only show you that you're doing things wrong. It's just going to make the employee feel more negative and become more hostile during work. This is the reason why you need to learn how to show what the employee is doing right and praise him or her for it.
There's never a plan after receiving any of the feedback from the 360 degree process. Data can only be really useful if it can be acted upon and used. The majority of these 360 degree feedback programs usually end up with the employees receiving a lot of information, only for them to end up forgetting all of them.
So if these employees don't set-up a plan with the results of whatever feedback that they've gotten, then they can expect no change in their behavior, as well as saying goodbye to any form of growth that could have helped them achieve goals.
In the event that you would like to know more about feedback, then you may go through our sample feedback form examples to help you get all of the information you need, as well as the forms you can utilize for when you want to provide quality feedback.